The sixties were an incredible post-war period, when young and active people were trying to propagate peace, love and freedom by all means available. Such trend was a sort of protest and was reflected in the interiors of that time, turning into the "impulse" for unusual style creation.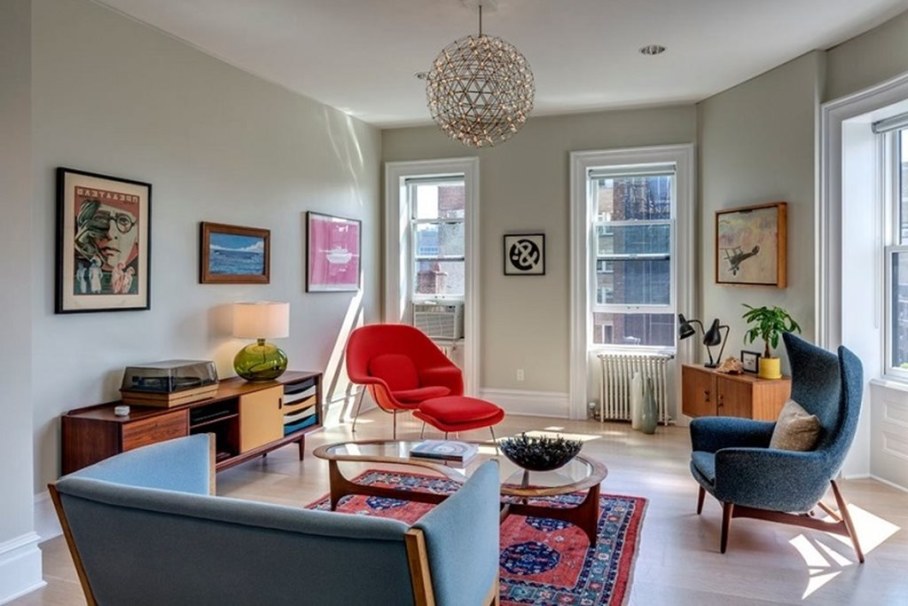 Features of retro-sixties style:
Unusual designer furniture items of distinct or smooth shapes with polished surface;
Graphic prints in decor, geometric patterns in textile, doormats, upholstery and wallpapers;
Materials: chrome, glass, plastic, wood;
Intense and challenging palette of vivid colors as well as combination of neutral and bright tinctures at a time;
Using of fixed and mobile furniture items in the interior.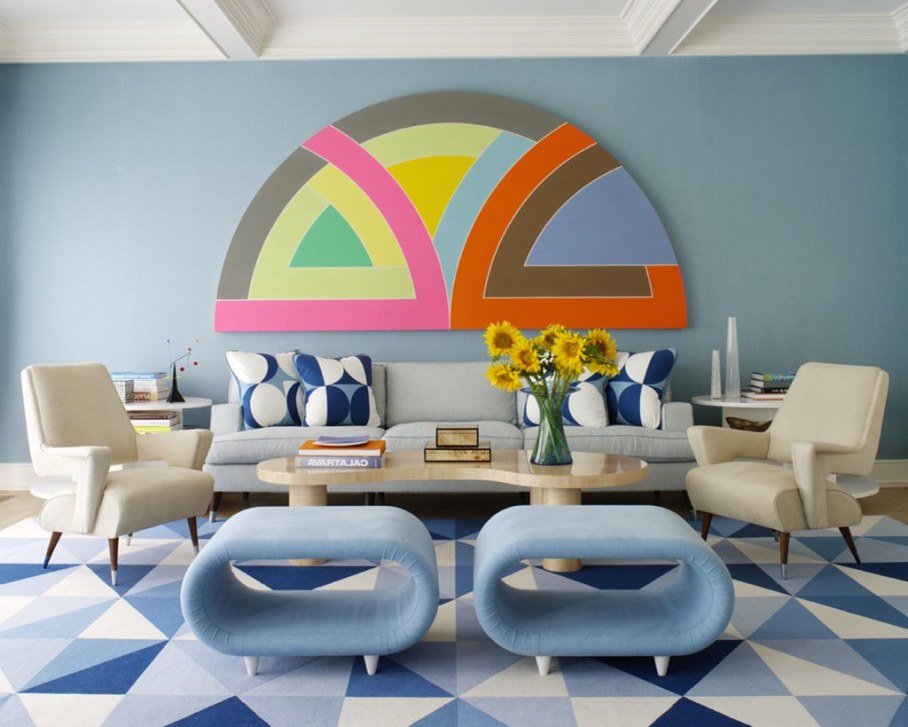 It won`t be a problem to materialize the sixties` spirit into the interior of your house, even if not all of items and interior scene materials are performed in retro style. It is not necessary to blindly follow all the principles of issue-related interior creation, though it`s possible to use some elements of other styles, namely, to purchase the correspondent furniture or to place some graphic emphasizes on different surfaces.
Bright colors in retro style
The retro-sixties interiors were notable for rather "explosive" combination of tinctures. This, primarily, signalizes about the fact that such controversial and complicated style suits free-thinking, independent and cheerful people.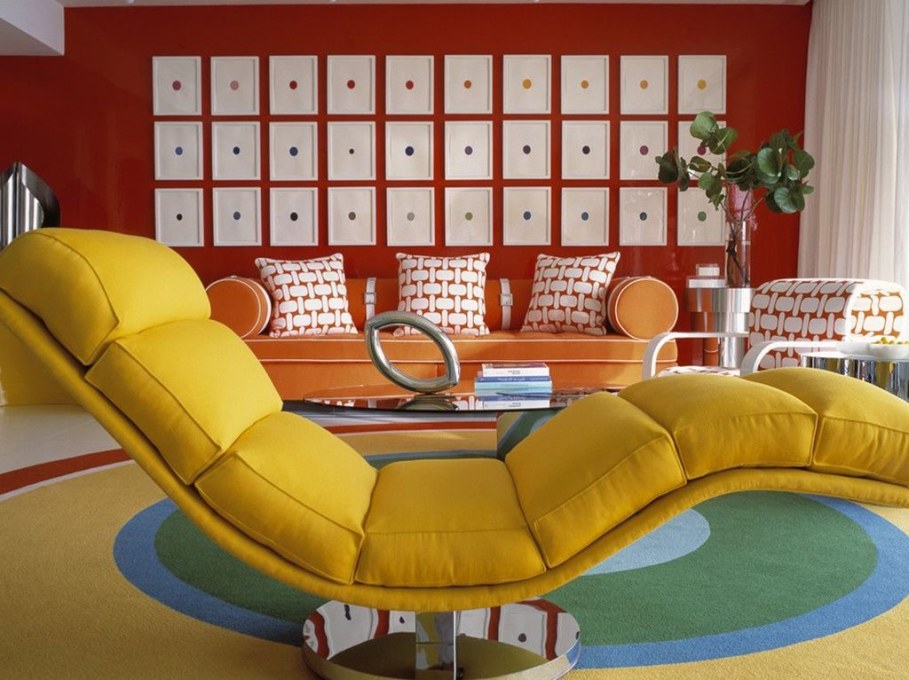 It is possible to use eye-catching color combinations at any room; however the retro style is revealing best of all in living rooms, bedrooms and kitchens. Red, blue, citrine, yellow-green would perfectly conjoin here, whereas the achromatic white and black colors could become the perfect background.
You might put an eye-catching carpet on the floor of the guest room and place a pair of armchairs with bright graphic upholstery pattern there. If this wouldn`t be enough, you can paint any of the walls with one of mentioned tinctures.
Instead of drastic re-painting of surfaces it is possible to decorate the walls with composition of small pictures or posters with dynamic geometric pattern.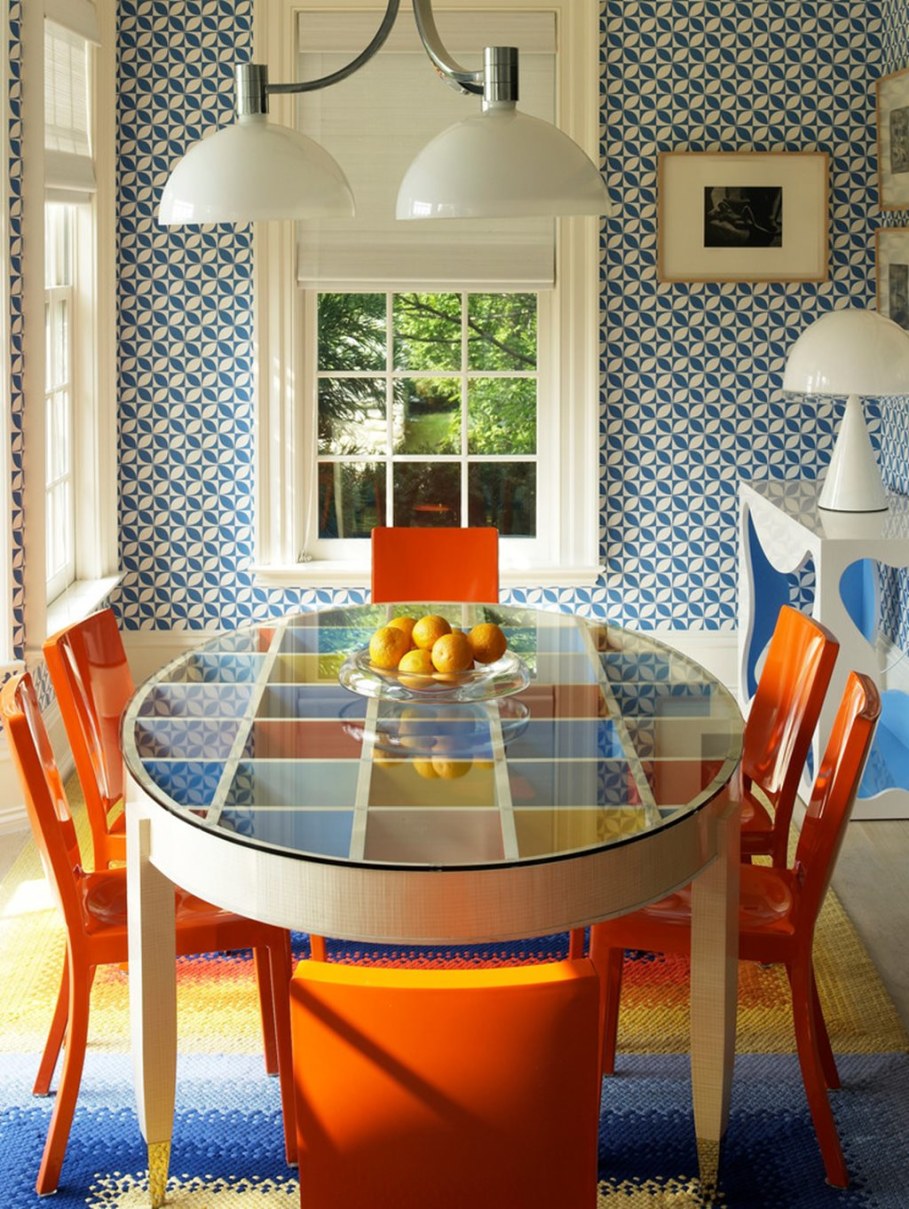 Bright chairs of a simple form could place emphasis on the retro-styled dining room atmosphere. Inexpensive furniture, e.g. orange plastic furniture items, would be appropriate here.
Creation of retro style interior will also help you to save the money while purchasing the original furniture. Thus, plain wooden chairs with back are necessary to polish, to paint in two layers and afterwards to apply a lacquer on in order to create beautiful glossy luster.
Application of exquisite mint tincture was quite popular at kitchens of that time. By the way, it's possible to use it at all furniture foresides or only at certain items (fridge or stove). Other intense colors could supplement the "mint" kitchen, e.g. red, orange, terra-cotta for floor, doors or walls section coverage.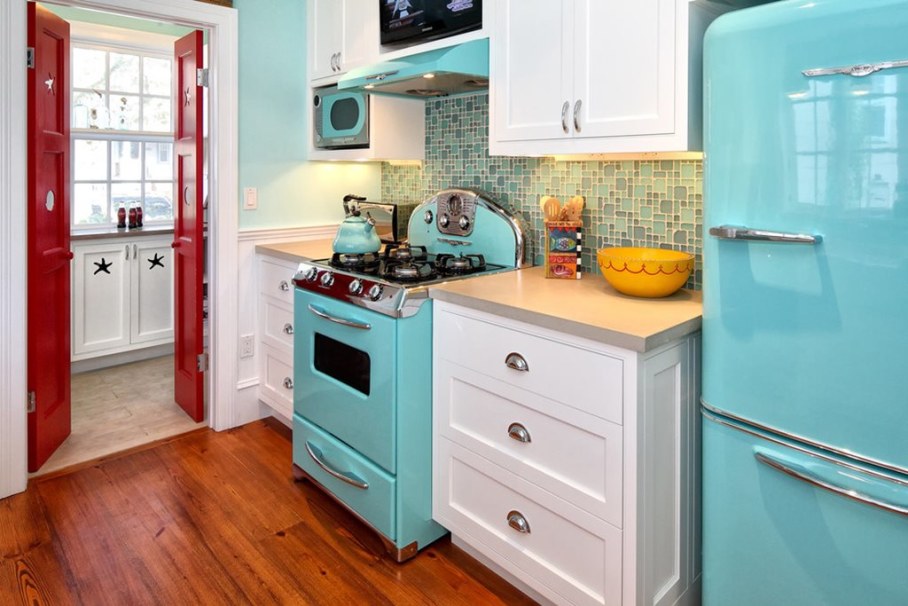 Fluency of lines, clearness of shapes
There was no such term as "furniture complex" at the interior design of the sixties. Premises were filled with items, which were incompatible at a first glance, but rather functional and comfortable. Furniture, intended for storage, included cupboards, bureau, court cupboard without massive wardrobes.
If you decide to choose retro-sixties style for home decoration, you should pay attention to the compact items without excessive decor. Thus, you should purchase low coffee table with oval, drop-shaped or rectangular tabletop. Buffets and sideboards should be laconic, no higher than 1.5 meters, with plain facades.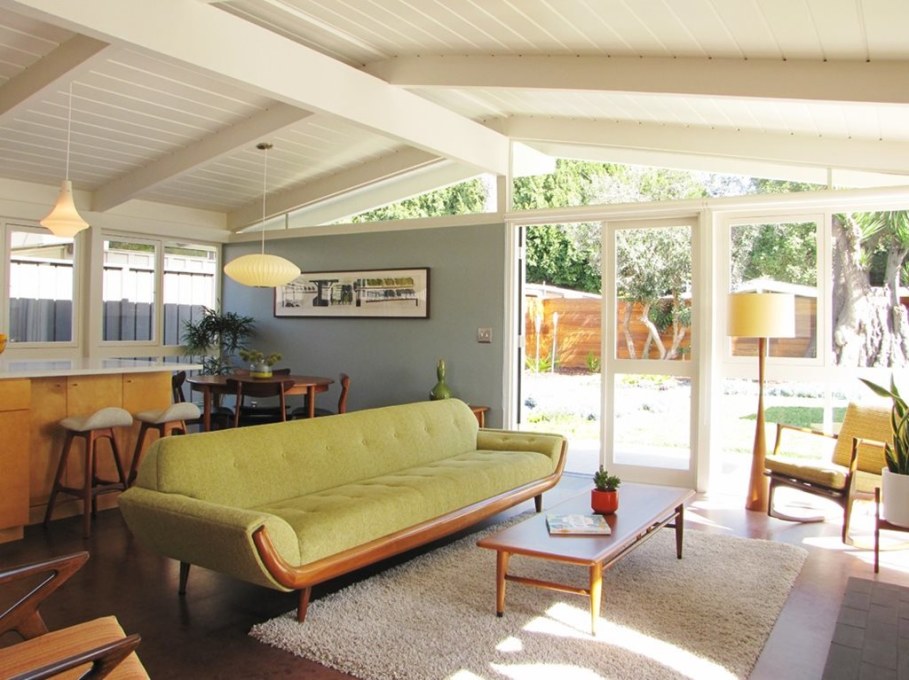 Furniture for seating and relaxation could have various shapes and be strict and angular, or fancy and swan-necked. However, wooden or chromized feet are the feature, common for almost all items and able to make the retro furniture look like and exquisite one.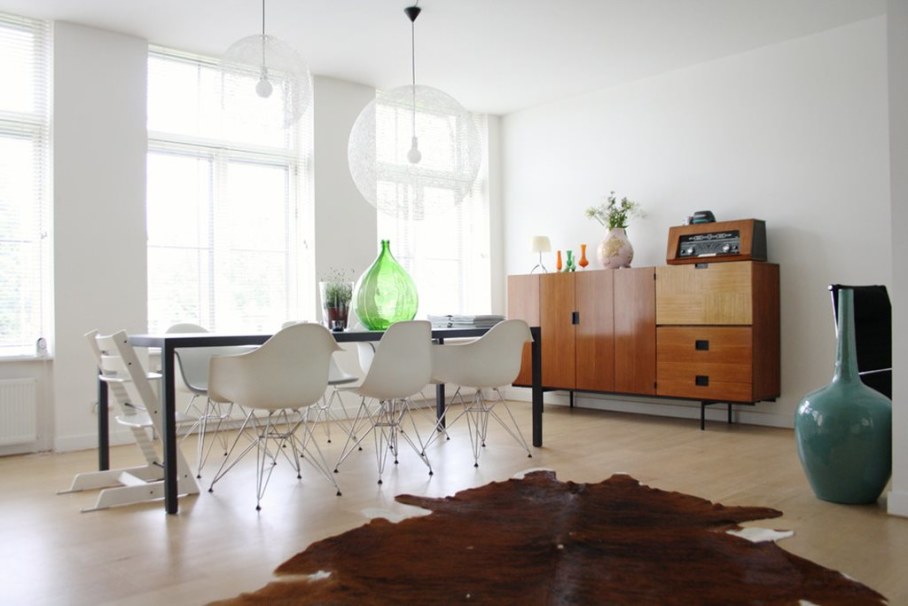 Retro style materials
The sixties were the times of progress, allowing to use uncommon materials for furniture production. For instance, plastic could be used for chairs, tables, lamp shades and others. Thus, the possibility of usage of plastic furniture items for retro interior is worth noticing.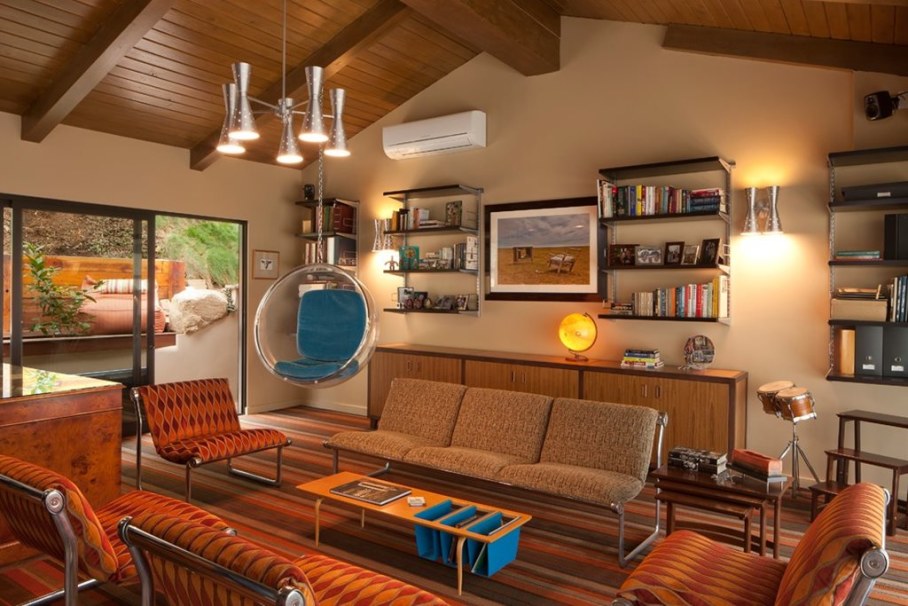 Chromized elements, such as furniture carcasses, legs of chairs and tables, frames of tabletops, lamps and torchiers, were successfully used in great numbers. It was also quite popular to combine these glitter elements with wooden tabletops, armpads, facades and a frame of furniture for storage.
Chequered floor tiles, laid in kitchen, were extremely popular. Upon that, combination of black and white, red and white, yellow and white tiles was at the height of popularity.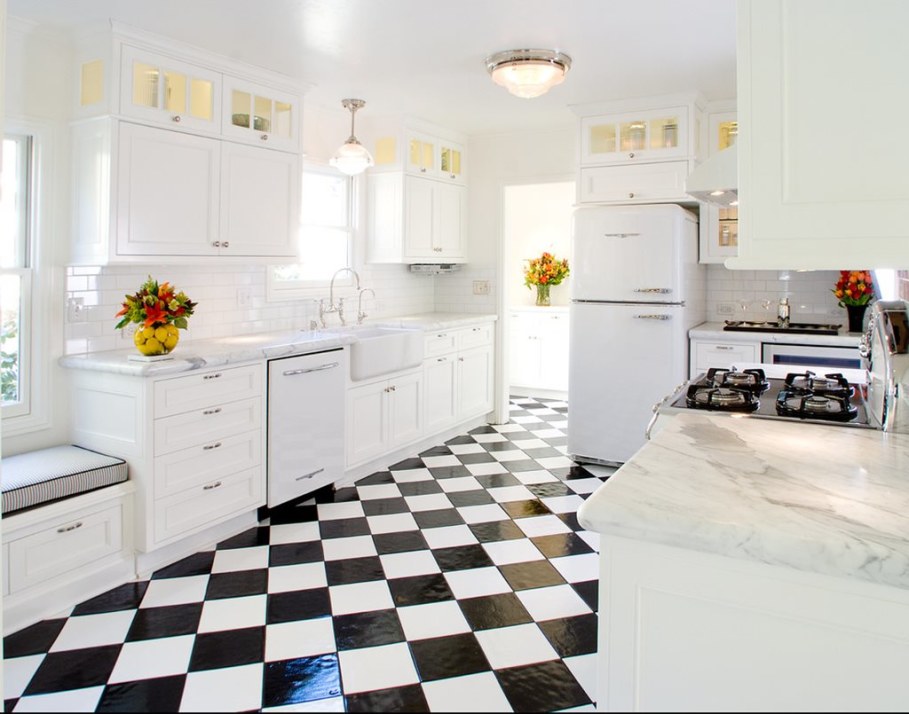 In contrast, corridors and living rooms had parquet flooring with herringbone print. Walls were colored with neutral-tinted paint and some parts of them might look like natural brickwork.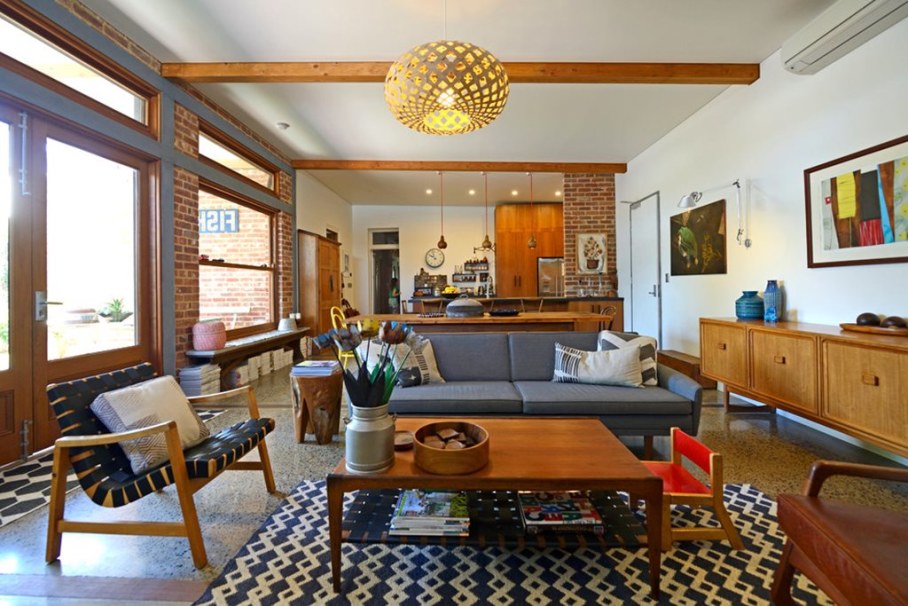 Unusual decor: the heart of retro style
The main idea for the retro-styled premises was to create a cozy and heartwarming atmosphere, therefore people tried to fill the house with unusual and bright items as well as with huge amount of books (as the youth was highly intellectual then).
The interior could contain high torchiers and desk lamps with abat-jours of fancy forms. Atom clocks or simple mechanisms with white square face and black frame were the obligatory elements in each house.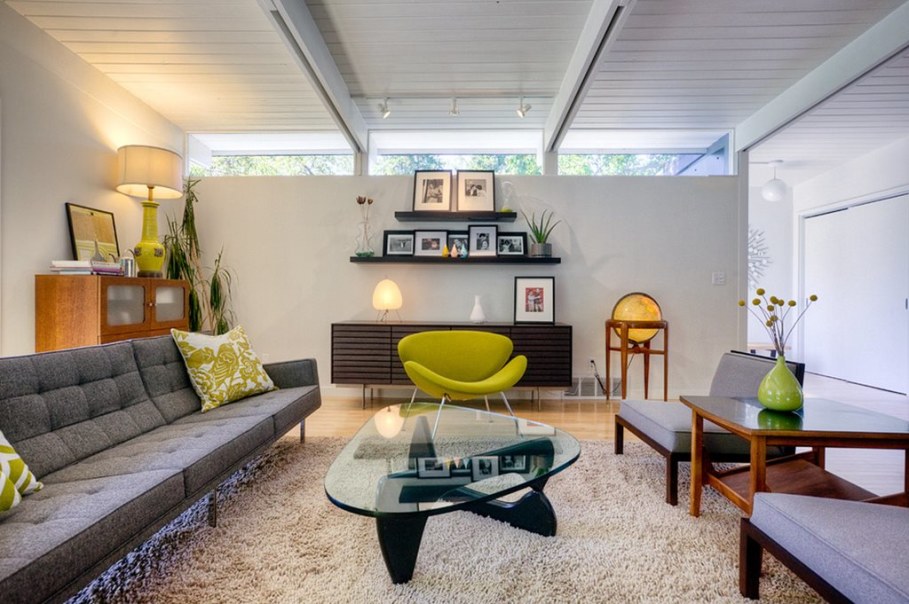 Windows could be decorated with light curtains with geometric or ornamental pattern, but of only cotton of chintz material. Beautiful bright utensil, spotted or chequered tablecloth and bedcovers as well as carpets with geometrical ornament would be a perfect match for retro-styled decor.
Souvenirs, statuettes, vases and carafes should be disposed at open shelves while living plants could decorate the windowsills.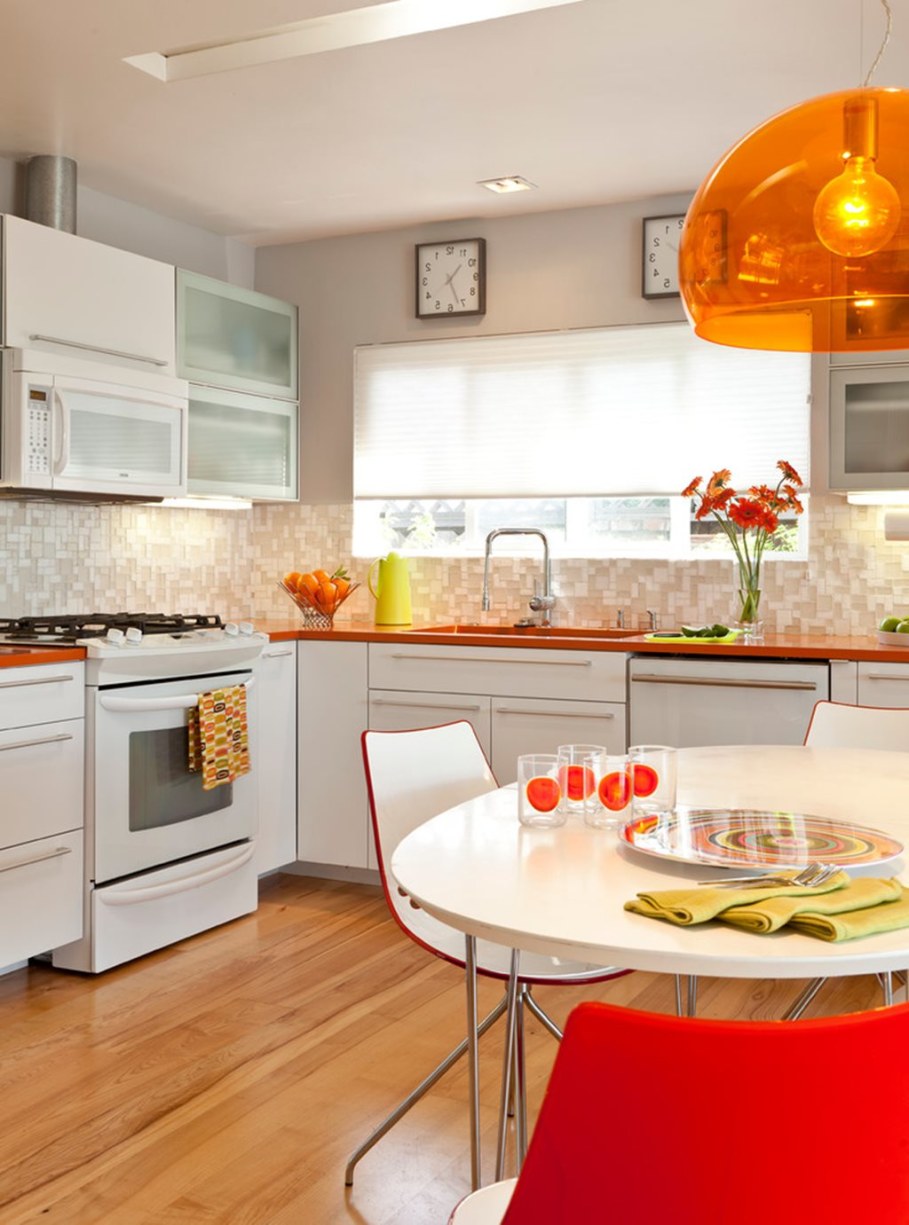 Prints and patterns
The sixties period was also known for famous designers and artists of pop-art style. One of those was Andy Warhol, who played an important role in creation of design for premises of that time. He created sensational pieces of art, namely reproduction of portraits of celebrities and posters with advertisement of soup and ketchup.
Such activity didn`t fit in the idea of painting, however, many contemporaries and followers of the famous artist caught the fancy of it. Nowadays it is impossible to imagine the retro-sixties without colorful Marilyn Monroe`s diptychs. This makes the effective pop-art graphics a quite appropriate supplement for the retro-styled interior.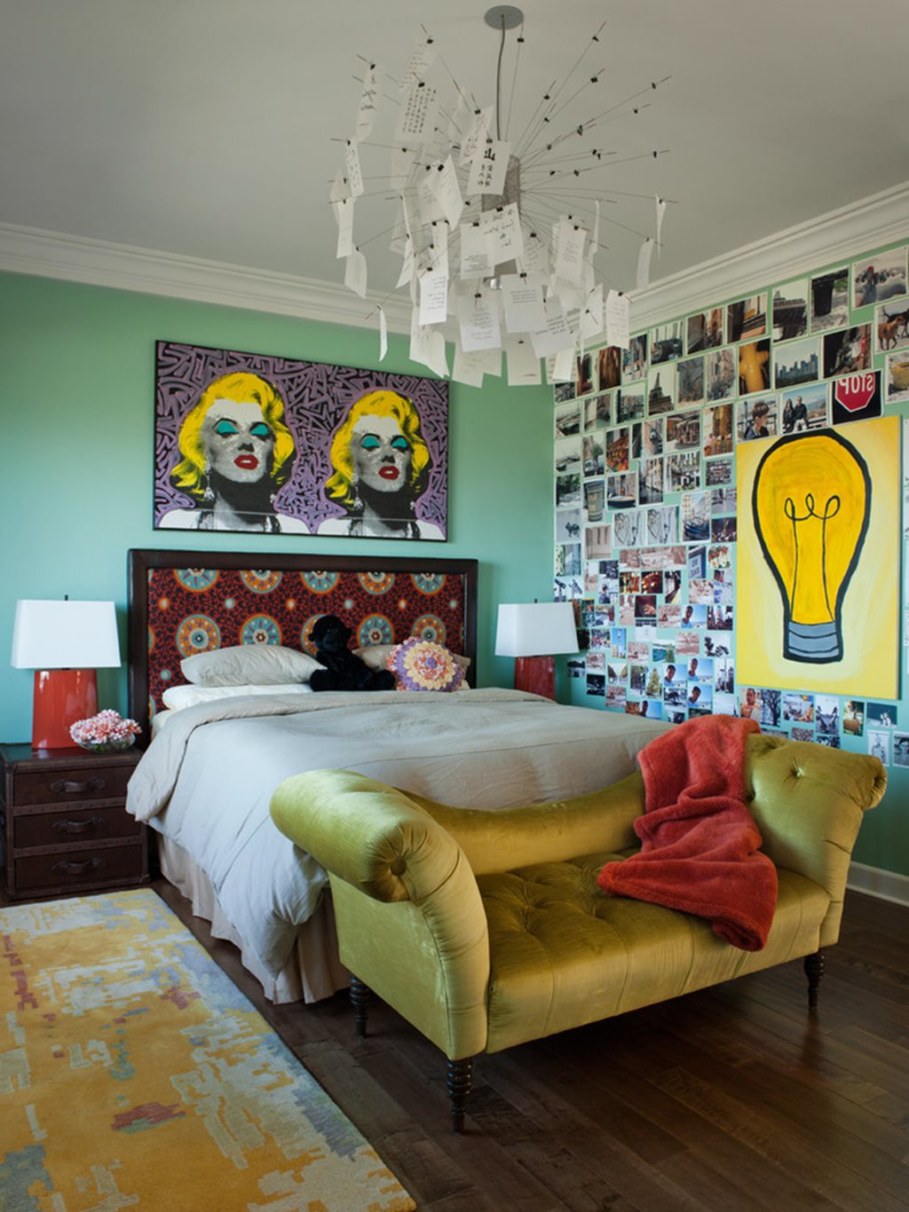 Photo Gallery: Retro Style interior design