Nowadays, High-tech is one of the most popular modern trends in interior and architecture designing.
It was formed following a combination of minimalism, constructivism and pop art. The idea was supported and developed by English designers, and after that it won international recognition. Hi-tech was the first designing solution to combine the most striking features of styles harmonized with each other – the practicality, high technologies, the functionality and impressive appearance. Thus, now High-tech is the precise geometry and modern materials with some futuristic elements.
Nevertheless, this style primarily accentuates its external impression. Advanced hi-tech is first of all the pursuit of elitism. Here modern aesthetics is emphasized by the latest developments in the field of technology and materials for decoration.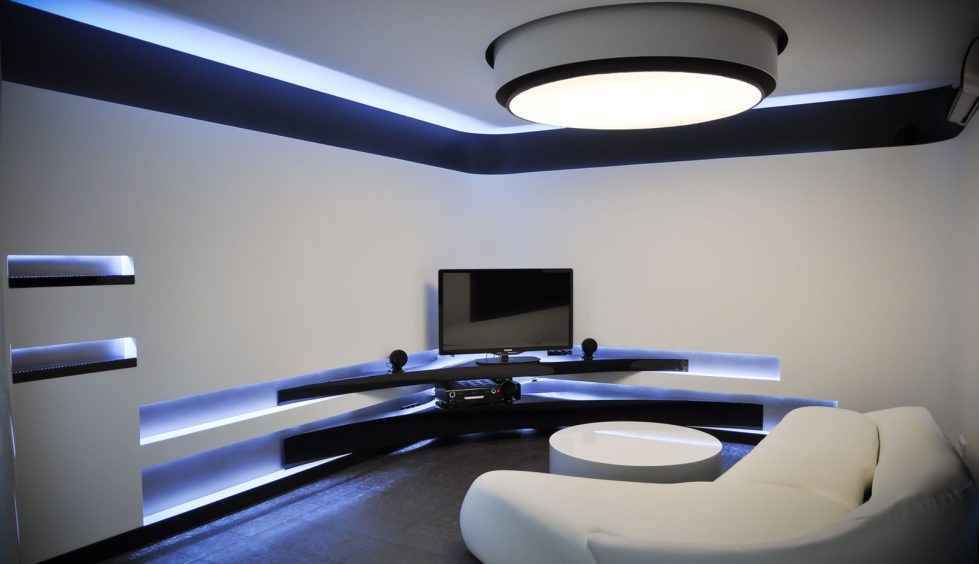 © housedesign99.info
The characteristic elements and accessories of the High-tech style
The High-tech interiors do not provide houses with fireside comfort or coziness, however they have other goals.
Perhaps that is why this style has gained popularity initially in office premises, and then in houses. Nevertheless, many people choose the High-tech style for designing of their living rooms despite some coldness and detachment.
One of the main features of the style is accentuation of household appliances and even requires all other details of the interior to fit them. While other styles tend to hide domestic appliances or blend it well into the interior. That is why it is important to choose not only functional but also stylish equipment.
Moreover, designers advice to prefer to equip Hi-tech living rooms with furniture of high-quality plastic, glass and fittings with metallic sheen.
You can make a futuristic interior more lively and cozy adding an eye-catching element of a bright color. For example, a bright red or yellow sofa could be the easiest way to do this. But keep in mind that you could make only one color accent in the Hi-tech style. Moreover, the furniture should have a quite concise shape form.
The interior in the style of Hi-tech doesn't allow sophisticated decor, because ideally it should be a solid, all-sufficient product without any additions.
The most popular method of distribution of color is making bright accents on a monochrome background. Combinations of white and light gray, beige and metallic colors blend perfectly suited for a background. In the most extreme interiors walls could be painted even in red or light green\green. Monochrome photographic pictures of a large size or modern graphics will look perfectly on walls. A futuristic wall clocks will also be quite stylish.
High-tech is the abundance of glass, shiny metal and plastic.
The main materials used in these interiors are plastic, glass, metal, and all that accentuate the elegance and modernity. However, High-tech allows using traditional materials, as wood, stone. But modern technologies have an advantage over other décor details. High-tech could be characterized as the abundance of glass, shiny metal and plastic. Lines – perfectly straight, surfaces – smooth, matte and glossy. The primary features of the furniture for this style are the design and the functionality. The more your home resembles a futuristic spaceship, the closer you are to the target.