Design of curtains for a living room is first of all defined by general style of the room`s décor. Modern curtains are an important décor element, just like a stylish vase or exciting painting. Thus, selection of curtains requires careful consideration and taking into account the main tendencies in the designers` sphere. Do You want to implement not only stylish, but fashionable design in Your house? Let`s find out then, which advises as to the selection of curtains for a living room may designers provide this year.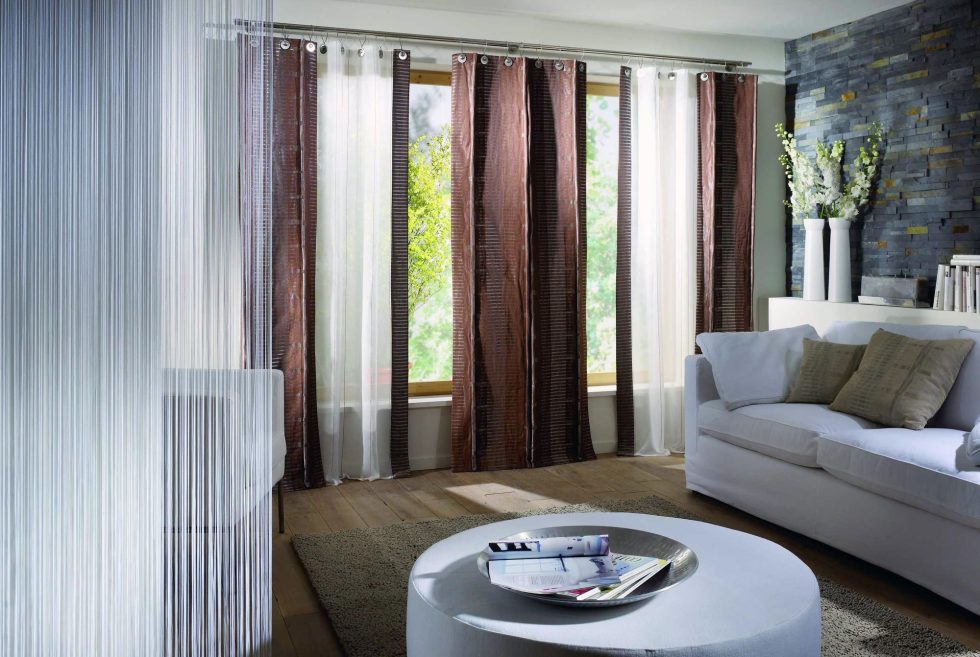 Living Room Curtains: Naturalness is in trend
The general tendency, which gains popularity each upcoming season, is to select the most natural materials. Thus, the most appropriate choice is curtains of natural materials – variations of cotton, flax, silk and other vegetable fibers.
Which type of curtains is in trend in 2017? – Light and weightless. Modern interiors prefer spaciousness and lightness. Even popular loft style has recently become lighter due to semi-transparent curtains of thin fabrics. Bobbin-net, chiffon and veil are the materials, able to help in creation of beautiful modern interior.
Color of curtains in the living room: trends of 2017
The main theme of fashion design projects is use of basic tones for premises decoration (such as grey, black, beige and especially white).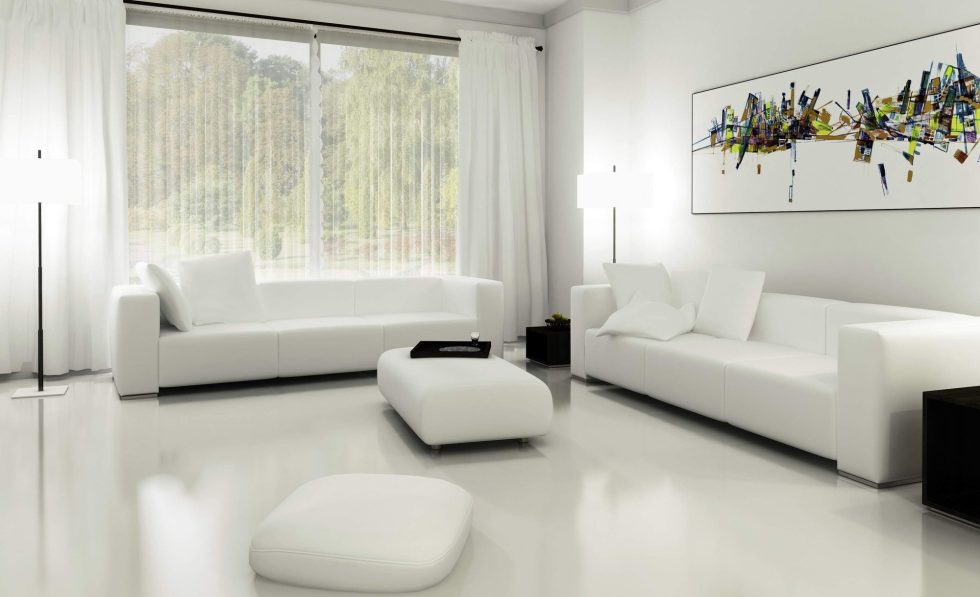 Multiuse white color of curtains will bring a crisp note into a small living room and will transform it. Such choice will suite those who doesn`t want to make emphasize on the textile, yet prefers to enliven the interior with other bright colors, such as furniture or attractive lighting fixtures.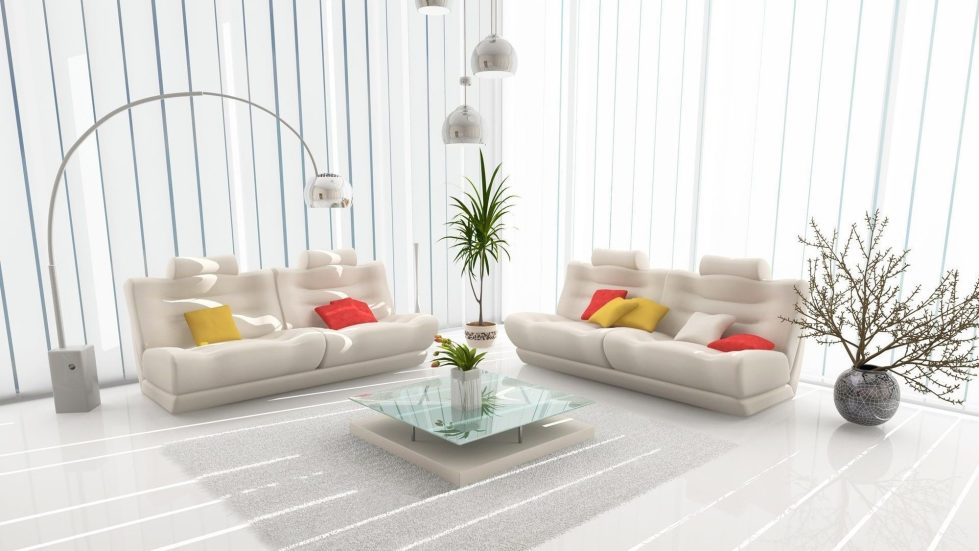 Dark curtains are one more classic solution, able to make the interior a bit severe. If You have chosen dark curtains, select them in tune to the upholstery of the soft furniture, lamp-shades of floor-lamps or color of sofa`s pillows.
Color curtains will easily make Your living room more attractive and bright, therefore don`t be afraid to experiment with combinations. You may enliven the living room`s interior with bright curtains of natural tones and it will become not only a perfect place for rest, but a place, which will provide You with a charge of positive energy!
Cold tinctures such as grey, violet and light-blue will fill the room with coolness, whereas such colors as red, beige and terracotta will create the sense of warmth and comfort even at the coldest winter.
The designers provide us with freedom for creative ideas in relation to the colors of finishing and curtains in a modern hall. It would be best if the color of curtains complied with the color of furniture`s upholstery and wallpapers. Nowadays designers prefer to use for curtains the same textile, which the room`s furniture is covered with, as well as dust-covers and pillows. Such decoration looks very effective.
Types of curtains for a living room, trends of 2017
Let`s look at the main types of curtains fist. This article displays a big photo gallery of the most attractive curtains for various interiors. You may probably like the introduced ideas and will implement them while selecting curtains for Your living room.
Curtains with a lambrequin. Lambrequin is a decorative element, which is located in front of the curtain and is used for hiding of a curtain-rod. However, apart from this function lambrequin could be successfully used for visual raise of ceilings and shift in windows` proportions. Lambrequin may be soft and hard. Soft is sewn directly on the curtain and is only a decorative element in such a case. In turn, the hard one is fixed to the wall above the curtain-rod, hides it and visually corrects the window`s size.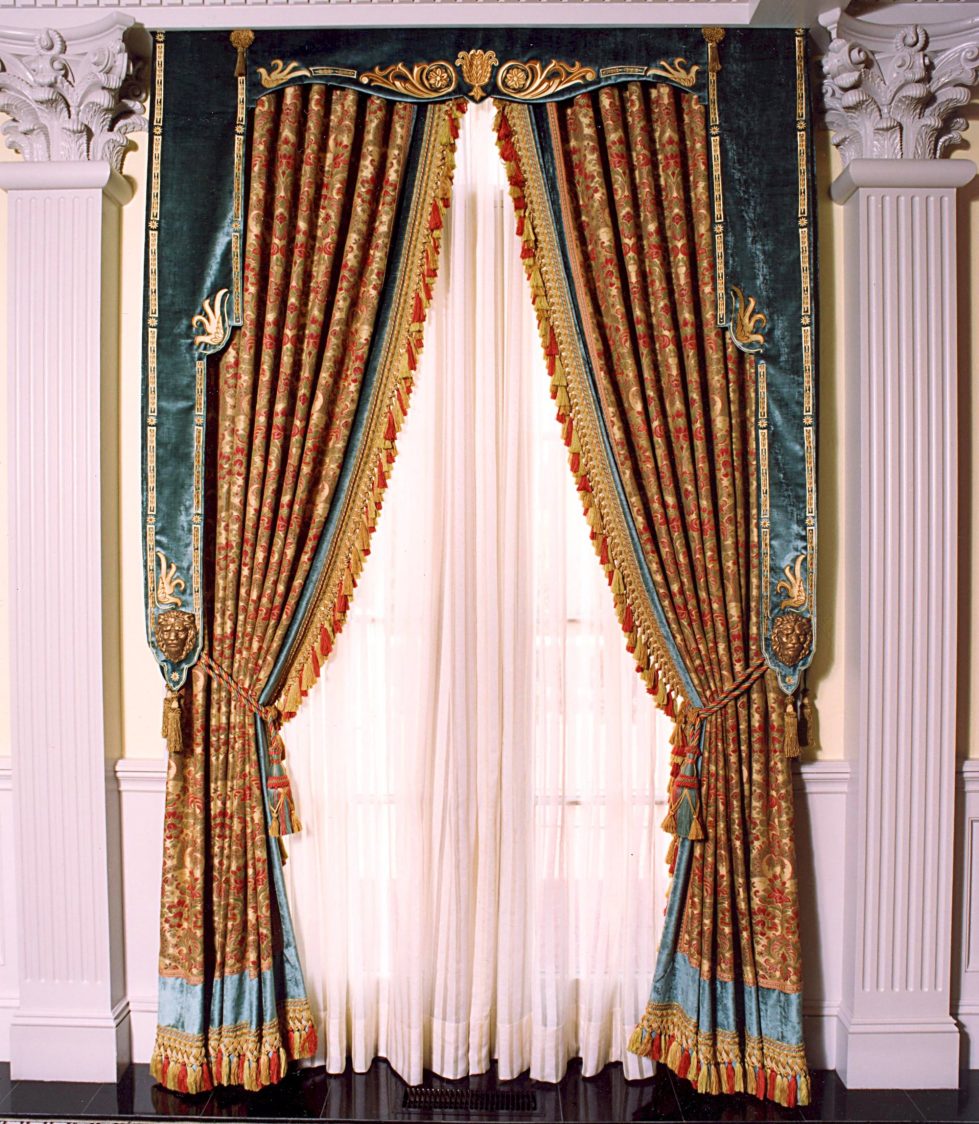 © asid.org
In order to make lambrequins it is possible to use any fabric, except the ajour and thin one. Usually manufacturers may use fabric for curtains of identical structure, yet of different color to make lambrequins. It is possible to use hard lambrequin in any interior styles, even in high-tech one. All You need is just to cover it with print, suitable for this style. Soft lambrequin will better suit romantic or classic styles. It would be good if lambrequin`s lines repeated the details of some furniture item.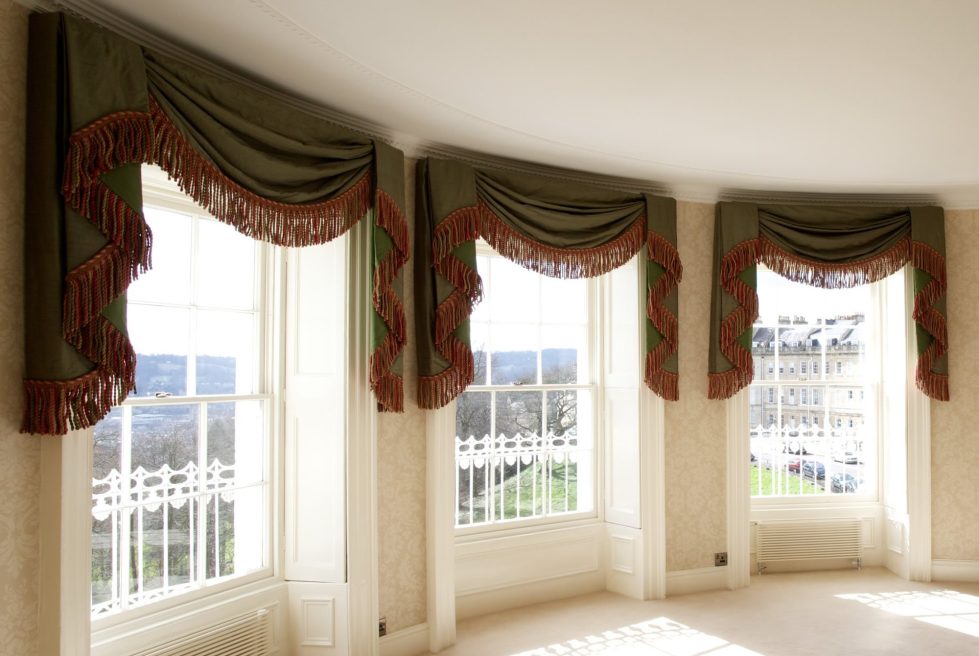 Features of curtains for a living room in modern style
Modern interior style is a combination of other styles: high-tech, minimalism, eclecticism. This is a kind of self-expression, a way to demonstrate own individuality, style and comfort perception. The main features of modern style are as follows: ease of perception, light colors and simplicity in use. Curtains in the modern style are usually strict, have no clamps, with hinge straps or eyelets.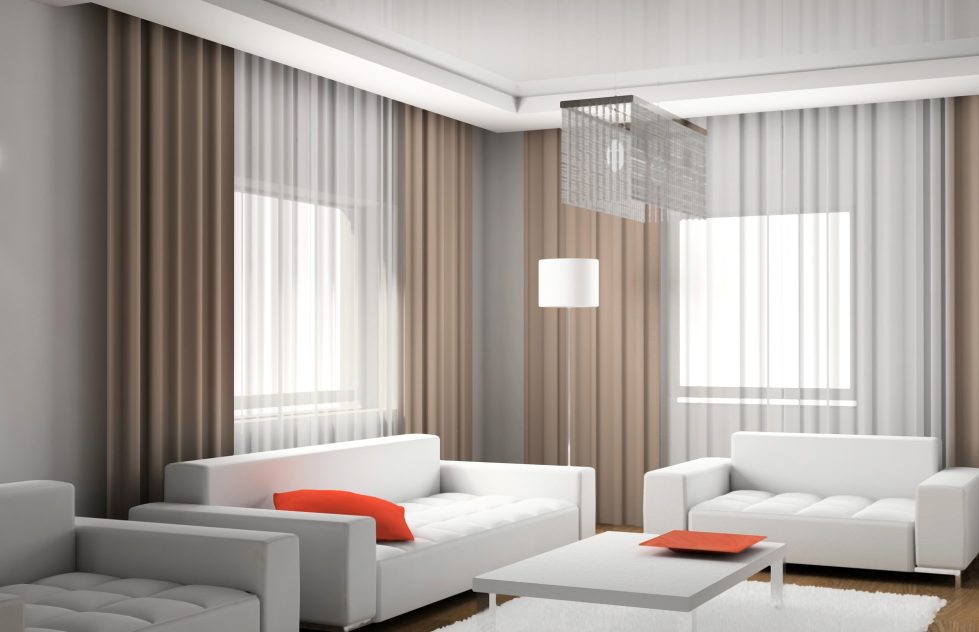 Color tincture of curtains may be compliant with other interior colors, yet must necessarily be light (beige, white coffee, ivory) or should make emphasizes (red, violet, light-blue, green). In any case these colors should be pure and pristine. The curtains in modern style may be manufactured of any fabric:  starting from natural one with pronounced texture, to the fabric, produced with the use of modern technologies (metallic threads, laser beam cutting etc.). The ornament may be either sole-colored or contain geometric figures.
Curtains for a living room in the classic style
Classic style will never be out of fashion. Interior performed in classic style will always be popular and will demonstrate perfect taste of the owners. Curtains in classic style are a combination of heavy non-transparent fabrics and airy organza. They are rather functional: light fabric doesn`t prevent penetration of sunlight into the living room, whereas non-transparent portiere curtains may hide from the bright sun and help to keep privacy.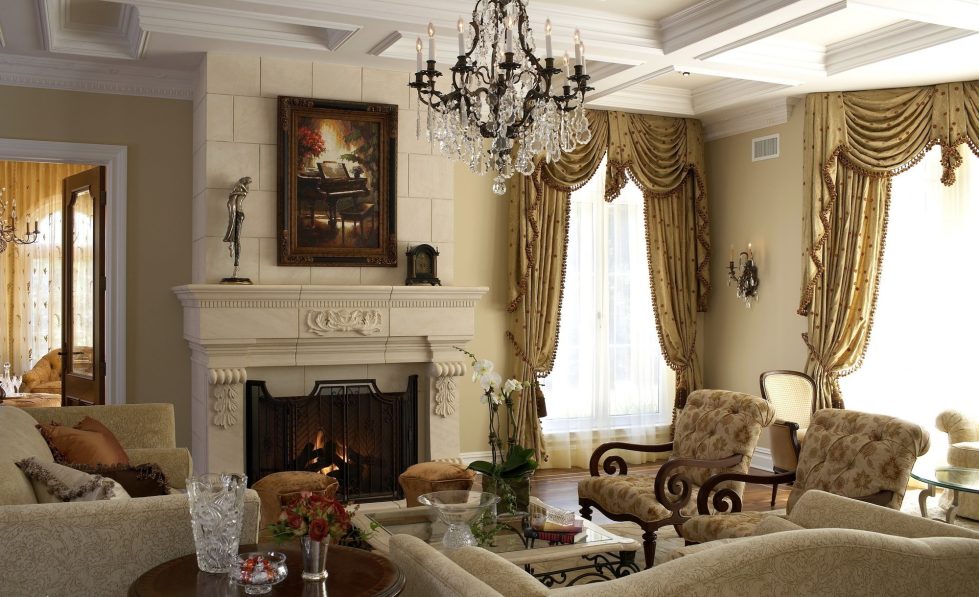 Classic style allows application of all kinds of fabric for curtains` manufacturing, as well as any texture and ornament and use of various décor elements (lambrequins, ribbons and bands). This style requires compliance of curtains` color tincture and texture with the interior. In other case it would be fragmented and unattractive; therefore, curtains are the main emphasizing element of the interior in classic style.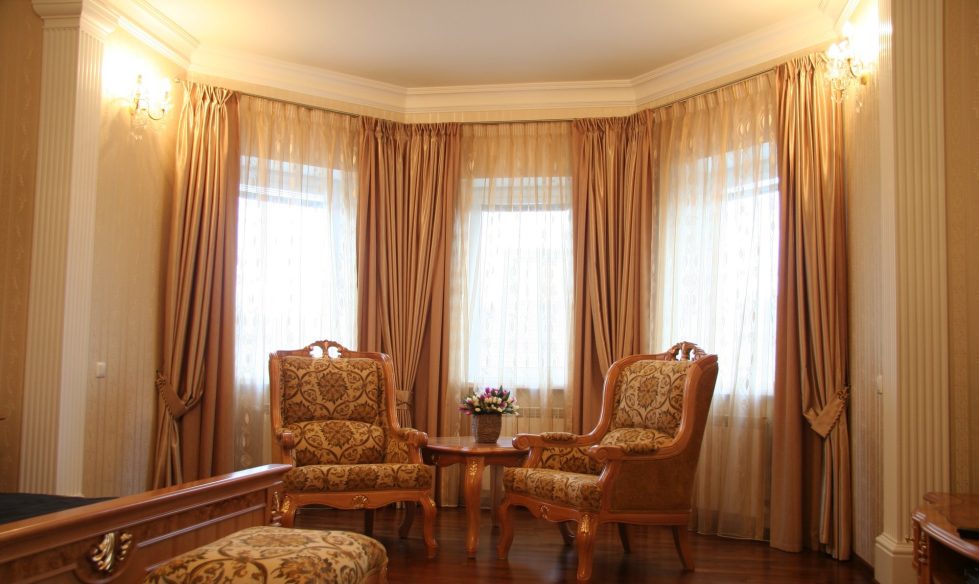 Curtains for a living room in the high-tech style
High-tech style is a tribute to the modern lifestyle in times of industrial progress. There is nothing in excess in the interior performed in high-tech style. Each thing has its own place and purpose. This style is rather cold and unpretentious; it was initially intended for office premises and is now gaining more and more adherents, who apply it to the living premises. Window decoration in the high-tech style contains no décor and looks functional.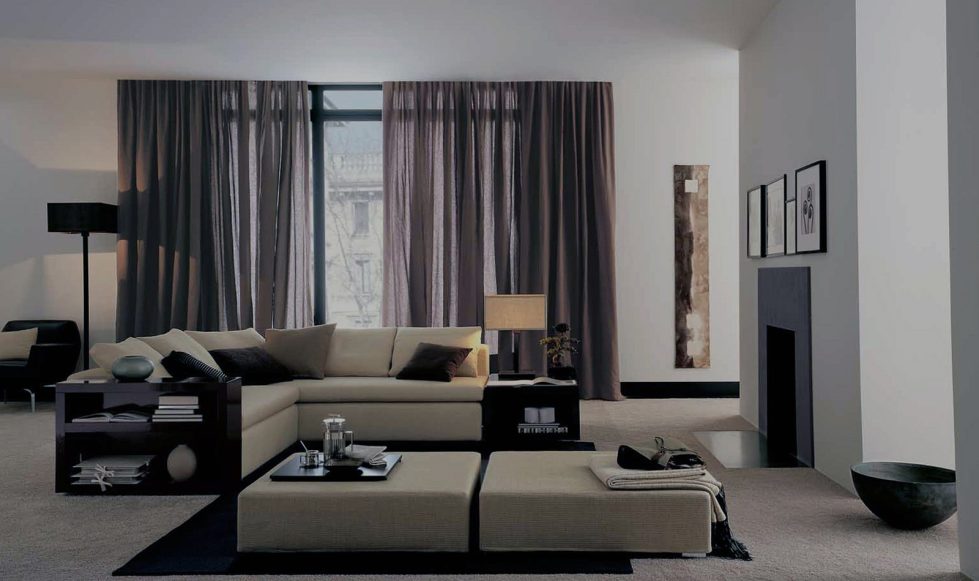 Strict and simple curtains should be transparent and have metallic glitter. However, such curtains will be appropriate only at the high-tech interior. Selection of fabric plays an important role in curtain`s tailoring. The material should be modern and of the best quality, with a metallic thread or laser cut-through. There should be the appropriate color range: metal color (from grey to gold and platinum).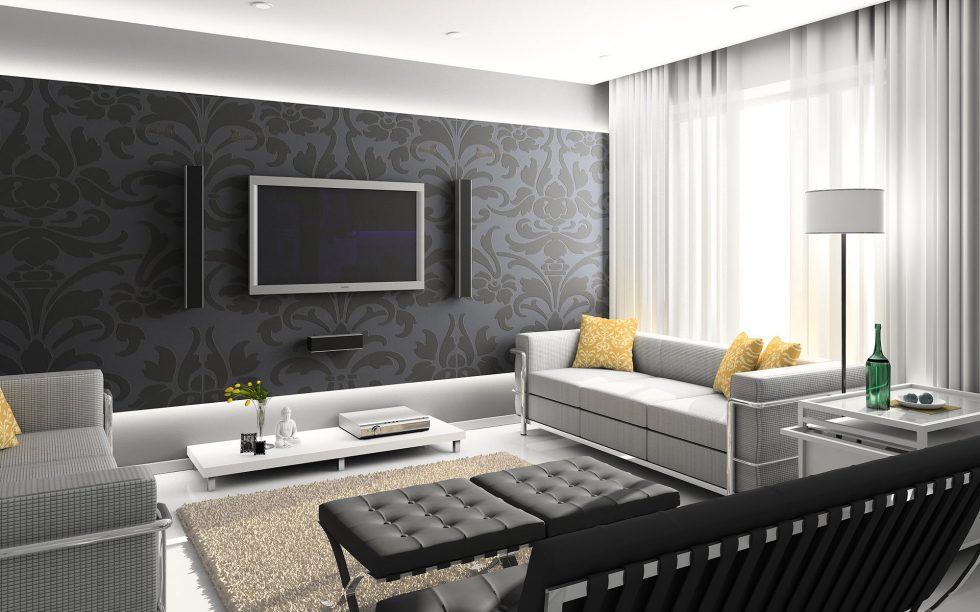 Provence style curtains
Provence style makes us closer to nature; it is close to country style with peculiarities of French culture, as it was named after its southern province.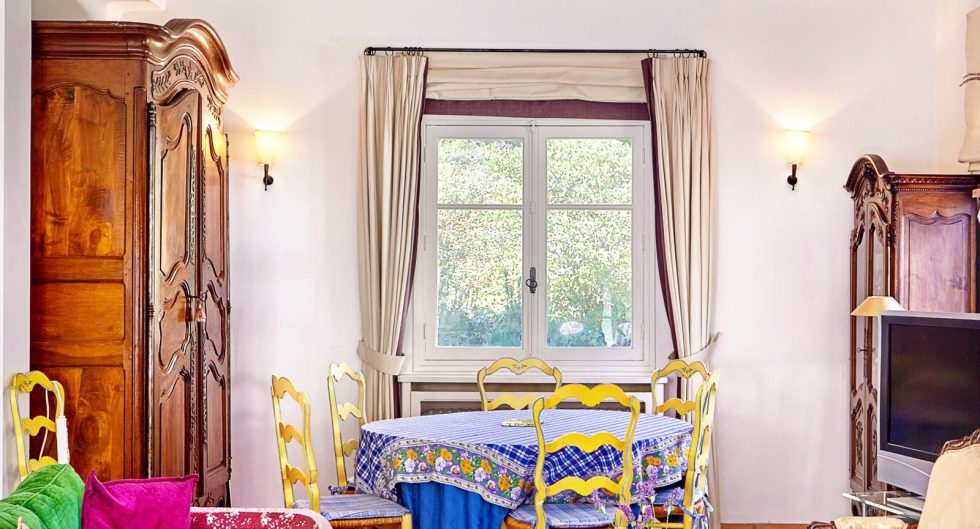 The style reflects rural way of life, in other words modesty and simplicity in all items: natural material in décor elements, wooden floors and ceilings, curtains of simple tailoring across the whole window. By the way, the window in classic Provence style should be floor-to-ceiling. Plain ornaments on curtains are: flowers or bouquets of flowers of various sizes and garishness, red-and-white or blue-and white checks or lines.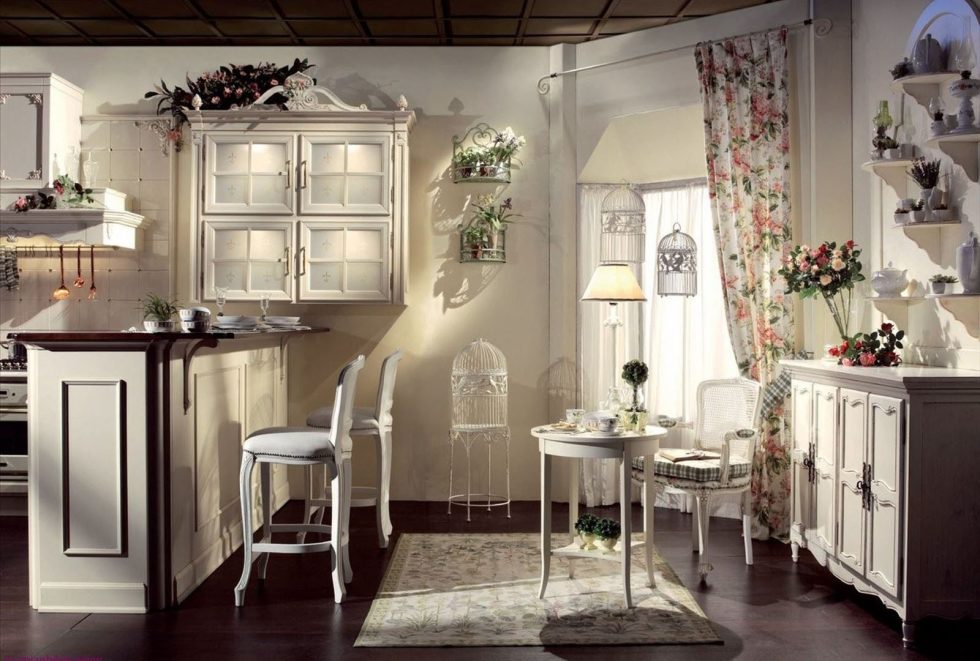 The fabrics are: linen, block-printed cotton and embroidered or needlepointed canvas. Color range of Provence style is light, technicolor, yet not garish colors; the main of them are ochre and terracotta. While selecting curtains for Provence style it is necessary to remember that blue color is an integral part of any Provence interior, therefore, décor of windows should be compatible with this color.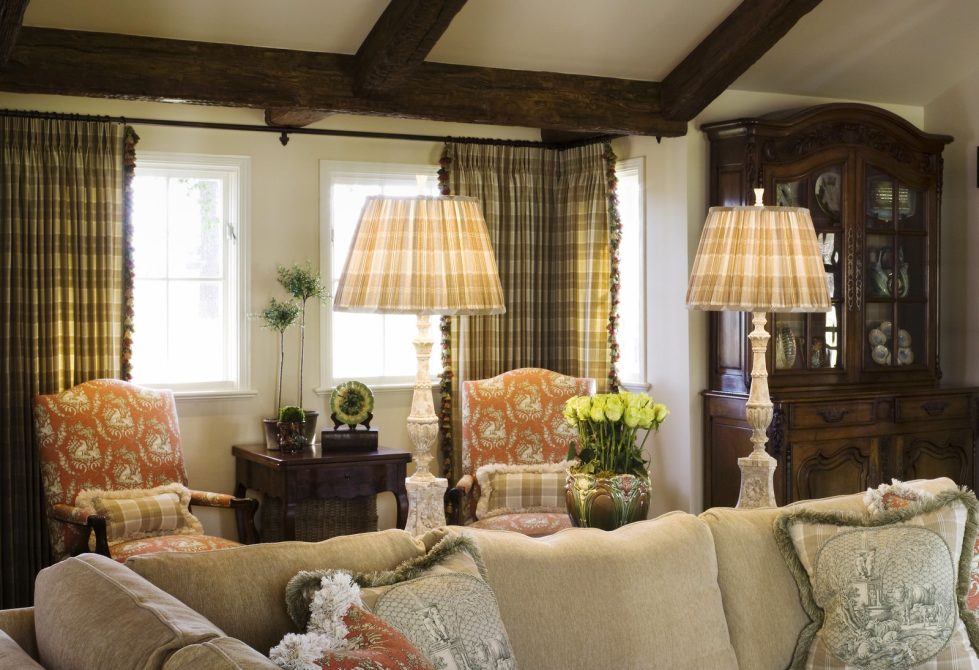 Minimalist style curtains
Curtains in this style (as well as in high-tech style) are only functional element of the interior. There should be no decorations, only strict lines and laconism. Therefore, one should take the selection of fabrics seriously. The fabric should be light, sole-colored and should perfectly transmit the sunlight from big windows.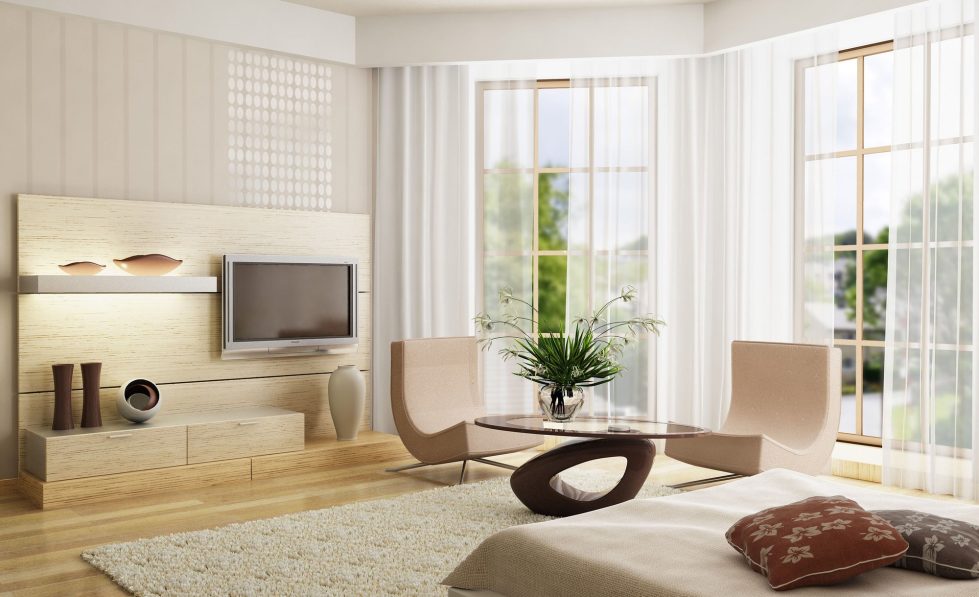 French curtains
French curtains always look luxurious and elegant. They consist of several sections, which form straight smooth pleats. The French curtains are perfect for classic interior of a living room or bedroom. This type of curtains ideally matches lambrequins, heavy portieres and may have length up to the floor, as distinct from Austrian curtains.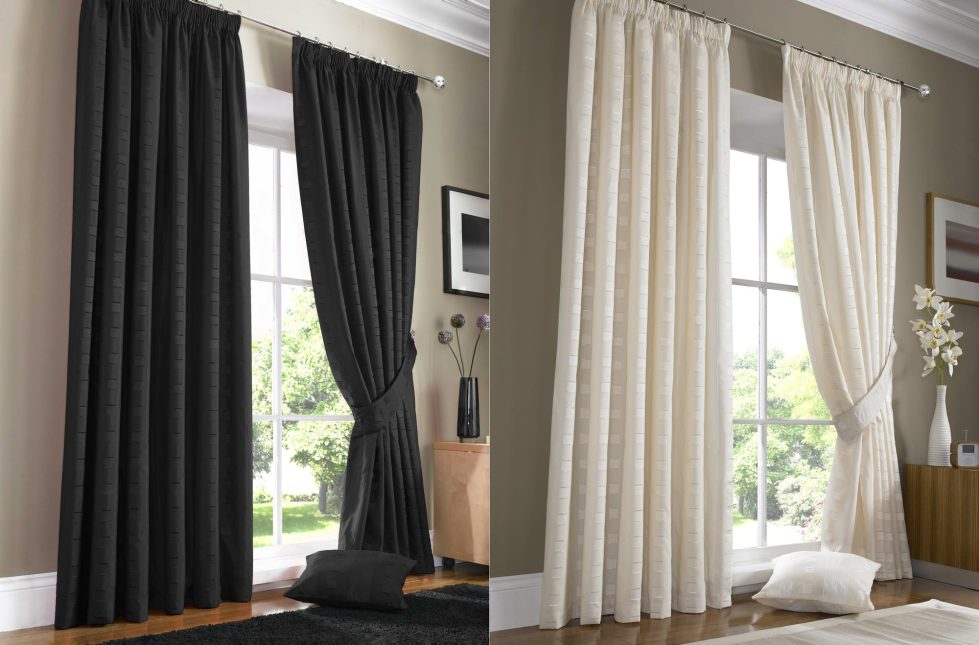 The French curtains are an elegant window`s decoration, being the element of classical style at the same time. This type of curtains will be the perfect match for living rooms with arched windows. Their main feature is plenty of frills and wrinkles. Immaculacy of wrinkles is the main feature, which creates exquisite, impressive and elegant atmosphere in the interior. The fabric for the French curtains should be light and semi-transparent: satin, silk, curtain lace, muslin and moiré. Thanks to their attractiveness the French curtains will look immaculate both at the living room and bedroom, and at the cabinet and dining room as well.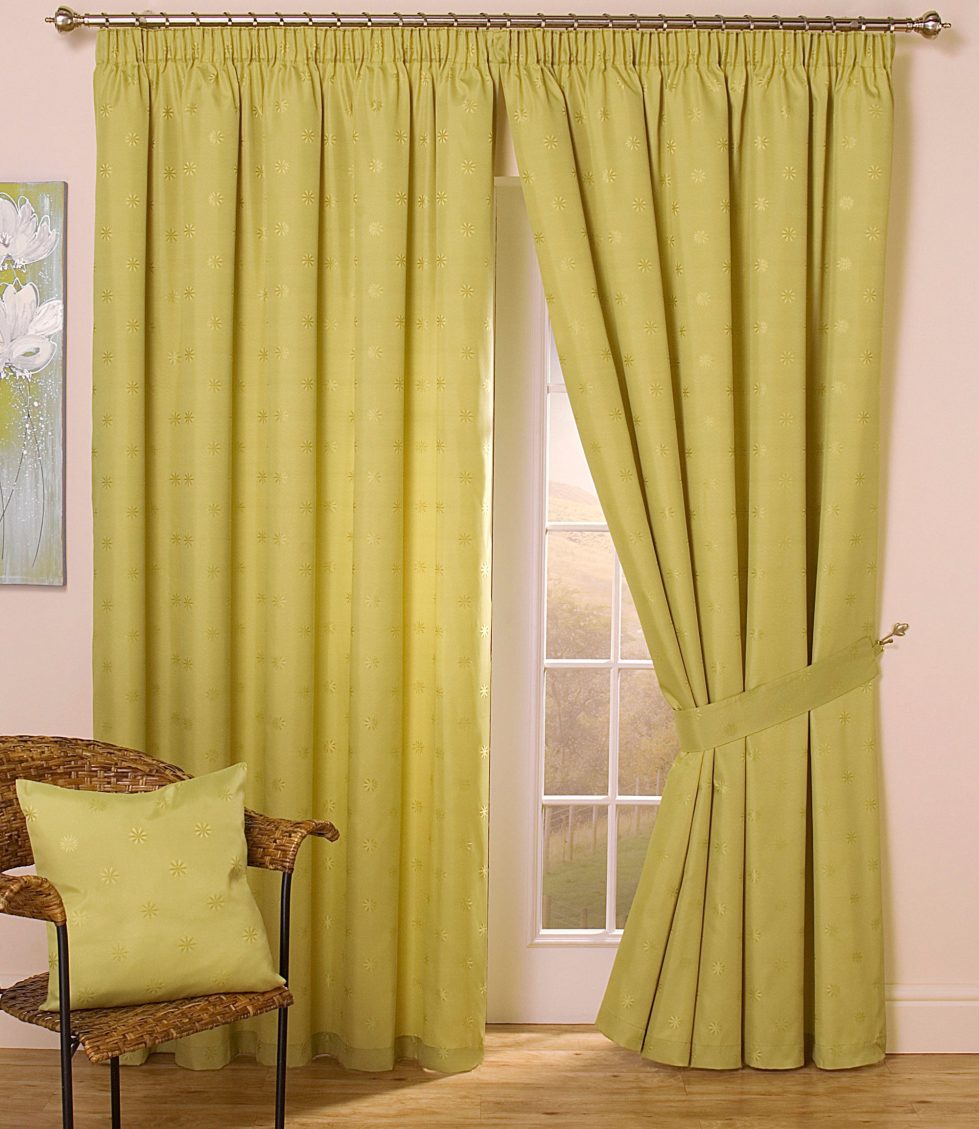 Austrian curtains
Austrian curtains were initially intended for small windows, yet have become in common use in the course of time. The fabric for them should be light and simple. Such curtains will incredibly suit a classical living room`s interior.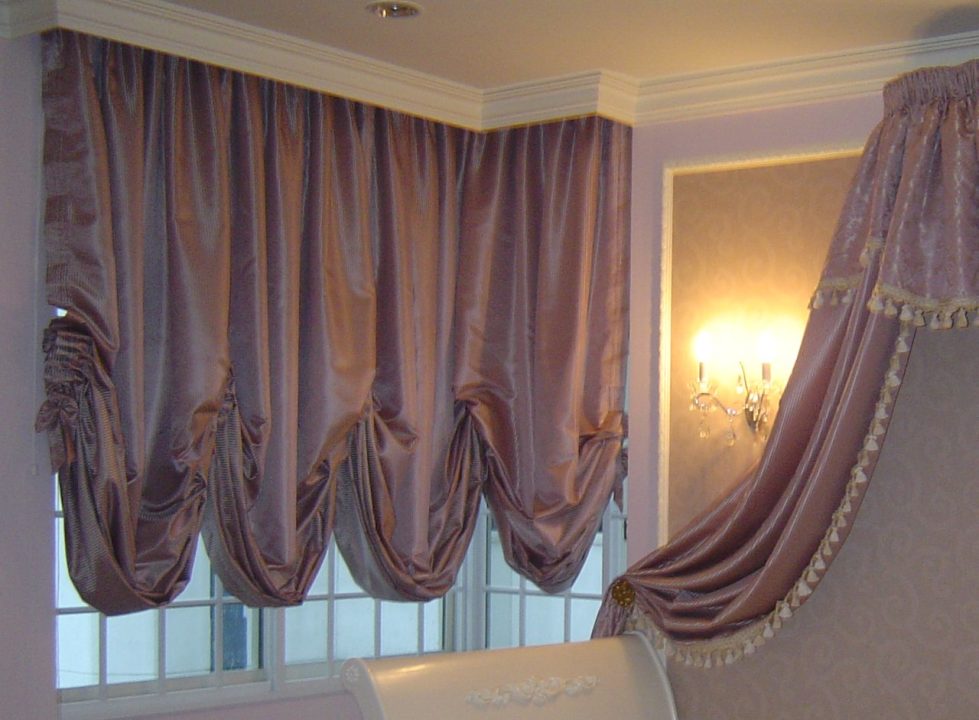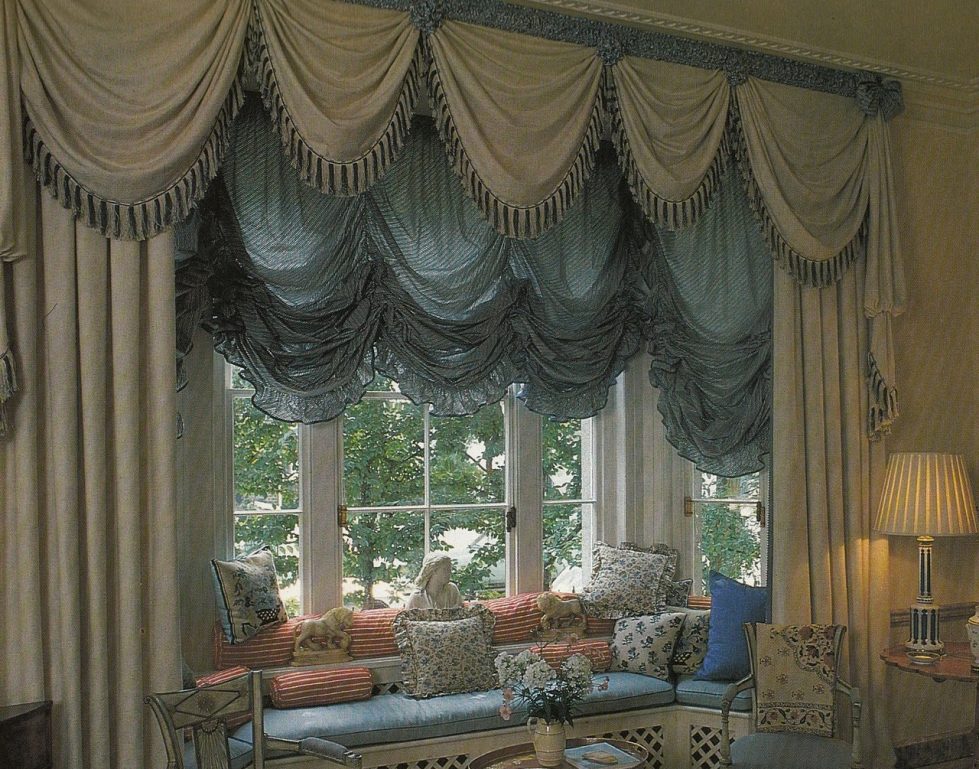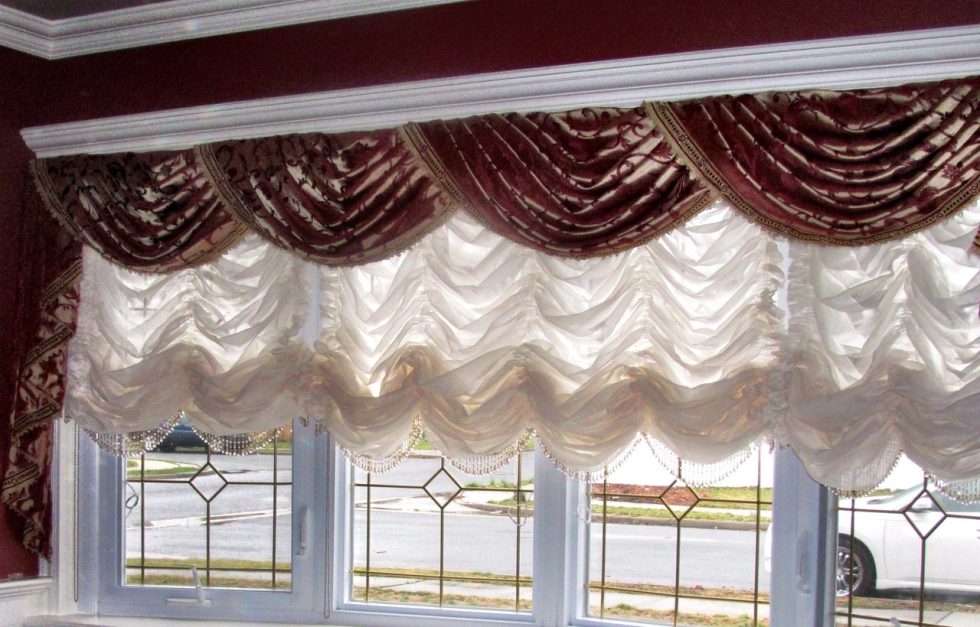 The Austrian curtains bear some resemblance to the French ones and are a type of festoon curtains. The bottom edge develops pleats (festoons) when the curtain is lifted up with the help of lacing, which go from the backside of curtains. The upper edge has pleats and wrinkles, created by special ribbon.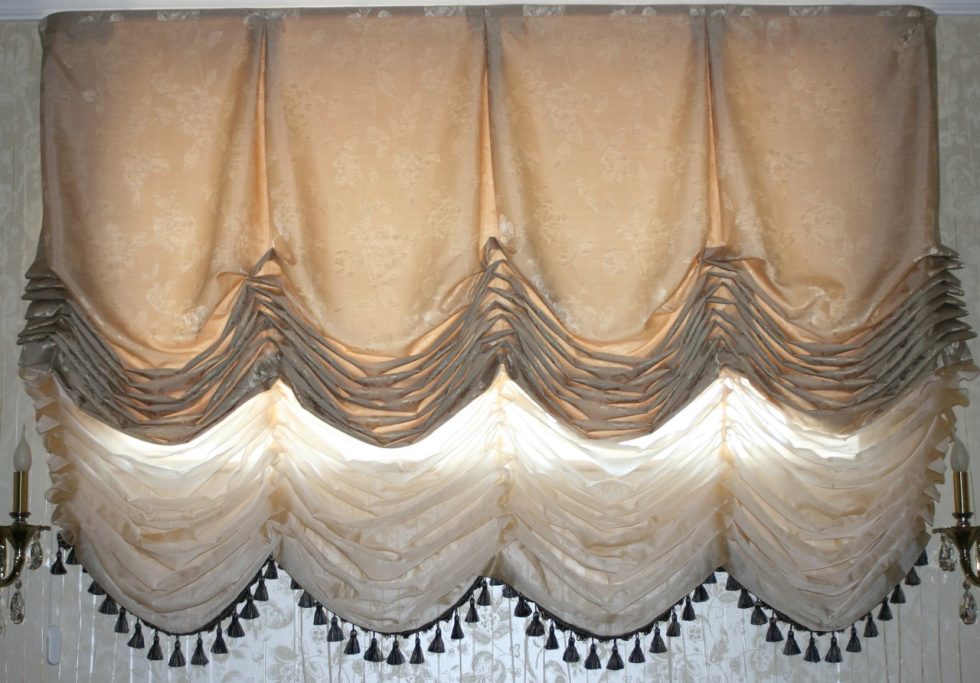 Flexibility of the Austrian curtains allows using them both at decoration of ordinary city apartment, and country cottage. Such curtains would look especially appropriate at the living room, dining room, bedroom, especially if those rooms are performed in classical style.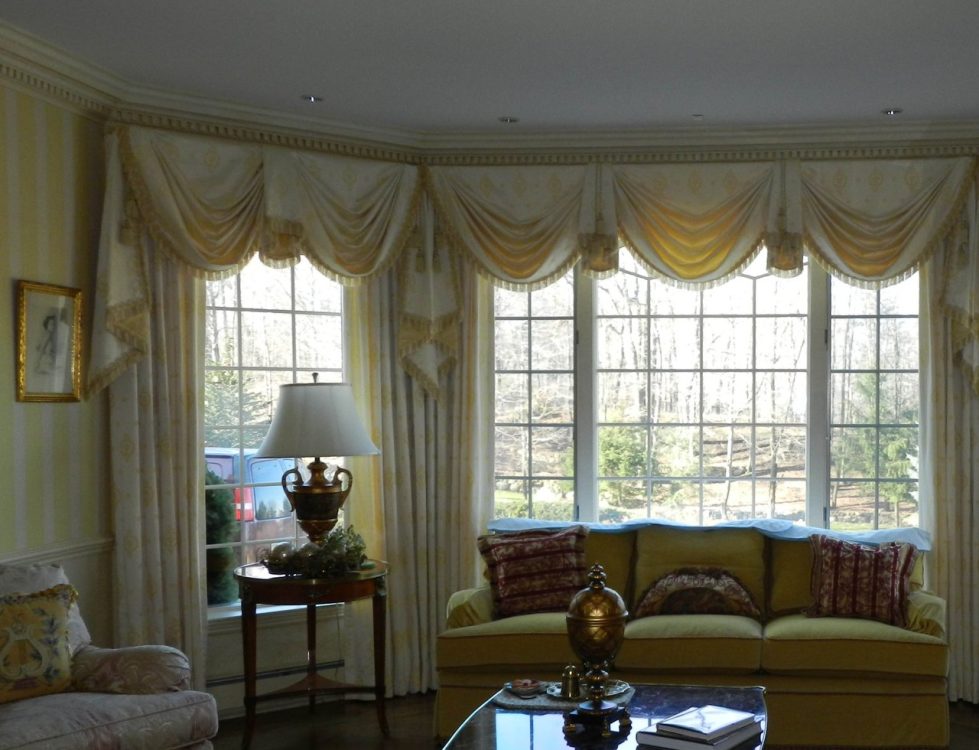 Roman curtains
Such curtains will be the sure option. They look austere, have geometric shapes and will comply with any decoration of the living room, especially nowadays, when the Roman blinds are rather popular.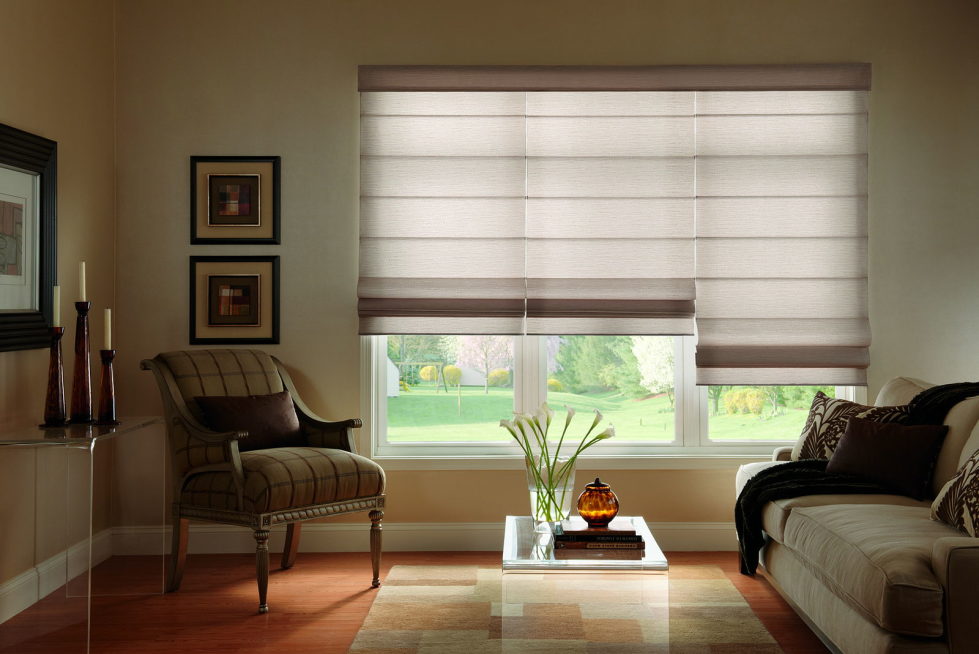 If You would like to decorate the living room in the original and elegant way, to visually enlarge the premises or to hide some architectural imperfection, then designers` advice is to choose the Roman blinds. The curtains` construction is both very simple and functional at the same time, as they may be fixed to the ceiling, to the wall or to the window aperture.
Roman blinds are considered to be the planar ones. They are a solid canvas, pierced with horizontal sticks, located at certain distance. The feature of these curtains is the ability to develop horizontal flat and broad pleads at rise, which are evenly laid one upon the other. It wouldn`t be hard to select the curtains, which will correspond with the chosen style of the living room`s interior, as the Roman blinds may be manufactured of the majority of decorative fabrics of various textures and colors.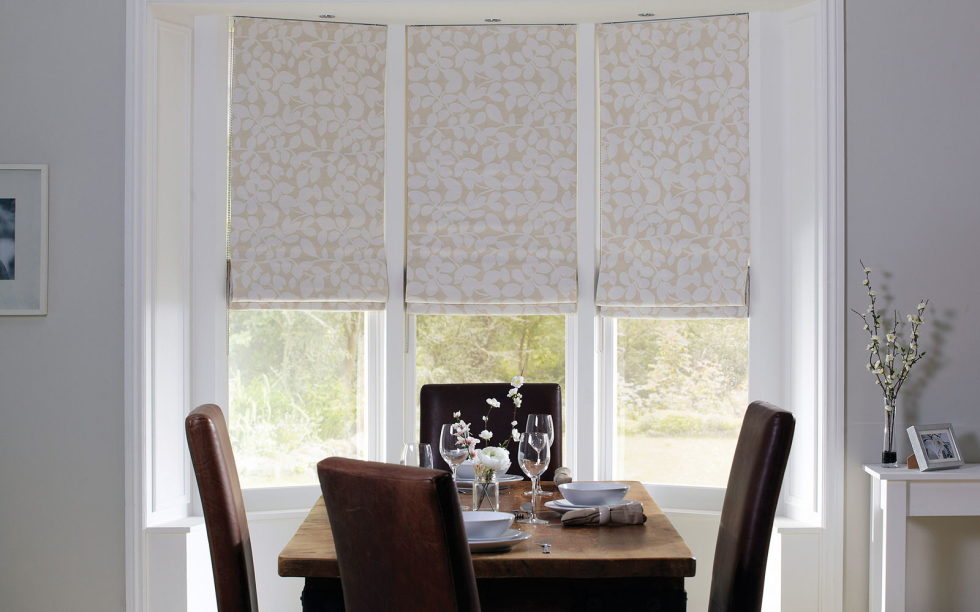 Roller blinds
Roller blinds are a type of planar curtains, which are wrapped around the special roller, located at the upper part of the window. When the curtains are fully opened, they are almost invisible. The roller blinds of sole-colored natural fabrics (cotton or flax) will perfectly suited the simple and laconic interior of a modern living room.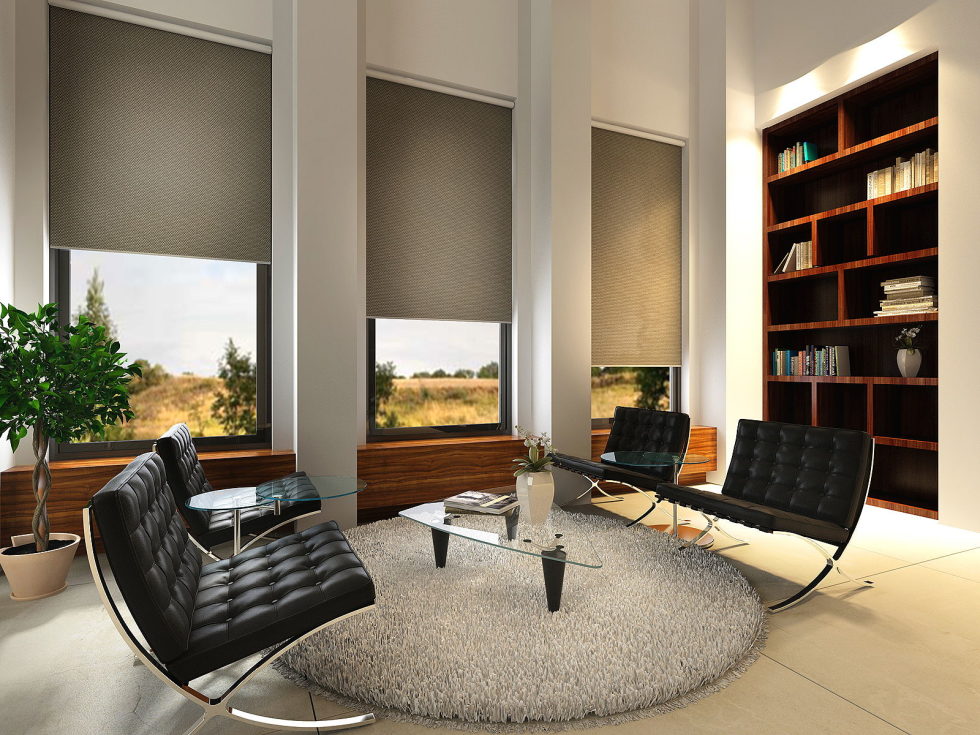 Thin roller blinds with print are usually used in combination with sole-colored dense curtains. Such window`s décor will harmonically complete the living room, designed in natural colors.
Japanese curtains
Such curtains are made in the minimalism style and may contain traditional Eastern ornaments or simply natural tinctures.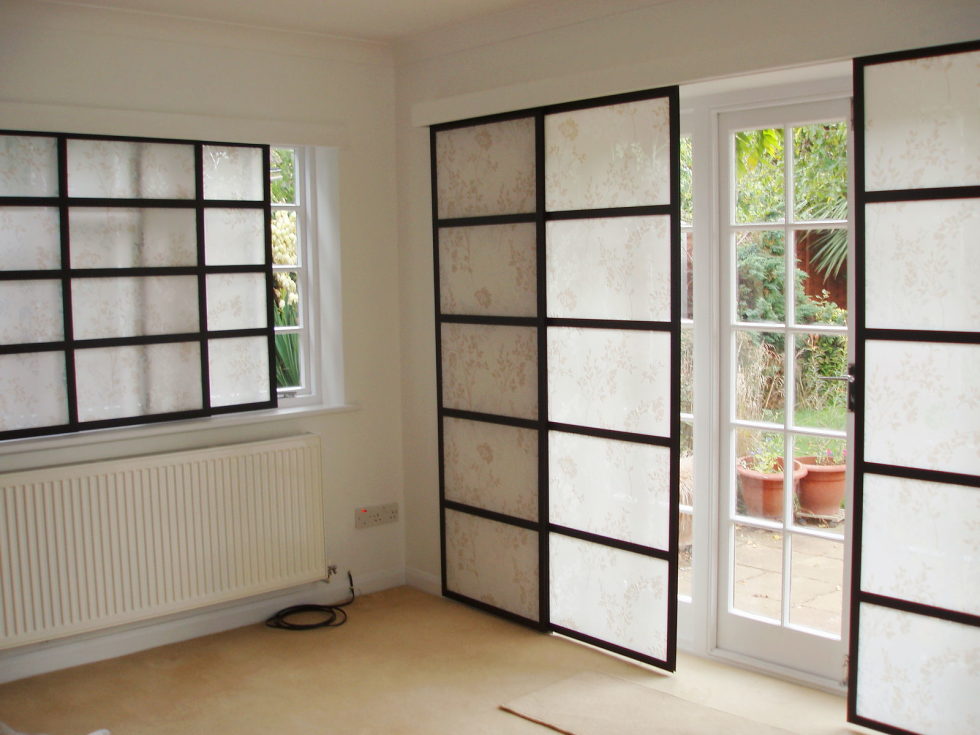 The Japanese curtains are a perfect solution for those, who are aimed at creation of original extravagant design of the living room`s interior. Light and elegant, transparent and semi-transparent textile panels will allow experiments with lighting in the house. The panels are beautiful and functional at the time and may not only perfectly suit any interior, yet help to decorate the living room into original and exquisite way. The Japanese curtains are used not only in the Eastern style, yet are appropriate in combination with the minimalism, high-tech and eclectic styles. Apart from their main function (windows decoration) they are often used for space zoning.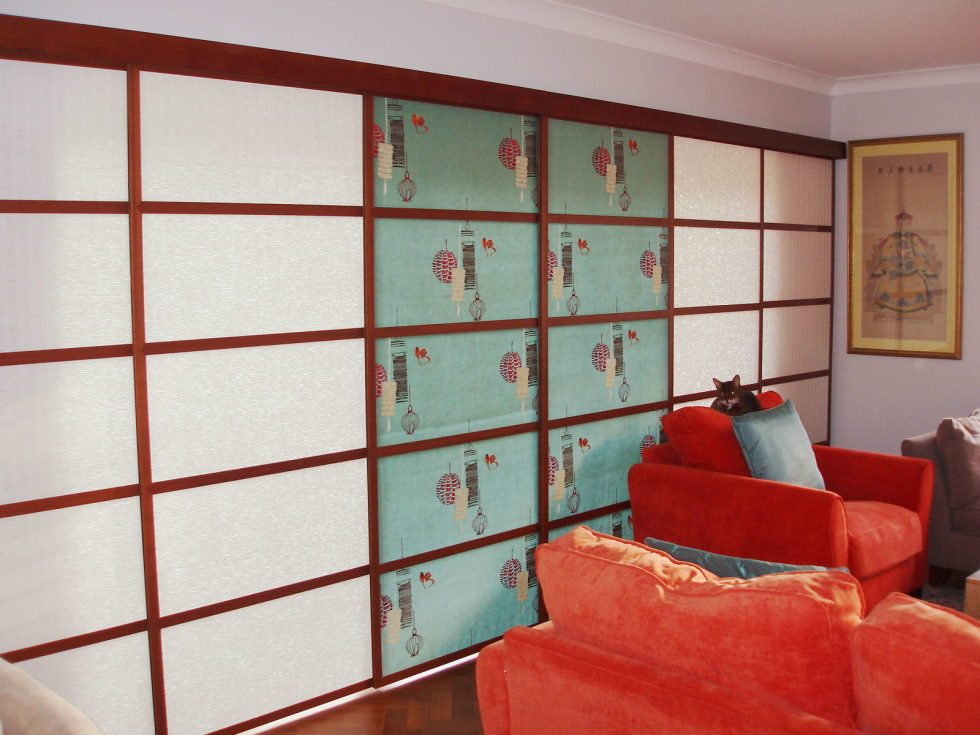 The Japanese curtains have the form of perfectly even panels, which are supplied with rollers at the top and bottom. They help panels to move smoothly over the curtain-rod. Such curtains are manufactured of certain light transparent or semi-transparent fabric.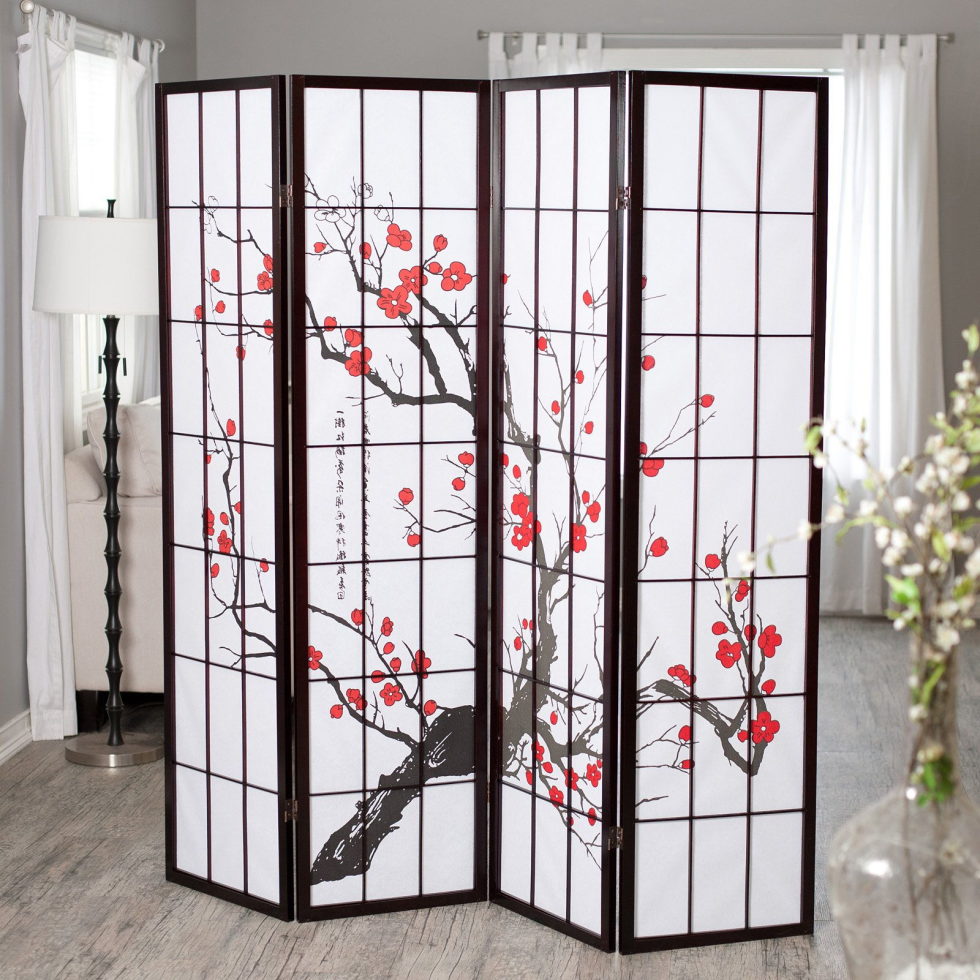 The Japanese curtains may be used at decoration of different premises (a living room, bedroom, children`s room, kitchen, bathroom) due to simple functioning principle, as well as big variety of both color range and ornaments.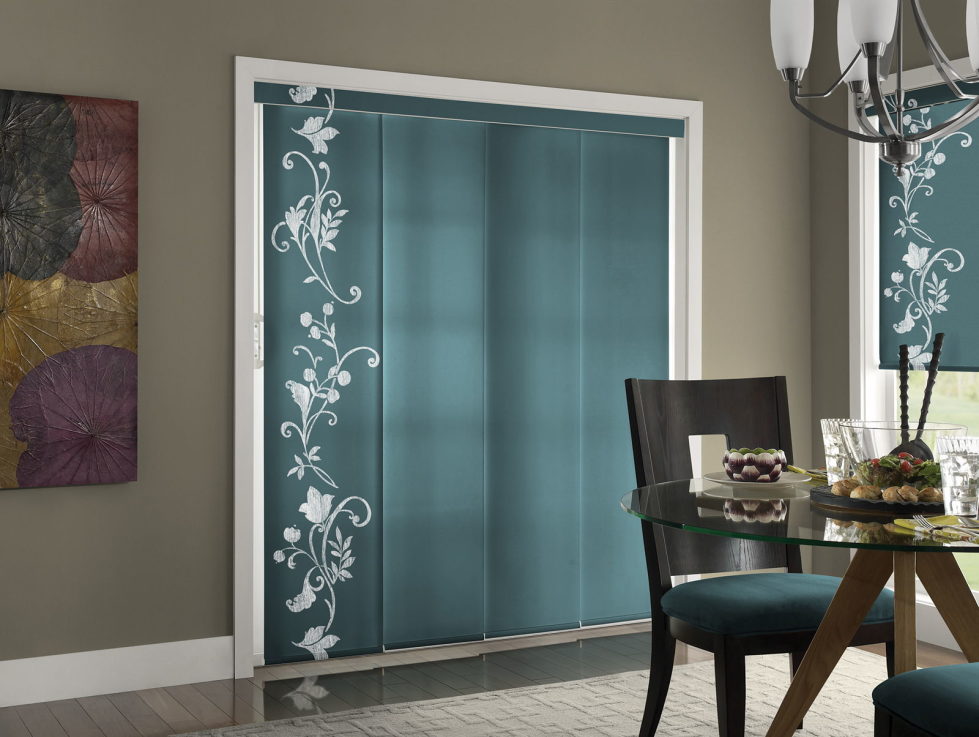 The Japanese curtains are perfect for spacious living rooms with large windows. They may be also used for decoration of show-cases and alcoves. The Japanese curtains may also be a partition wall. Fanciers of minimalism and modernity will definitely like this type of curtains. The Japanese curtains are also in good combination with furniture, which is made in the avant-garde style, as well as with modern accessories.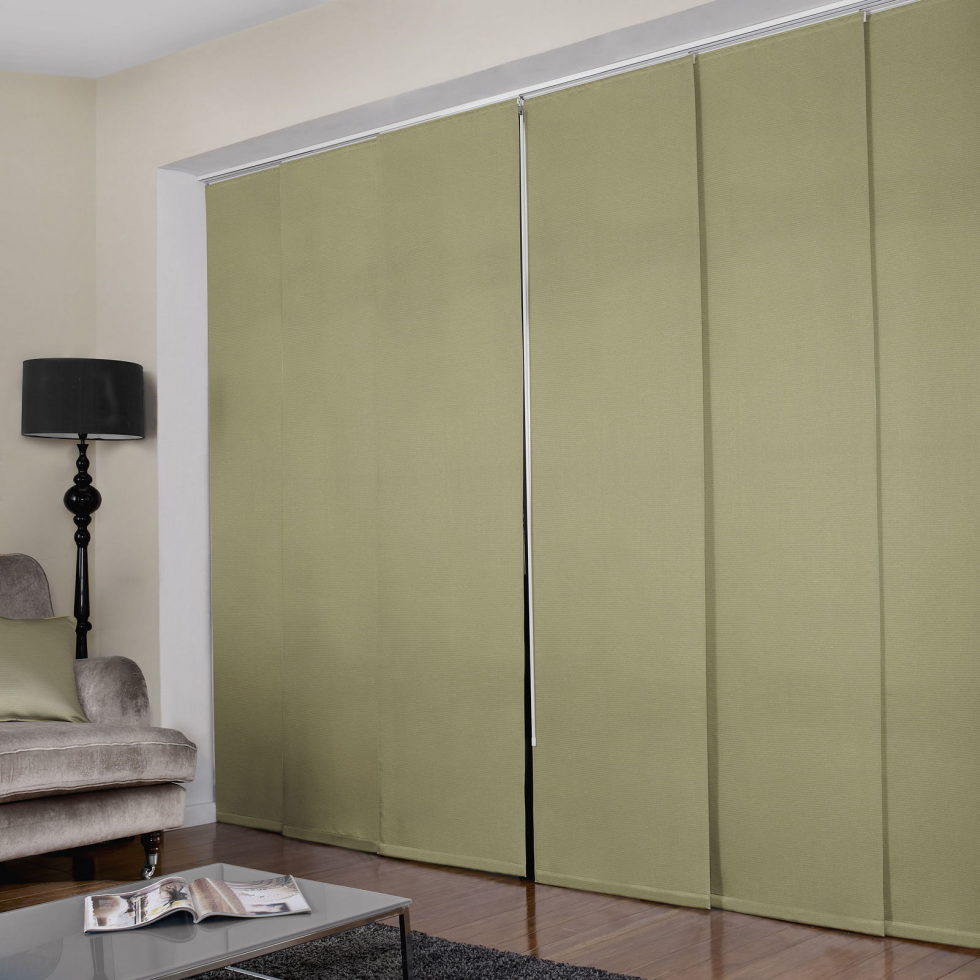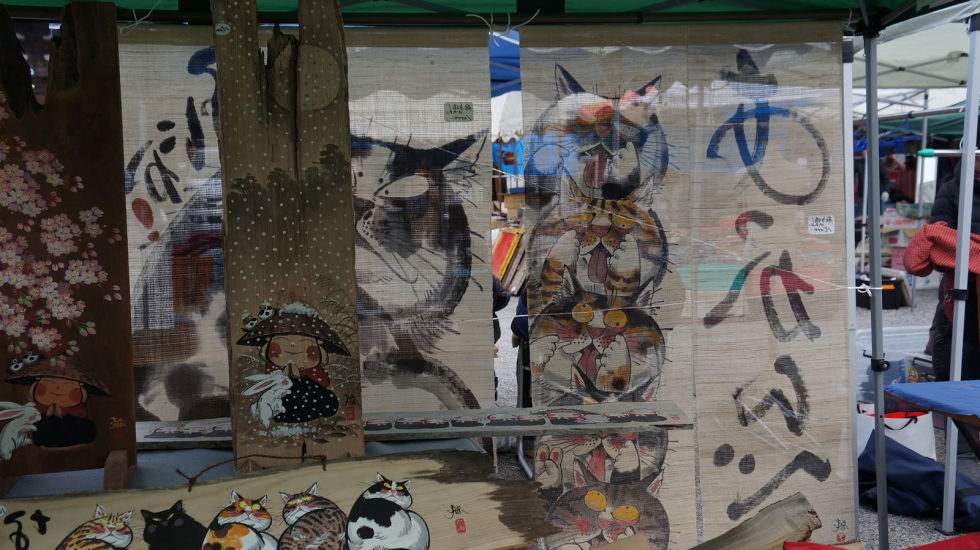 Bamboo blinds
Lately the habitual variety of curtains was renewed with exotic ones, performed of bamboo.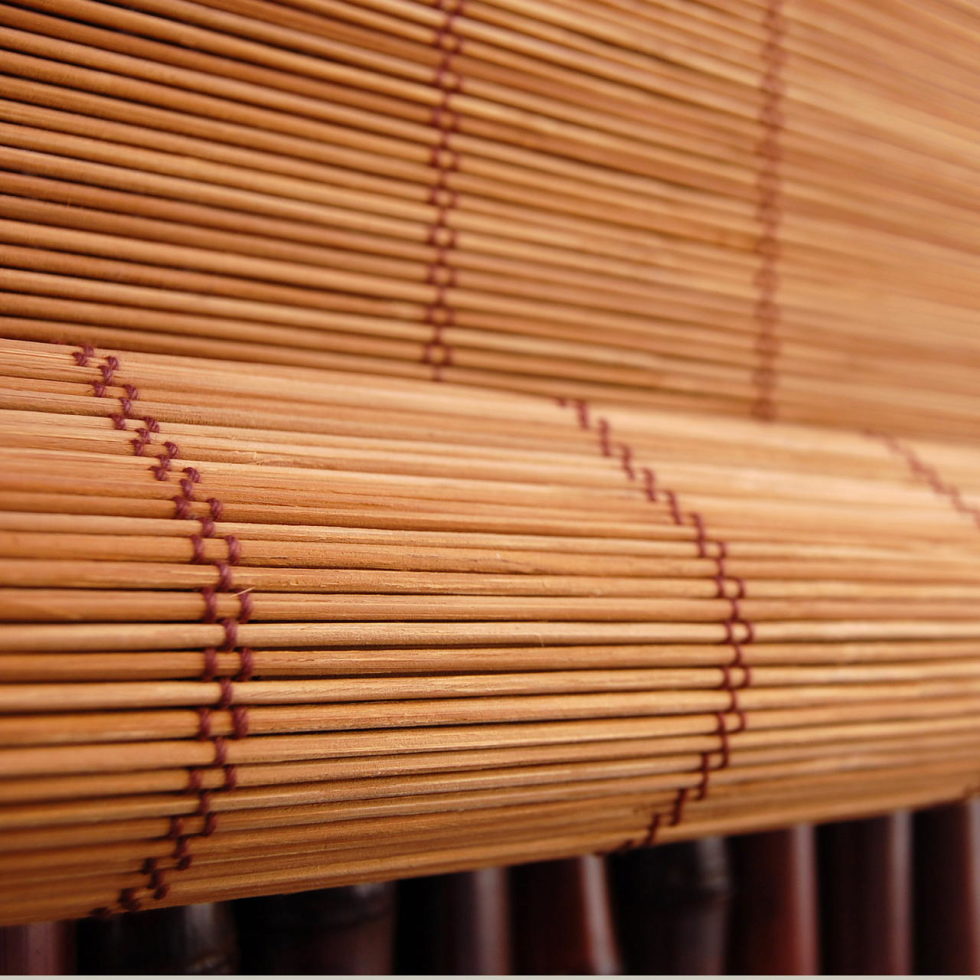 The bamboo blinds are made of bamboo sticks, which are manually sewed together. Therefore, the given blinds may have variety of netting. Plants, which have gone through the certain processing, are used for manufacturing of the canvas. Such blinds are moisture-resistant and sunlight-resistant and may be used not only in living rooms, yet at balconies or terraces.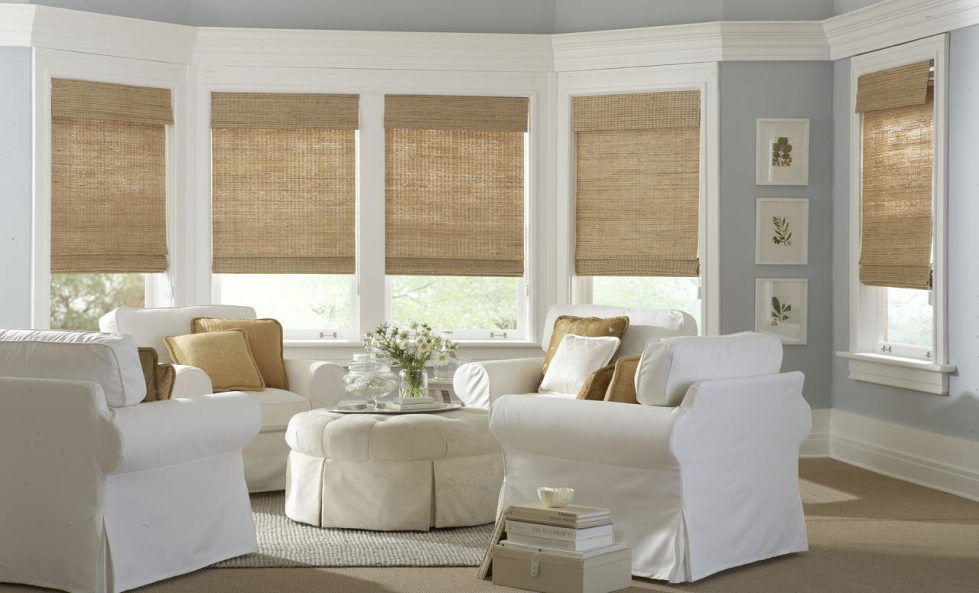 As a rule, natural tinctures and colors are a typical color range for the bamboo blinds. Bamboo is a natural environmentally-friendly material, therefore such blinds will better suit country houses or the interiors, which are made in eco-friendly and ethnic styles.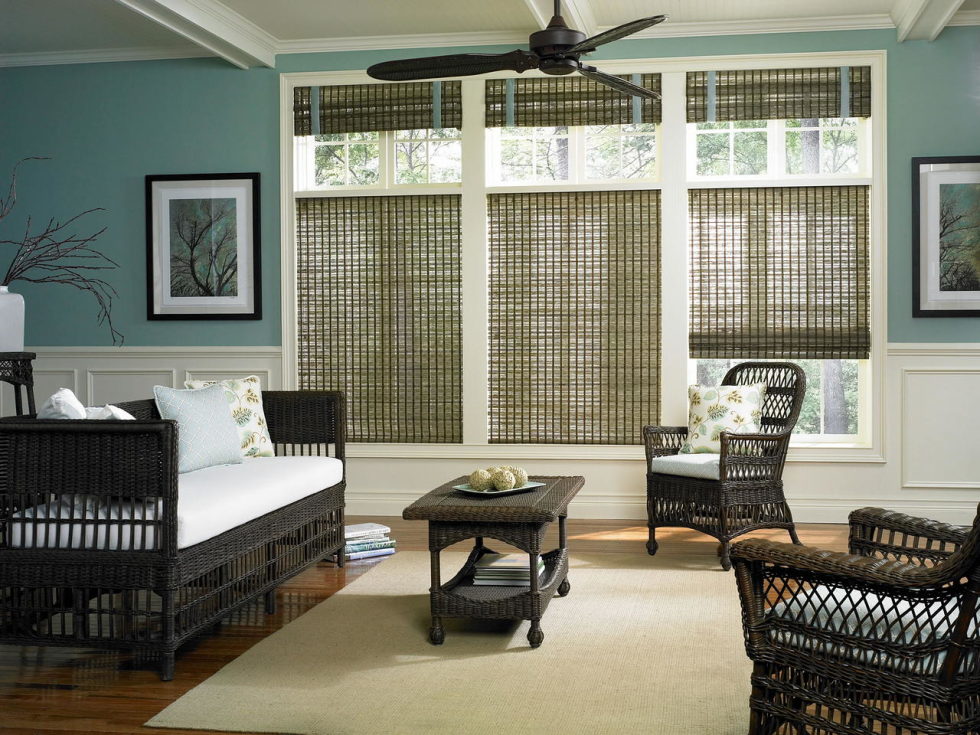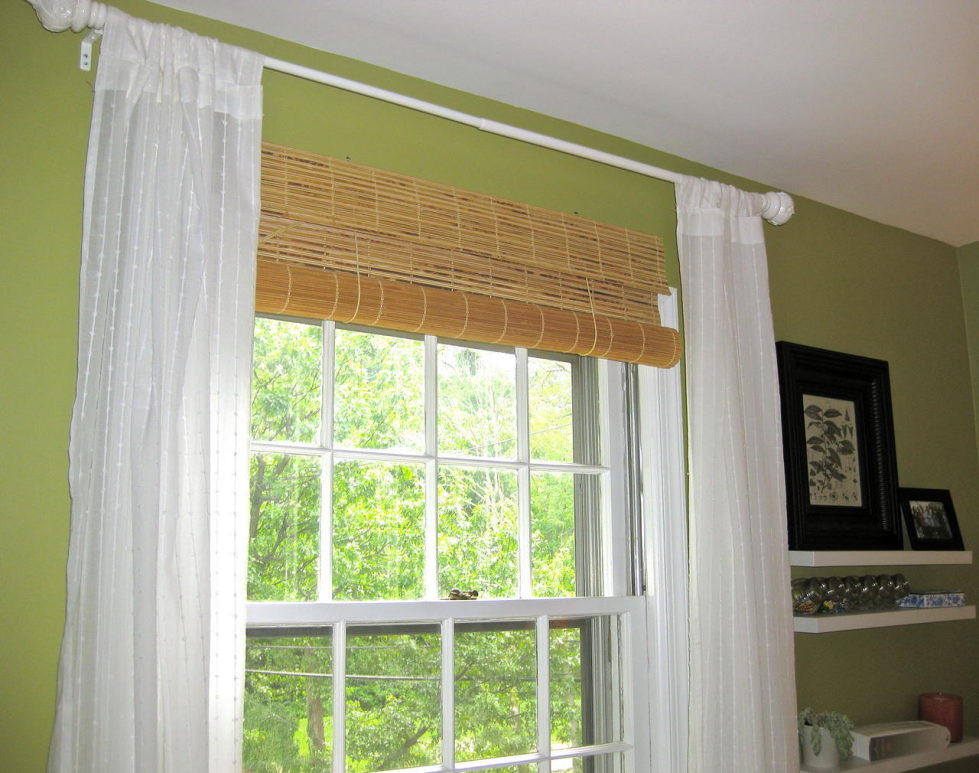 Pleated shades
Pleated shades are similar to horizontal louvre-boards. The difference is that instead of planks it is a fabric here, which develops hard pleats and visually reminds of an accordion. The pleated shades naturally combine comfort and warmth of fabric curtains, as well as reliability and functionality of louvre-boards; therefore, they have gained popularity in modern interiors. Moreover, the given curtains are rather convenient at decoration of complicated window apertures.
Color Block curtains
Color block is a combination of two or three bright colors, which considerably contrast with each other. This original type of curtains is basically a canvas, consisting of horizontal and vertical blocks of various colors. This style is original because each separate detail is simple and sole-colored, has no fanciful garnish, yet all elements are conjoined with one idea and do not contradict each other, but create the overall picture. Usually, one color is the main and dominates in the living room`s space; other contrast color emphases are then selected to it.  Such curtains look bright and unusual. Color block curtains will suit original and creative personalities and will look wonderful both in the living room and in kitchen or children`s room.