The children room for two boys of different ages can be united by one theme. Boys of any age are interested in ships, discoveries and adventures. This children room for two boys is designed in a Marine style. The elongated room turned into a cosy mess room for two young captains. Thanks to zoning everyone got his own area, bright and airy.
Blue and white colours and bright wooden floor is an unobtrusive marine background for a lot of interesting details. They all turn the premise into the space for fantasies and games.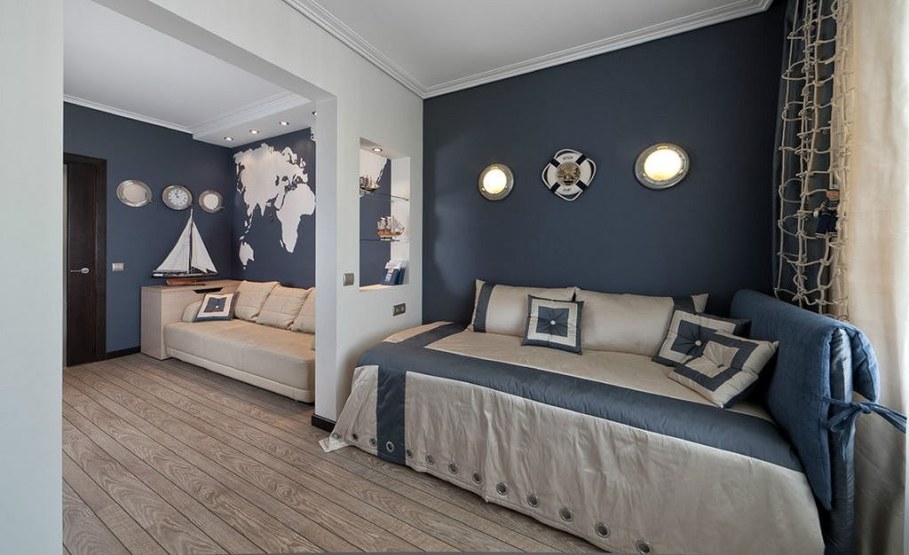 Finishing room in Maritime style
The combination of deep blue and white colours evokes by itself sea association. Light wooden floor reminds the deck, and white and blue curtains remind sails. A huge, full-wall map of the world is an original decor and a training game. The map is drawn with the help of coloured decorative plaster, and the metal layer is put under the blue ground, that indicates seas and oceans. Thanks to it, ships are kept on the magnets. You can send them in swimming, lay routes, play Battleship (it's just a children room for two boys), at the same time studying geography, history and literature.
Decorative portholes can be bought in interior design stores.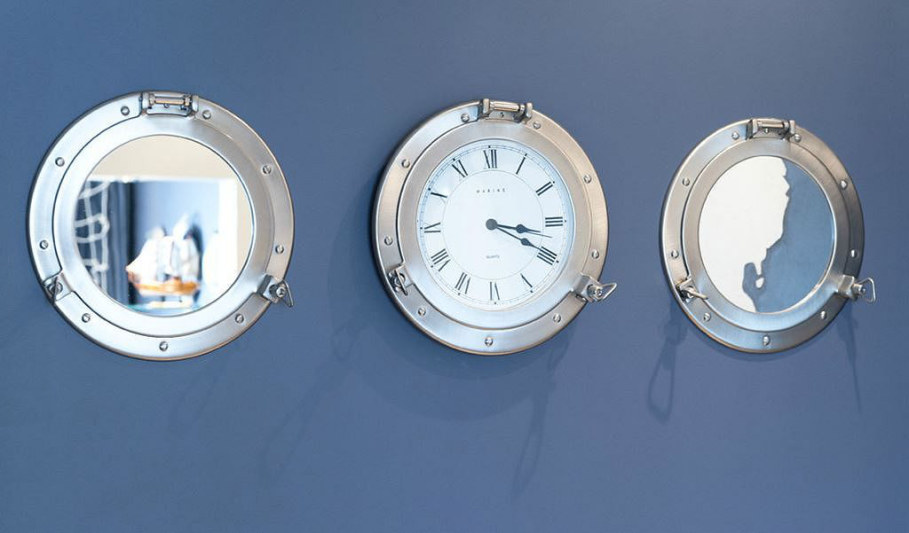 Portholes-mirrors give the room a resemblance to the cabin, adding air and light. It is possible to make other insets – for example, a clock or pictures. Round lamps on the wall is a decor, reminiscent ship lighting. Depending on lamps that you are going to use, it can be a night-light, or vice versa, bright light for reading. Besides, the backlight on the wall makes the room bigger.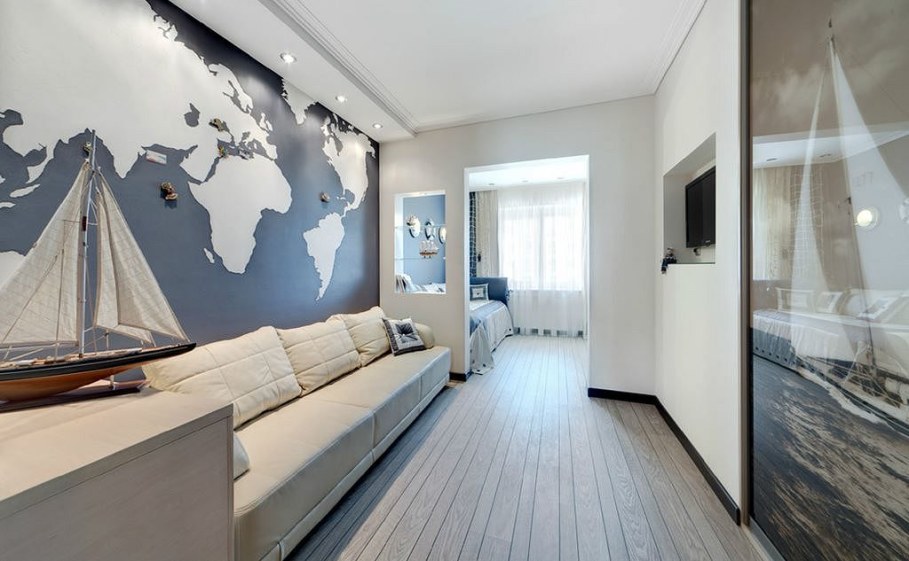 Thematic textiles in Maritime style
A simple way to add marine romance into the interior is to make coverlet and pillows in the same style. Blue-and-white textile repeats drawings of flags out of Maritime ABC – papa and sierra decorate pillows, and the coverlet reminds x-ray. Cringles along the edge of the coverlet are also the thematic decor, adding to the coverlet a similarity with the rigging. A net of a white rope is a decorative addition to curtains-sails and a reminder about shrouds that hold the mast. This net is decorative and creates the right atmosphere.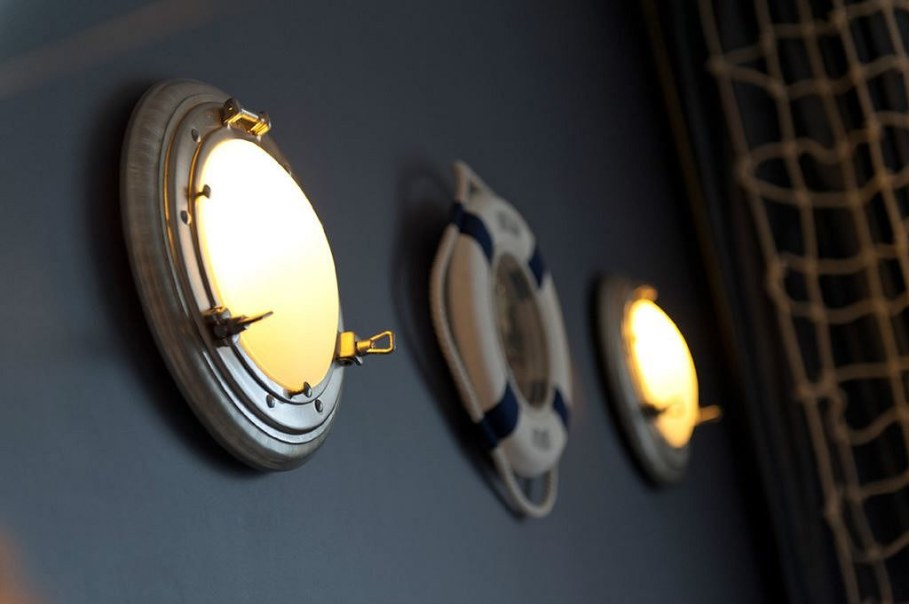 Models of ships
Images and models of sailing ships – large and small, detailed and not so much – develop a Marine theme and also serve as a visual manual, training material. Small models can be put on shelves, large ones – on the tables, and pictures of sailing ships will perfectly decorate the walls and even doors of built-in wardrobes.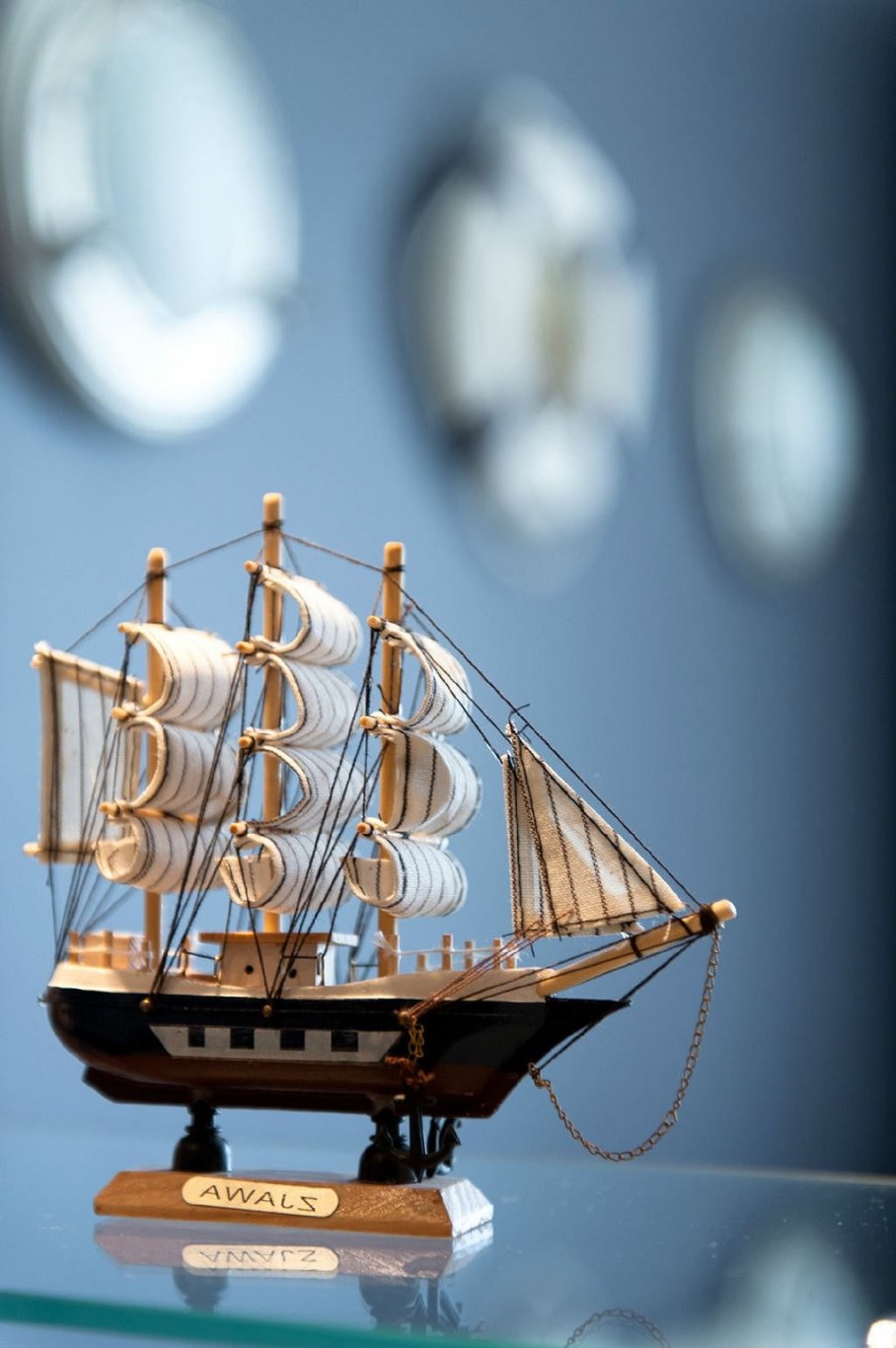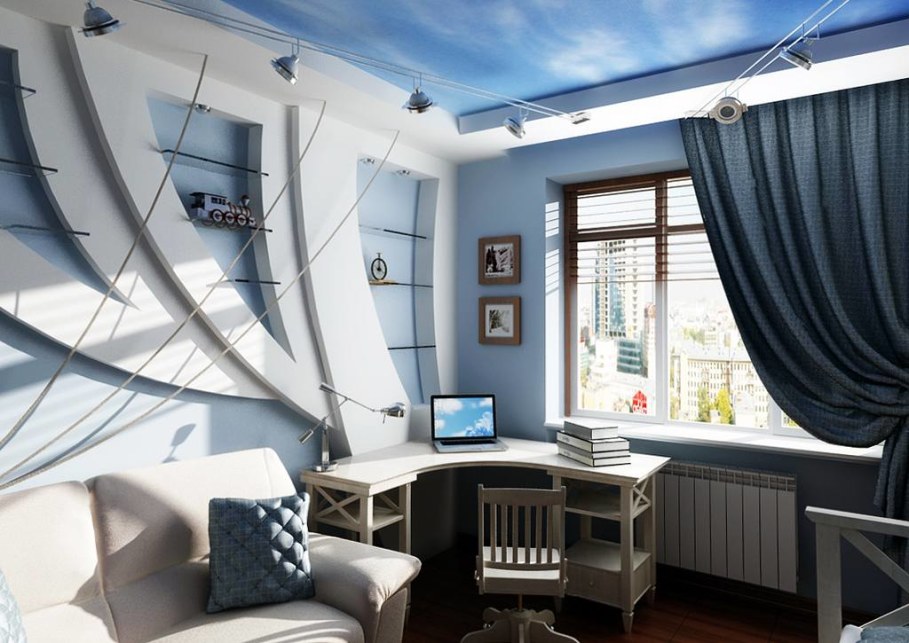 Photo Gallery: How to make design of a room in Marine style