Scandinavian style of the bedroom is light, bright colors, good mood and cleanliness. Purity of lines, shapes, colors, flooring. Extremely popular today, it came to us from Northern Europe. Finland, Norway, Sweden – countries, where there is a quite severe climate, with long winters and sunlight is not as much as we would like. That is why the interiors, come from those countries, are filled with freedom, air, light.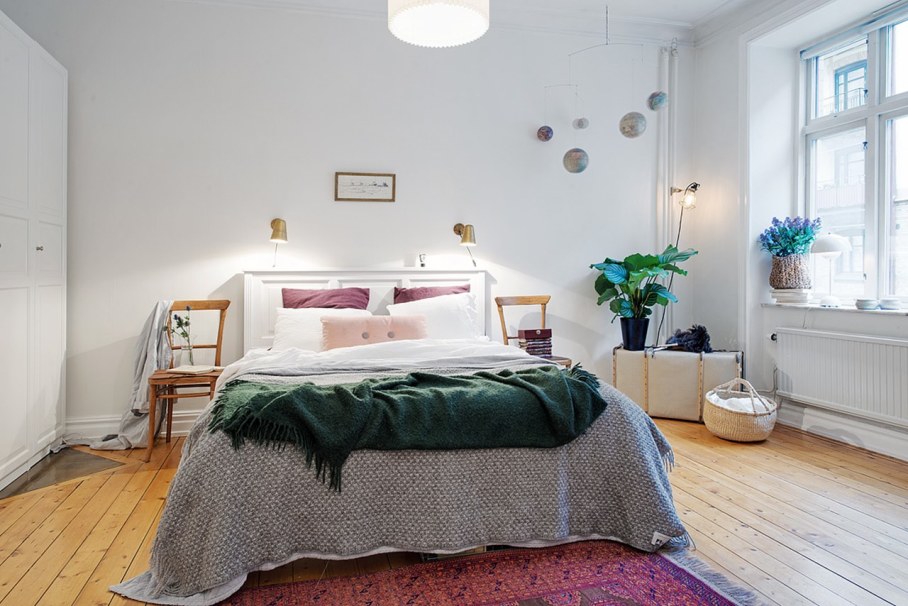 Scandinavian style bedroom
We want to give you the opportunity to admire bedrooms interiors in Scandinavian style. To study all features of this style and try to identify the main thing – it is very important if you have decided to recreate the interior of your house in Scandinavia.
So, what are the basic principles you need to remember and keep in order the bedroom interior would become a truly "Scandinavian"?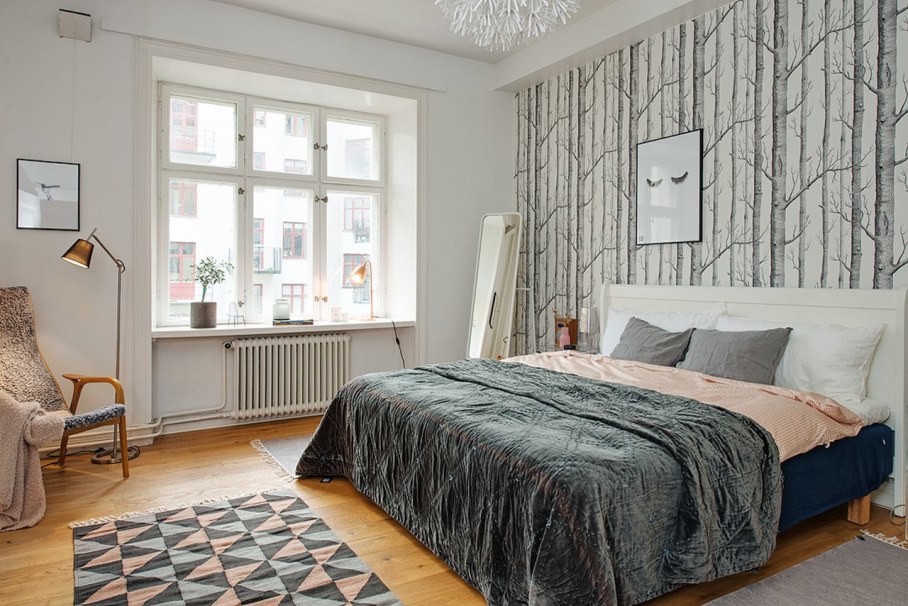 To preserve maximum sunlight
Therefore, the windows must have minimal decor. Blinds and curtains can not be at all, or they are made of lightweight, translucent material and very often shifted away from the window to let as much sunlight. The material that can be used is muslin or something like that. Also, on the bedrooms' windows can be roller blinds or shutters.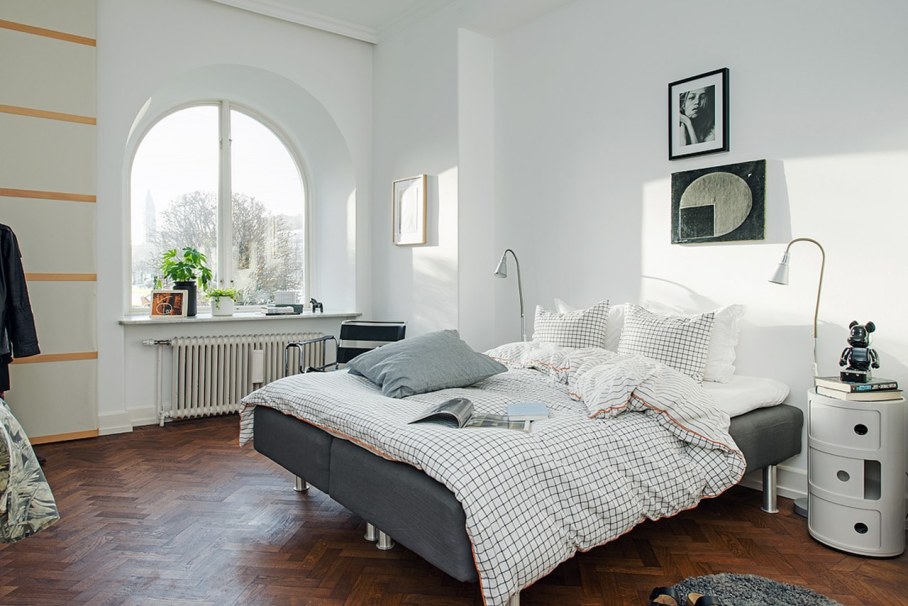 Wall color – preferably white or other very light
Again it is motivated by the desire to make the bedroom lighter and airy. At the same time the characteristic feature is the use of various wall decors. It can be accents in the form of several strips of bright wallpapers, colorful paintings, prints in simple frames on the walls, decorative elements or the whole compositions (often chaotic) of a large number of paintings and photos within and without them, souvenirs and etc.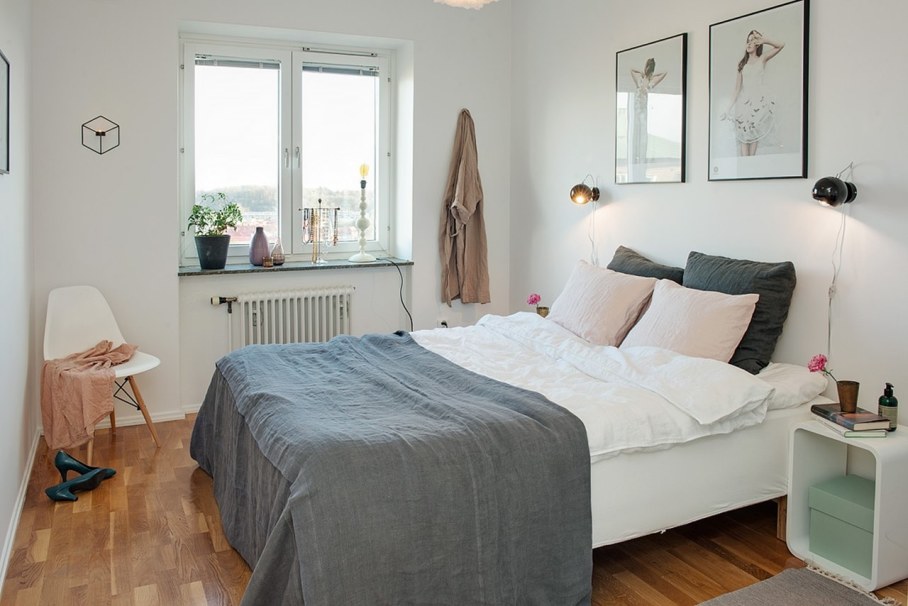 Mostly natural materials. The most beloved and widely used – wood
The Scandinavian's love wood. It is welcome everywhere – on the floor, on the walls, even on the ceiling. Wooden furniture, beds made of birch, beech and oak. Wood processing – tinting or painting. In any case, it is supported the desire for naturalness and simplicity.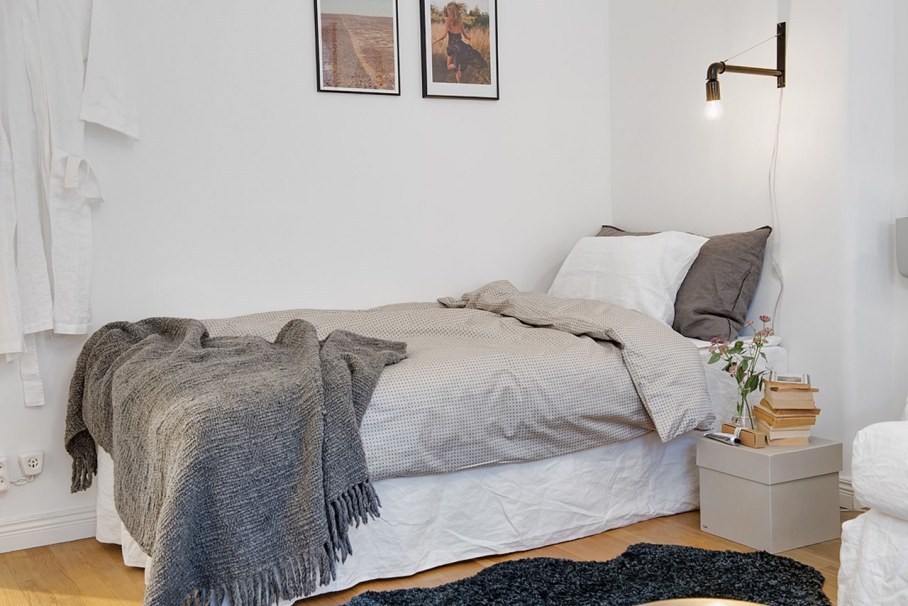 Bright color spots
Vivid accents are another highlight of the bedrooms in the Scandinavian style. Bright pillows, plaids, carpets, a cheerful crimson chair, colored lampshades. But! This decor isn't quite much. The interior is not full of as a kaleidoscope; it is just full of interesting details and never overloaded. Scandinavian style in the bedroom is primarily minimalism and brevity.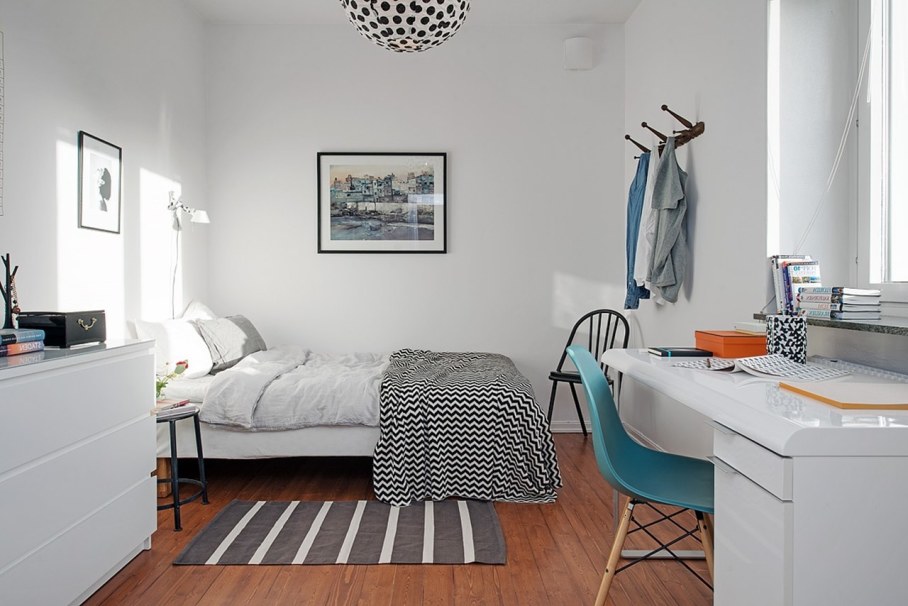 High usability of the interior
Scandinavian interiors of the bedroom are highly adapted for living. They are real and natural with an abundance of so necessary in household life storage space (closed wardrobes, shelves and hidden niches) and verity of decor and items on open shelves.
Scandinavian style is very easy to maintain. There is no need maniacally to monitor the purity of the lines and take away all household items from eyes, like in minimalism. You can safely put the donated statuette on the shelf, put the right things in the open places, and it doesn't spoil the character of the interior. It is alive and is not quite artsy – just positive, easy and simple. What else do you need for a comfortable life?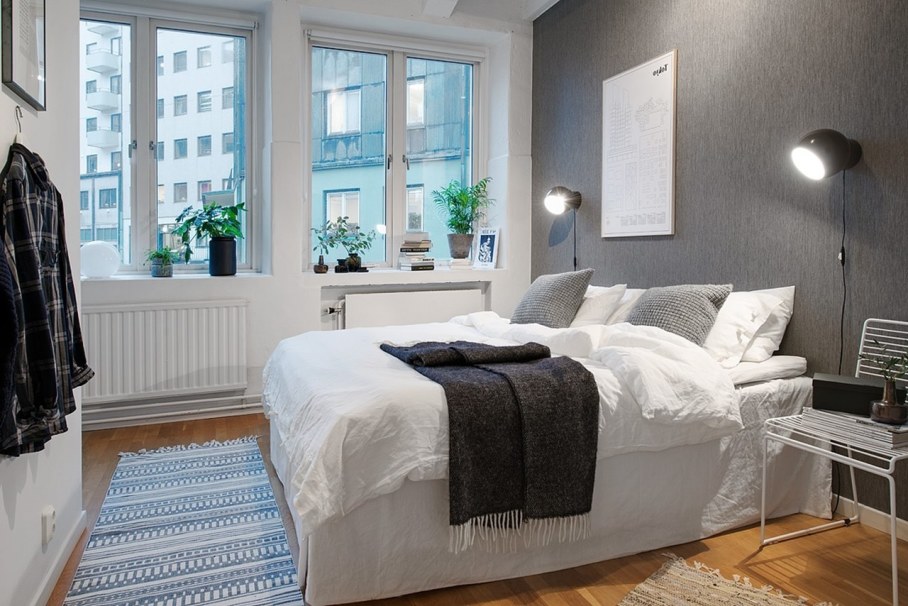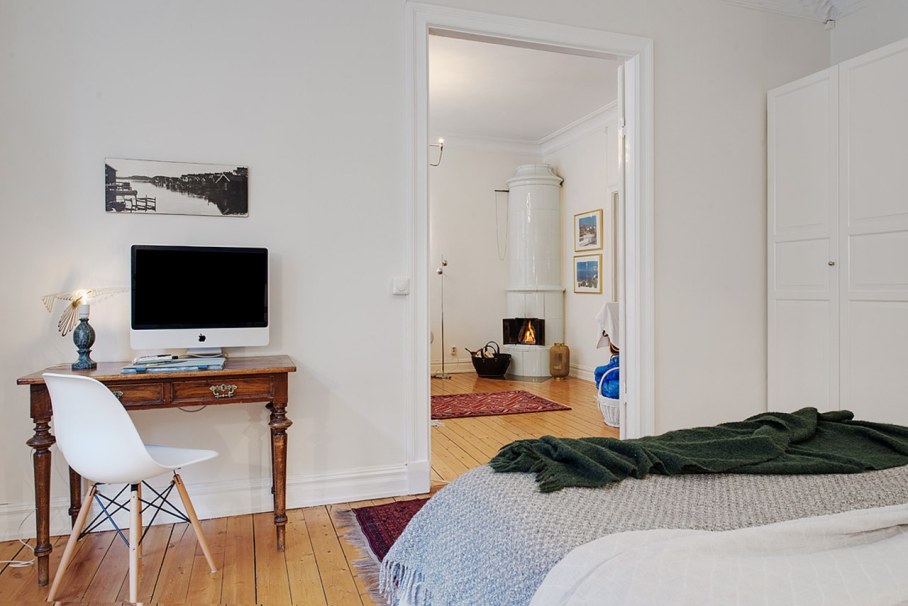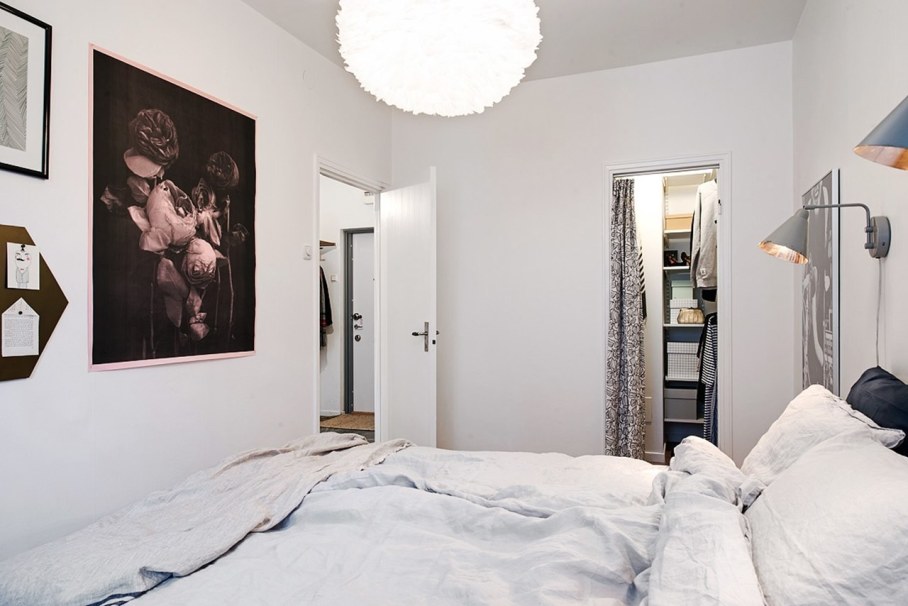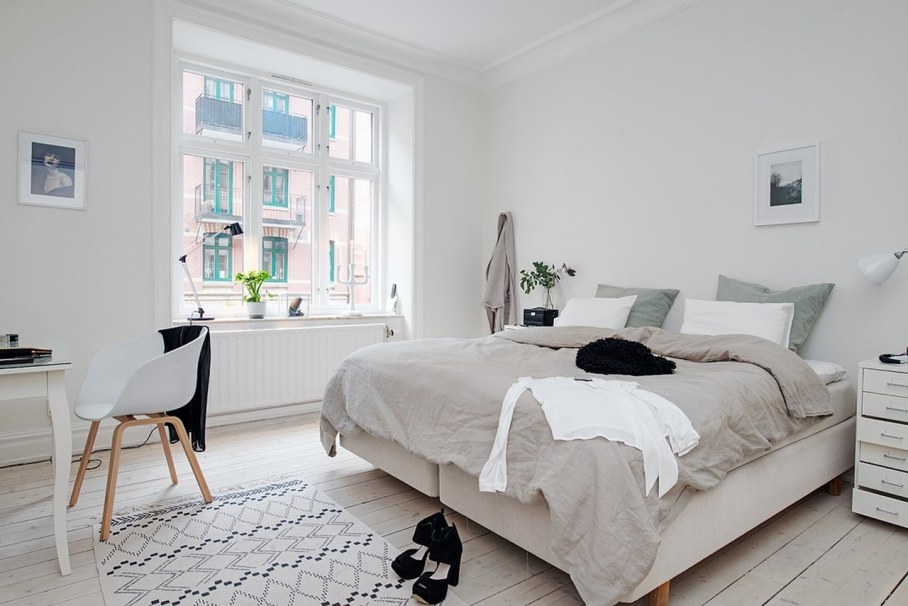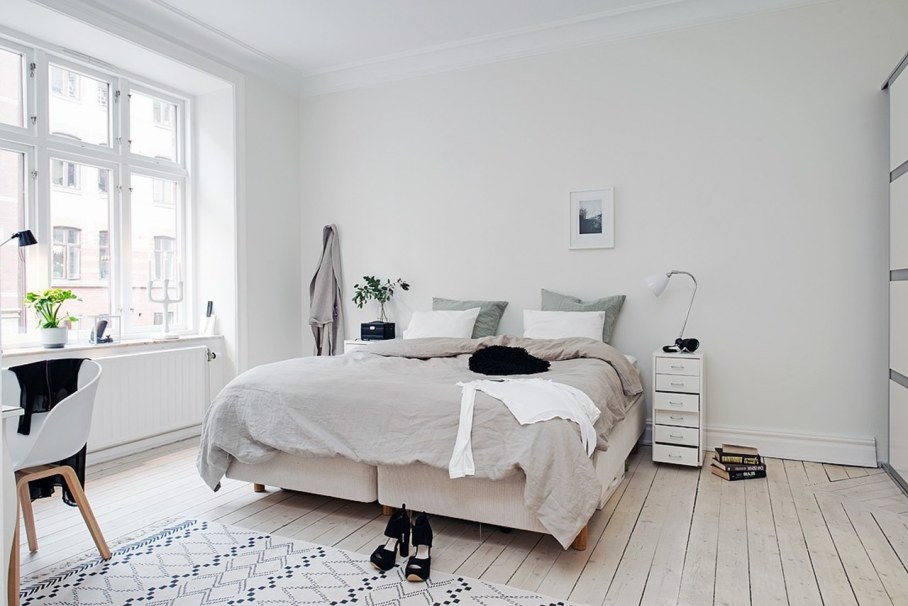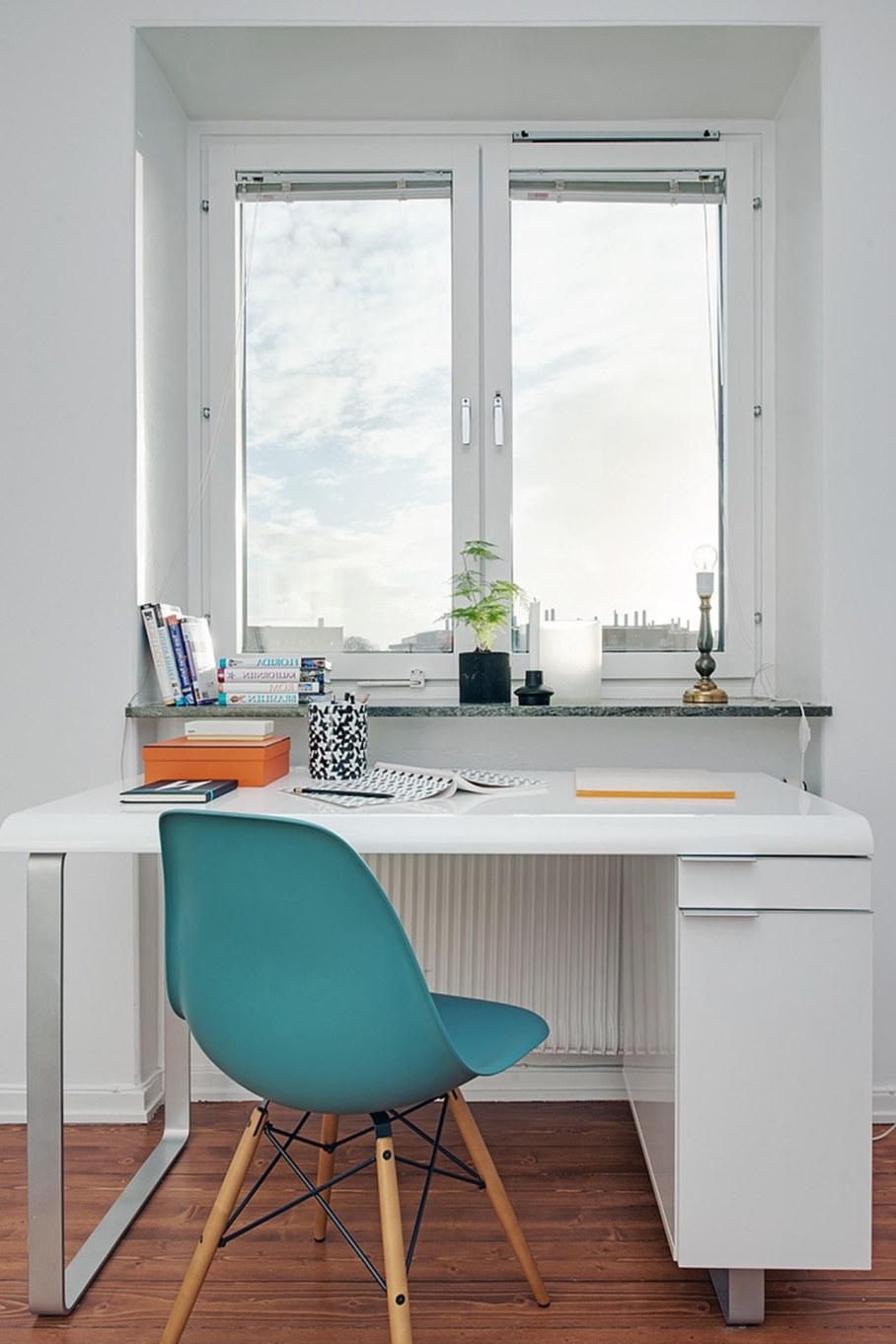 Photo Gallery:
Scandinavian style of the bedroom