This project of interior design was performed for a flat overlooking the Skansen Kronan, a fortress in Haga district, Goteborg (Sweden). Total square space of this light and spacious flat is 367,5 sq. meters. The cozy balcony is filled with sunlight, overlooks the city street and is equipped with white laconic furniture in minimalism style, green plants and wicker black-and-white carpet with ethnic ornaments. This is a perfect place for a cup of morning tea; sunny weekend with a book in hand or gatherings with friends.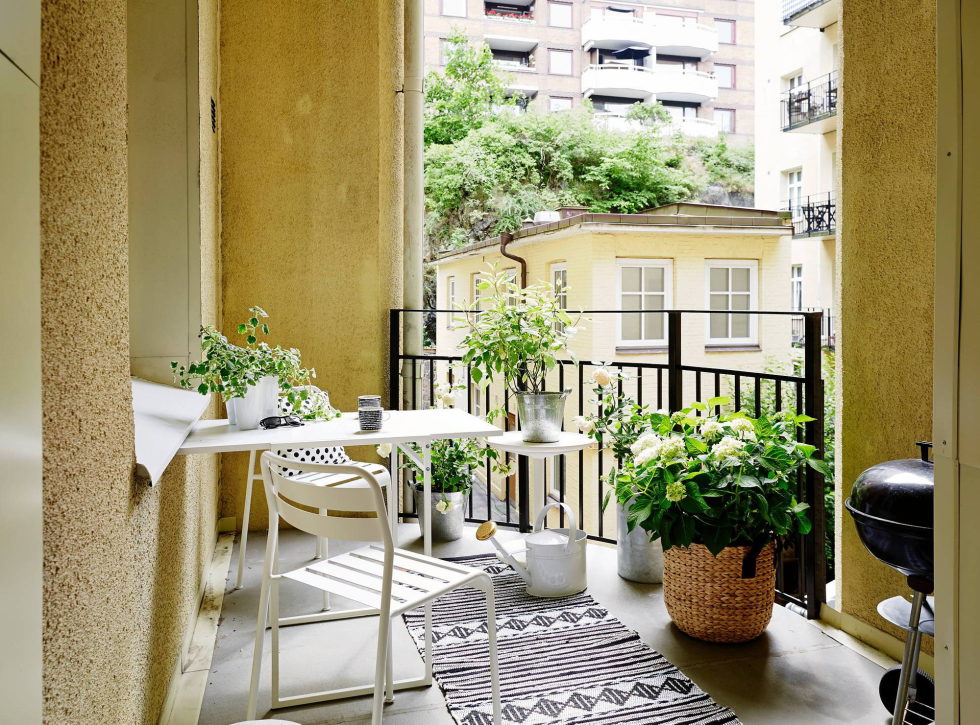 © Stadshem Fastighetsmakleri

In order to fill the bedroom`s space with light and open wonderful view on the city street from this room the designers used a simple and elegant approach, namely a French window, leading from the bedroom to the balcony.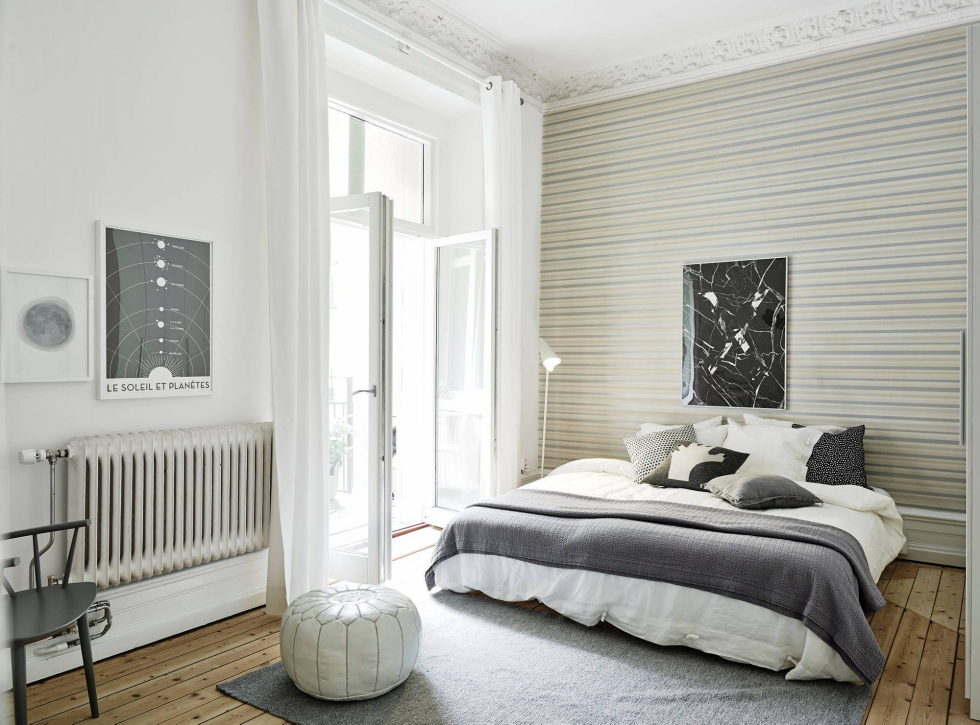 © Stadshem Fastighetsmakleri
The most fascinating thing in this project is the designer`s ability to visually enlarge the space through accurately selected color range and finishing. At the same time, they managed to fill space with light and not to overburden it with decorative elements.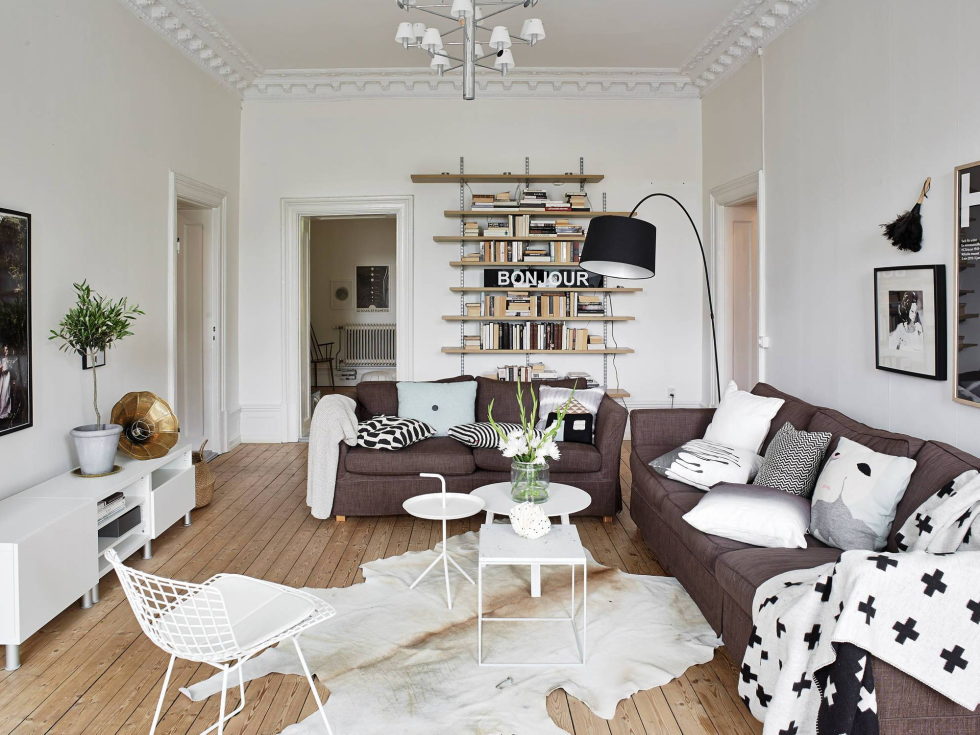 © Stadshem Fastighetsmakleri
The key techniques used for a living room`s decor are as follows: cold tincture of white for the walls, ceiling and furniture; cornices and moldings for decorating doorways and window openings in empire style, which make the interior look aristocratic; and texture roller blinds of warm grey tincture, selected in tone with the sofa`s upholstery in the living room. Apart from that there is some black color here, it helps to shade the light color tincture of walls and ceiling and to highlight the key emphases.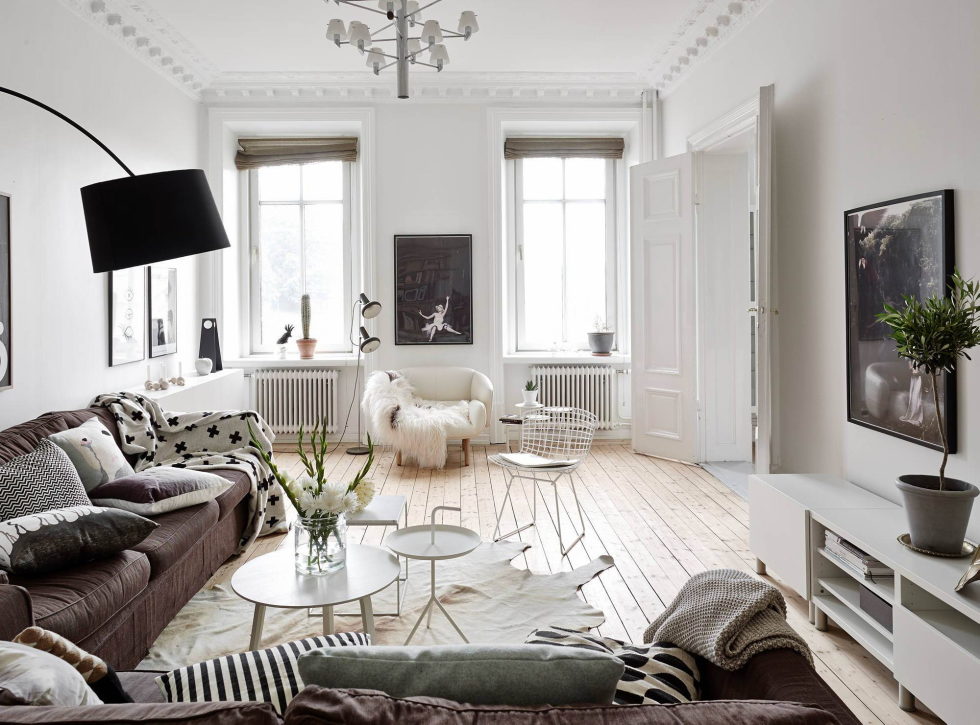 © Stadshem Fastighetsmakleri
In order to add some warm tones to the interior, the designers used natural materials, which are traditional for the interior of Swiss chalets, namely light-color wood for floor covering, natural leather in the furniture`s upholstery and natural fur with long hair for coverlets on arm-chairs. A warm plaid with elements of Swiss flag in the print emphasizes the distinctiveness of the interior.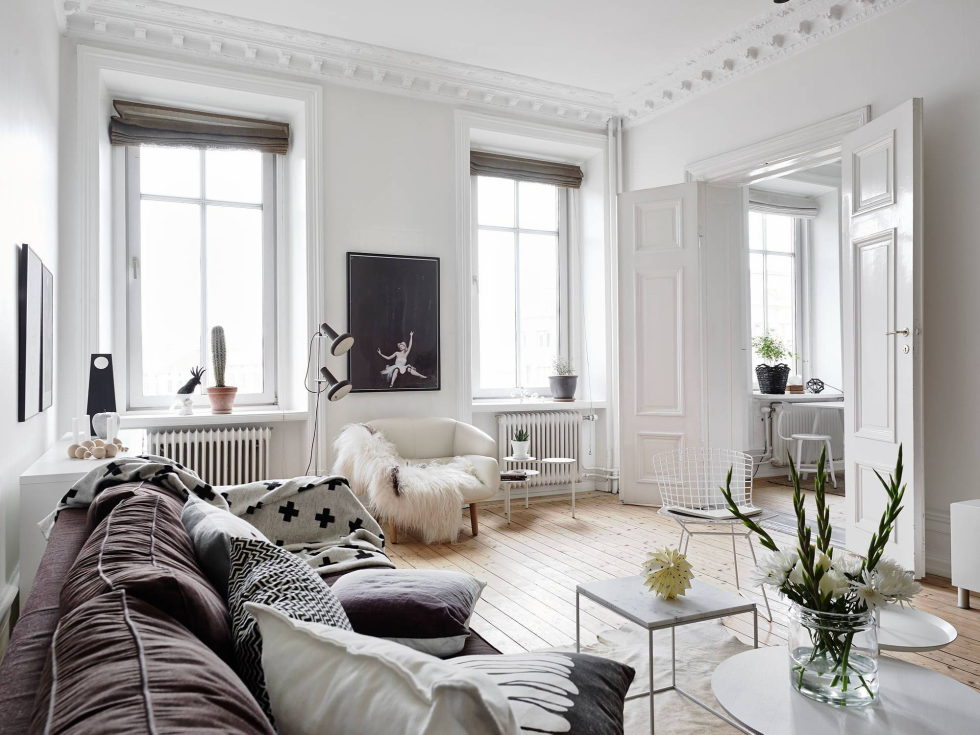 © Stadshem Fastighetsmakleri
Folding doors provide the way from the living room to the kitchen-dining room, decorated in the same tincture and style. The kitchen has one bright emphasize – a wall, decorated by wall-papers with big flower print in grey-beige colors. This wall helps to unite all decorative elements of the interior in one color range. It is possible to reach the owners' bedroom directly from the kitchen, using a small narrow corridor.
© Stadshem Fastighetsmakleri
The bedroom harmonically combines several styles and epochs as well. Molded decorative elements of the ceiling and French window remind one of an empire style. Wooden floor covering and natural materials of furniture and décor elements (wood, leather, natural wool), done in natural colors, reminds one of a Swiss chalet style, whereas strict pure lines in design and furniture, as well as monochromic ceiling and walls finishing are features of modern style.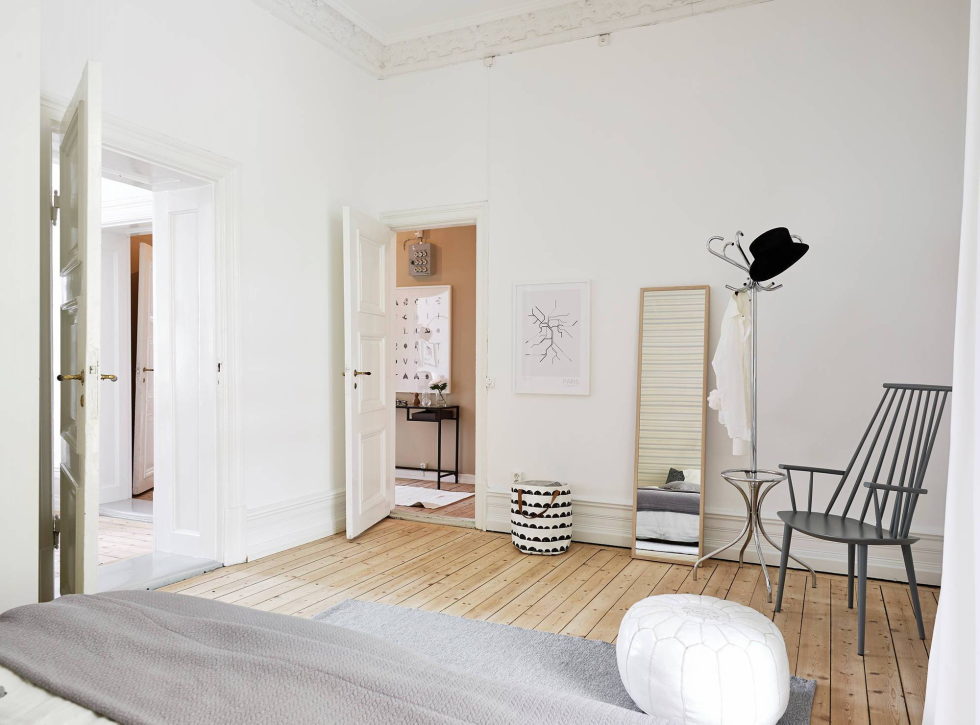 © Stadshem Fastighetsmakleri
© Stadshem Fastighetsmakleri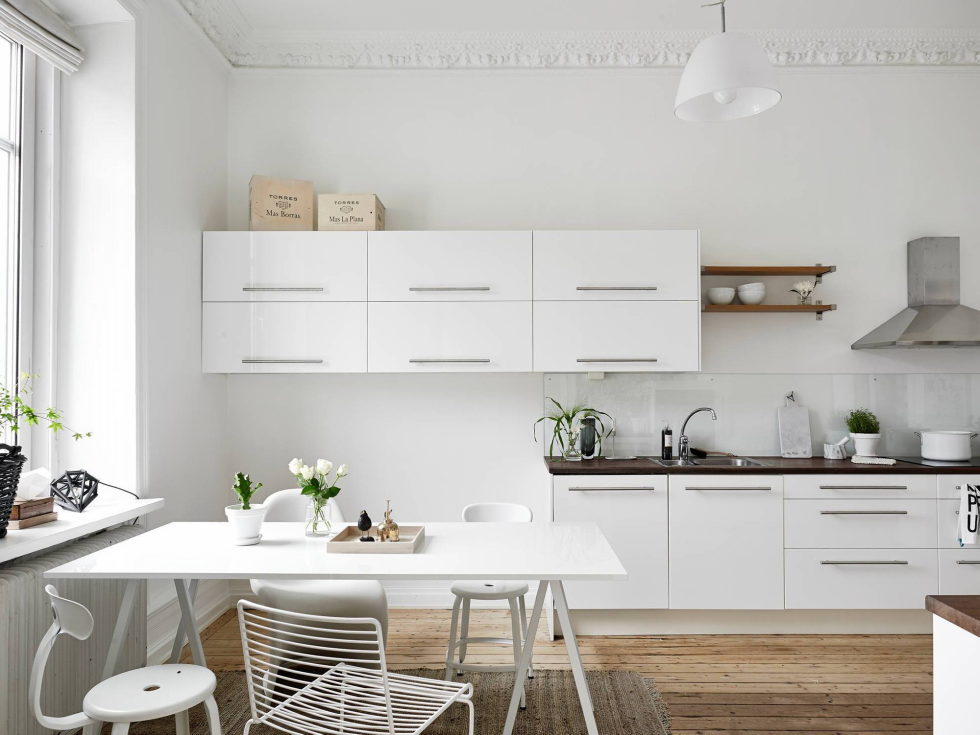 © Stadshem Fastighetsmakleri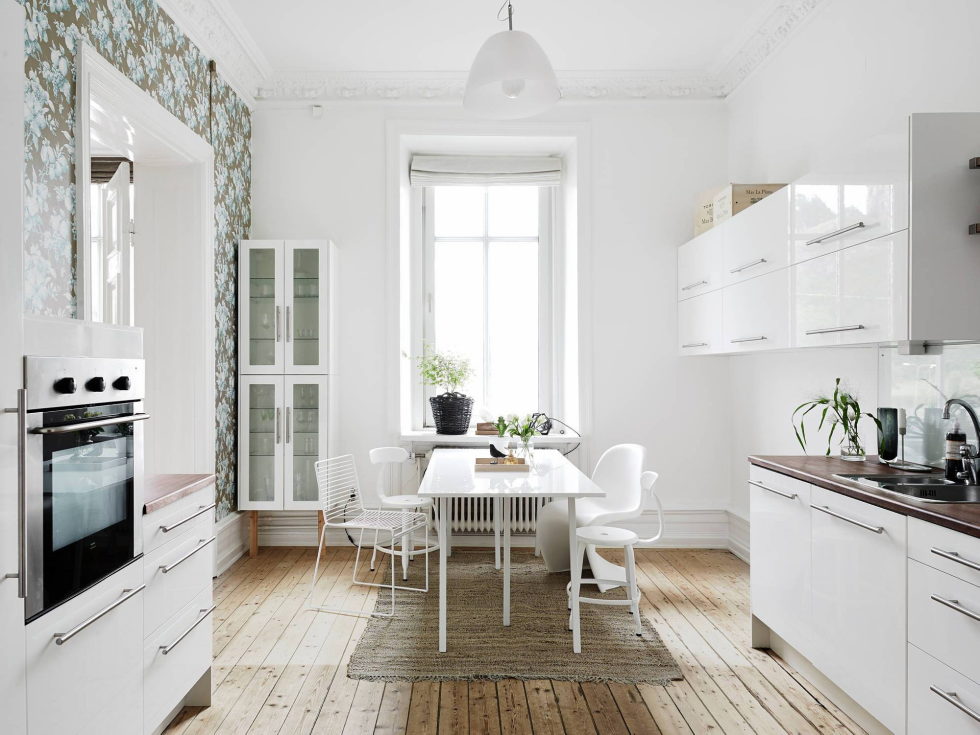 © Stadshem Fastighetsmakleri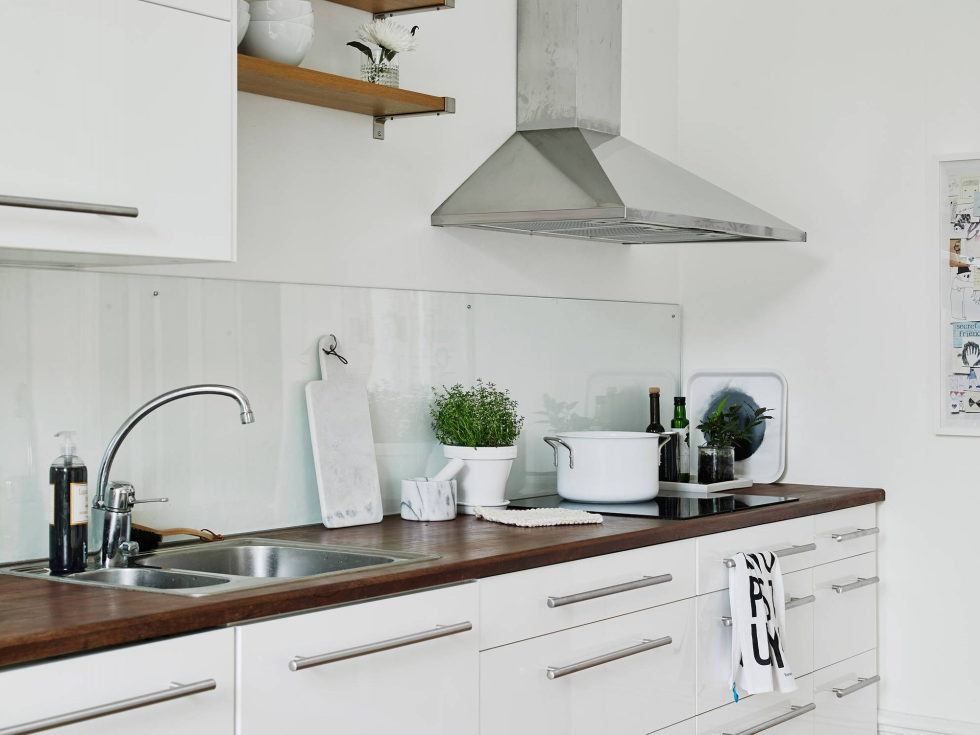 © Stadshem Fastighetsmakleri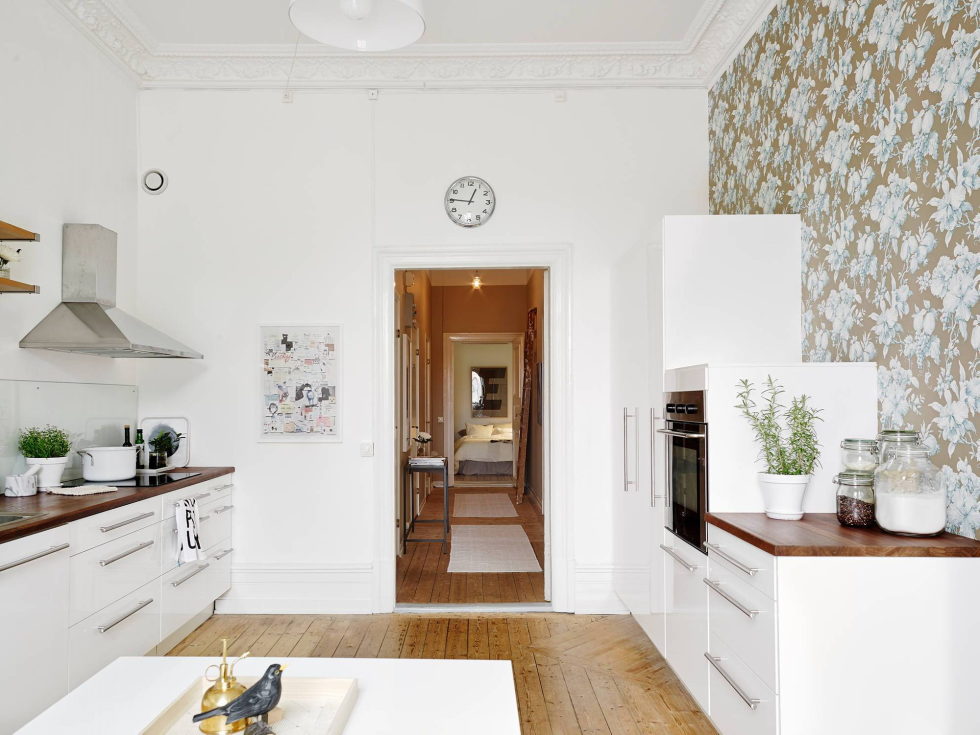 © Stadshem Fastighetsmakleri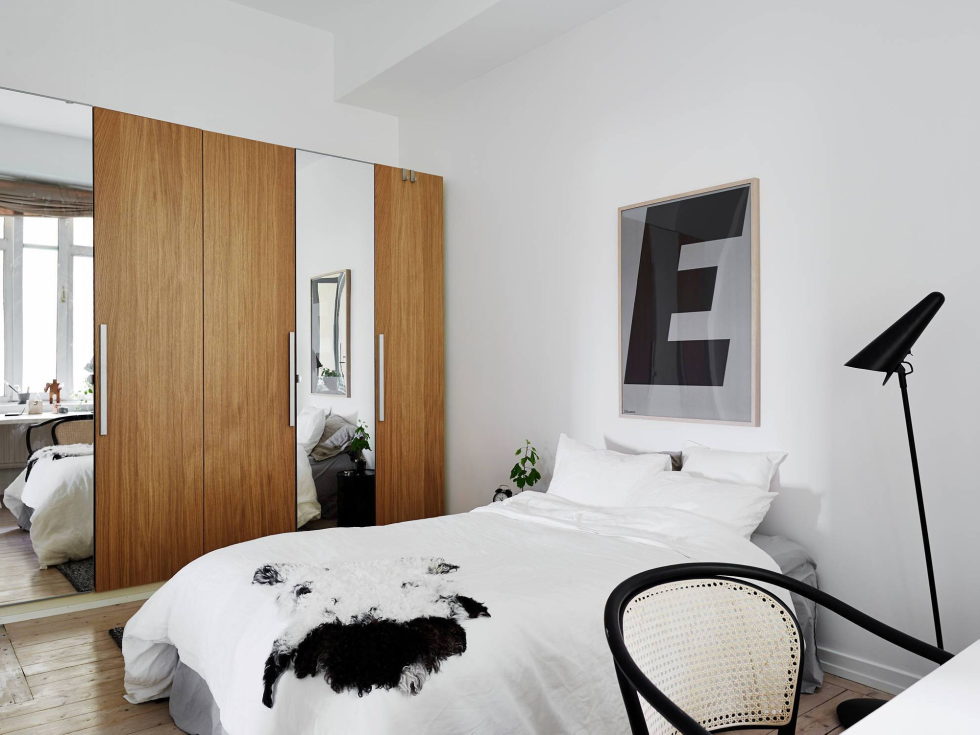 © Stadshem Fastighetsmakleri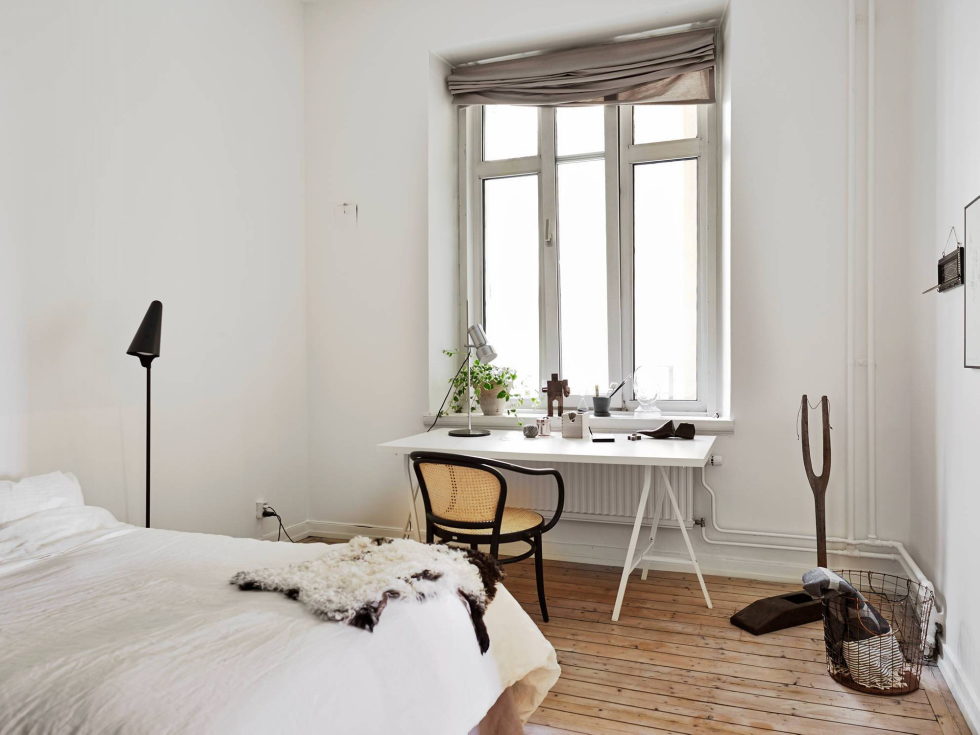 © Stadshem Fastighetsmakleri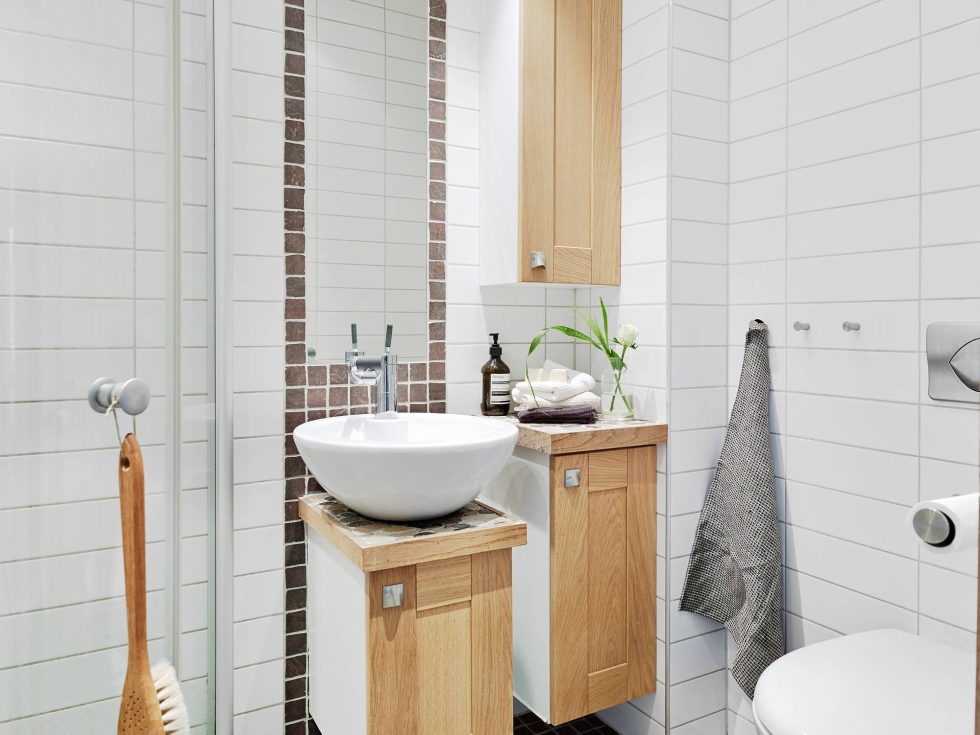 © Stadshem Fastighetsmakleri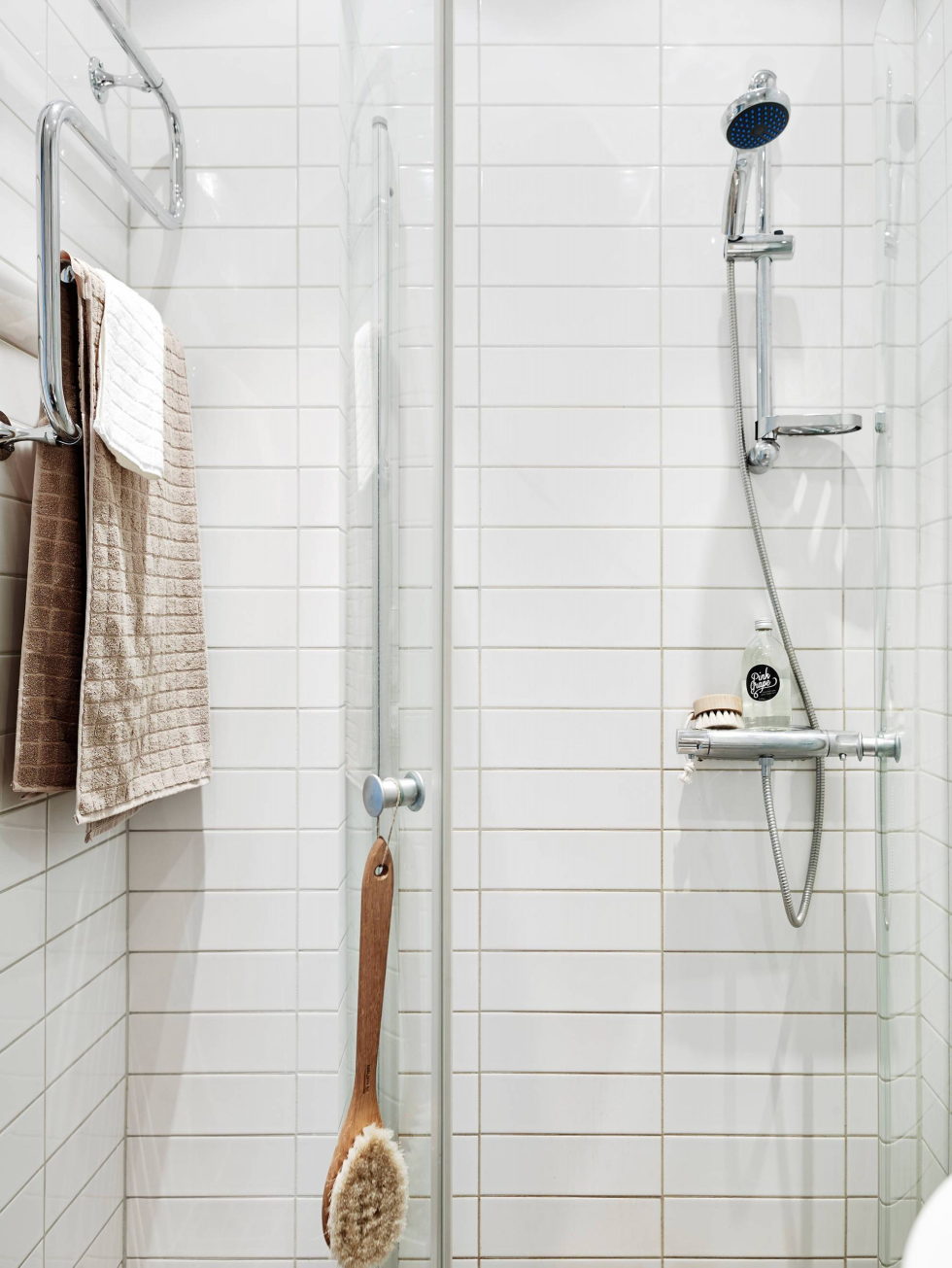 © Stadshem Fastighetsmakleri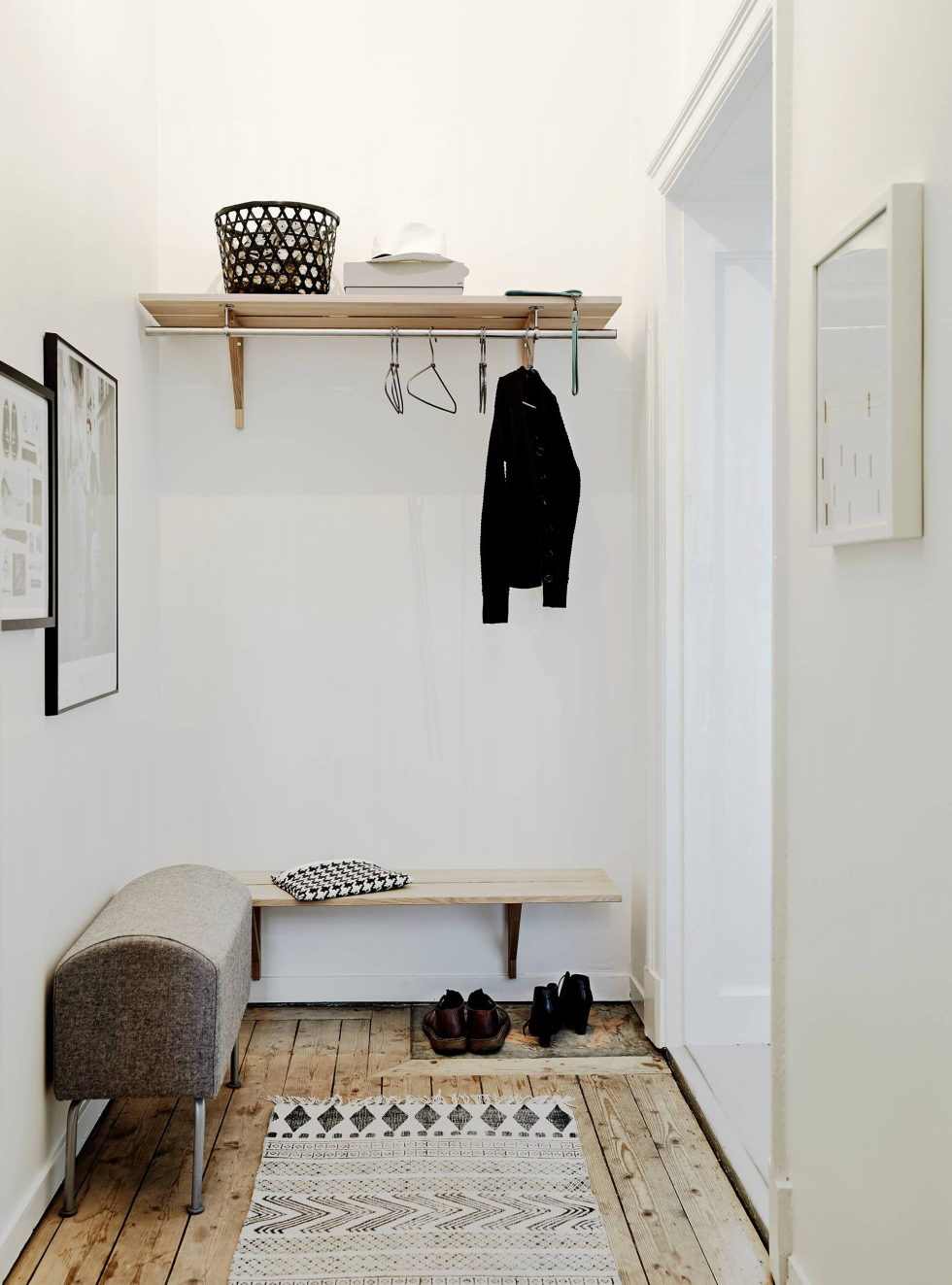 © Stadshem Fastighetsmakleri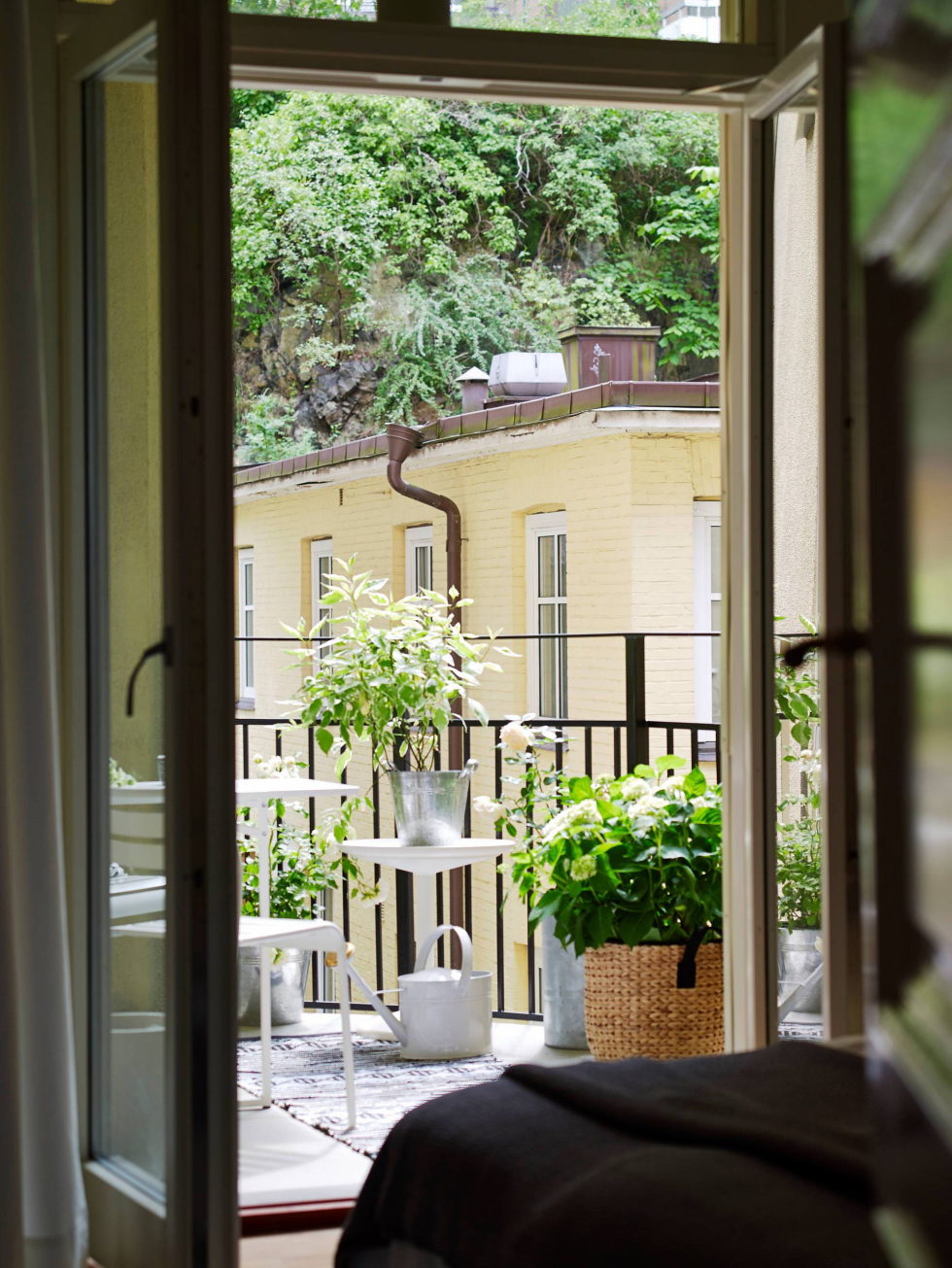 © Stadshem Fastighetsmakleri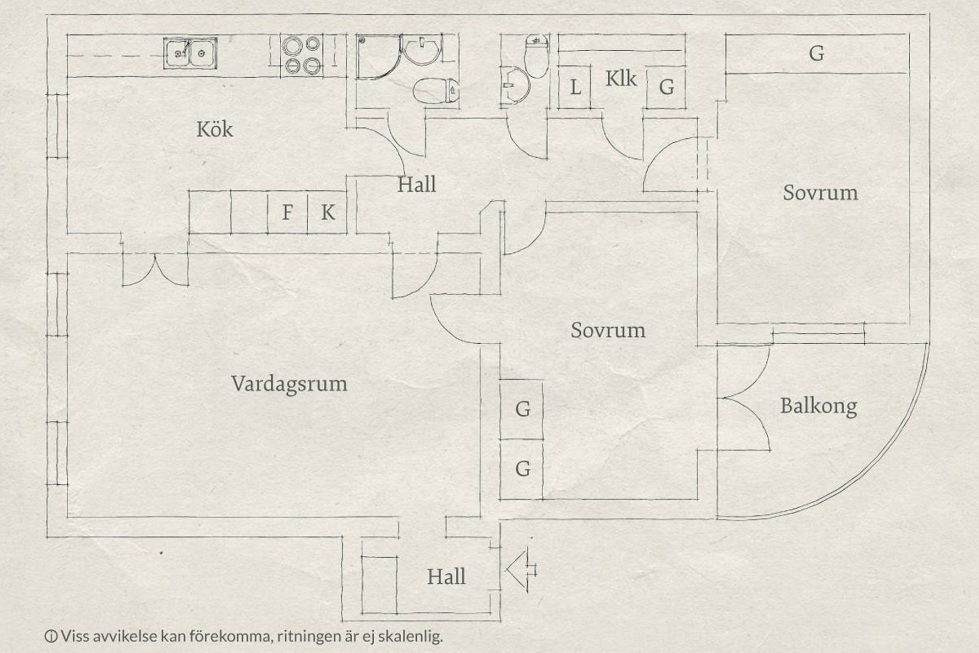 © Stadshem Fastighetsmakleri
Photos courtesy of Stadshem Fastighetsmakleri