Hi-tech interior is suitable for people with rather compressed timetable. It should not distract from urgent matters and should take little time and efforts for cleaning. Such kitchen should also be comfortable, moderate and as functional as possible, containing small number of decor elements.
Hi-tech kitchen means:
Various gadgets;
Distinct geometrical shapes, straight lines;
Use of monochrome tinctures, sometimes with bright colors, as a basis;
Big number of even specular surfaces;
Laconic facades and accessories;
Steel or chromized elements glitter;
Abundance of gloss, glass and plastic;
Inbuilt light or minimalist-types lighting fixtures.
Thus, the main features of hi-tech style in kitchen can be described through several sentences. However, we are still eager to provide more detailed information about this style in order to clarify the description of the genuine hi-tech interior, recreated in kitchen.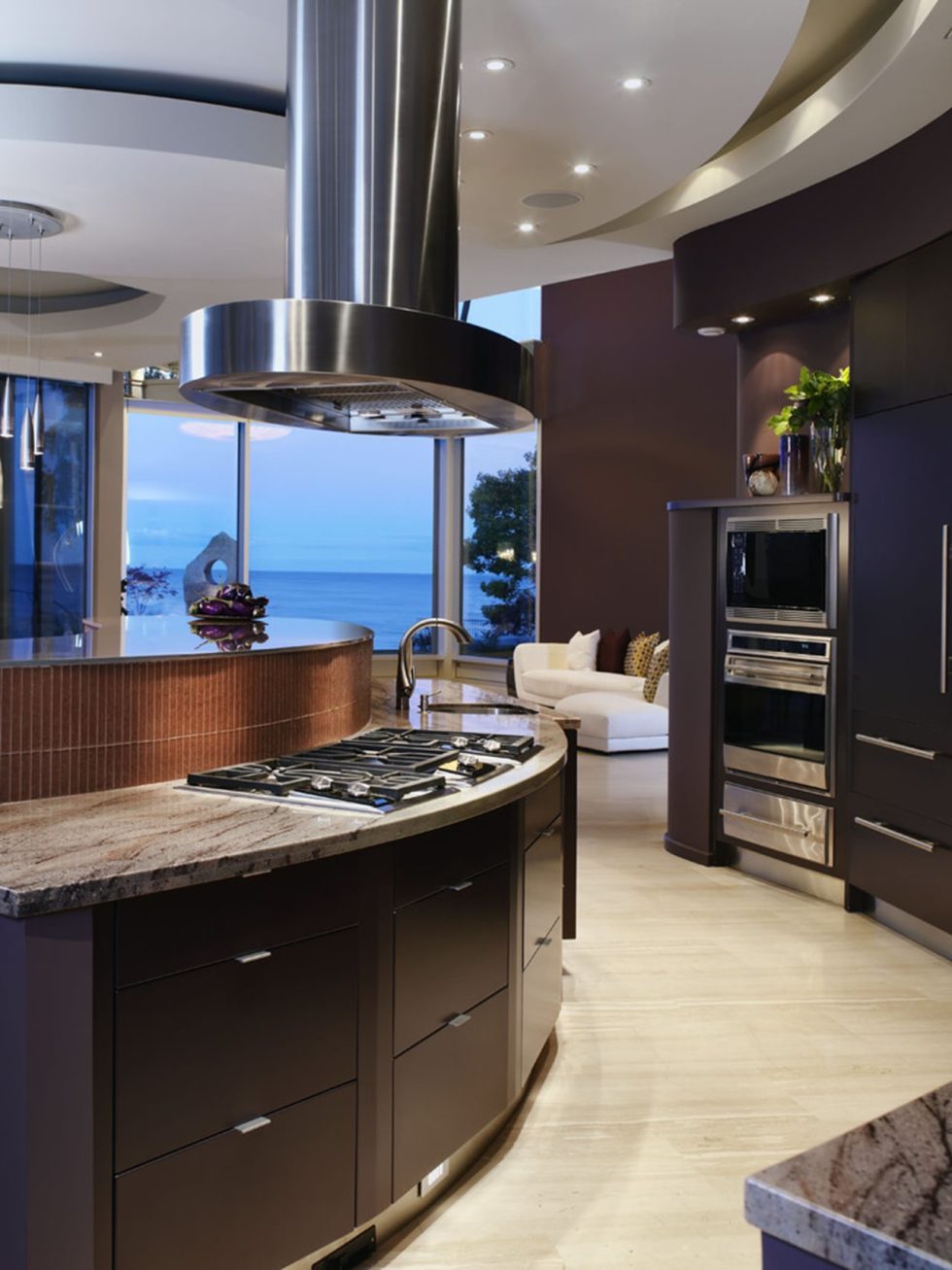 Features of Hi-Tech Kitchen
Up-to-Date Technical Equipment
High-tech kitchen is equipped in accordance with up-to-date tendencies of cutting-edge technologies` sphere, namely: massive two-leaved fridges with lots of useful functions; dish-washer machines, which economize water in the best way possible; induction cooktops and multitask conventional ovens; modern powerful air extraction systems and smoke detectors; noiseless food processors and juice squeezers; smart coffeemakers and blenders, as well as smart lighting and inbuilt air conditioning.
All these items allow to comfortably and time-effectively use the kitchen premises.
Design with Minimalism Elements
It is quite possible to create hi-tech kitchen, basing on other style, which is more traditional. However, we will describe the premises with a genuine hi-tech. All elements of such decor contain moderate, austere features, namely:
Cupboards of square or rectangular shape.
Smooth, decor-free or relief-free facades.
Plain, minimalist tables, usually combined with working surfaces.
Two parallel lines of cupboards (upper one and low-level with indiscrete tabletop), represent the kitchen`s interior. The interior scene is usually supplemented with kitchen island, united with dining table or a bar counter.
Doors of big consumer electronics and cupboards` facades should create indiscrete line.
Seat furniture, chairs in particular, could be both of simple rectangular and of stream-line forms. Unusual tables would be appropriate here as well.

Artificial Materials, Smooth and Shiny Textures
Modern artificial materials, appropriate for hi-tech kitchen, are the following: polypropylene, polyethylene, plastic and acryl. It is also possible to use metal, numerous glass elements and stone (as the most functional material). There isn`t any place for natural wood in hi-tech kitchen, however once in a while there could be veneer sheets of very blond or very dark wood species used for decorating facades of furniture.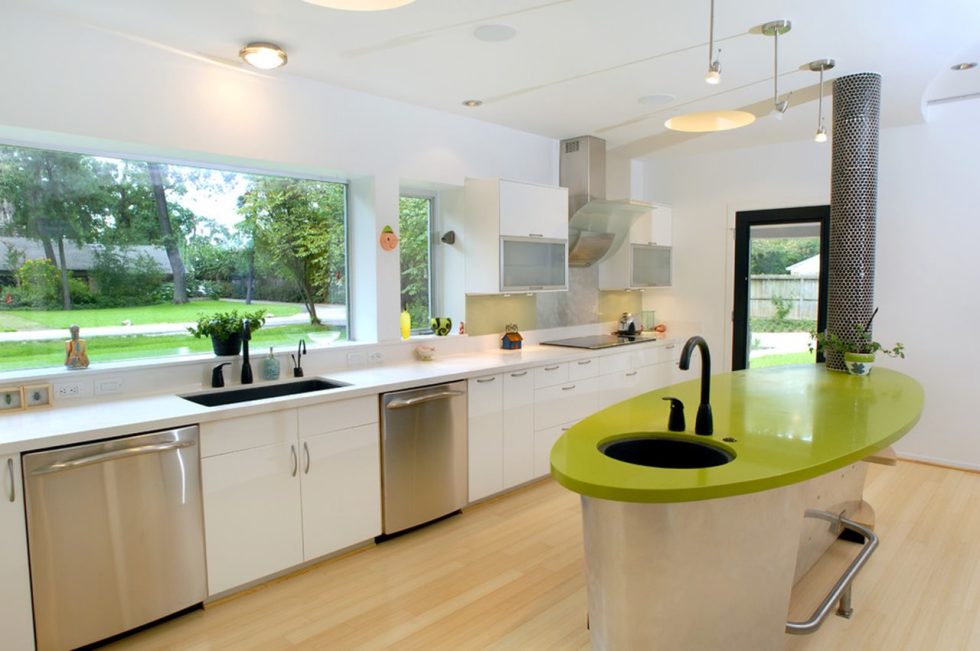 In order to make your kitchen look like the icon of technological premises, you should do the following:
To face the floor with tiles or create self-leveling floor;
To smooth the walls and cover them with neutral paint, to use the wallpaper only in rare occasions;
To face the working aprons with glass panels;
To use stone or metal working surfaces;
To conjoin furniture`s glossy facades with glazed tabletops;
To set suspended ceilings, smooth or multilevel.
Bright Colors Against the Neutral Backdrop
In order to make the kitchen comply with the fundamentals of the style, it is important to use one, two or three neutral colors of achromatic range, e.g.: white and grey, black and graphite, silver-white, black and white.
The furniture could be completely white, black or grey as well, however, small amount of several living colors cold become a rather attractive detail of the kitchen, embodied in red chairs, apple-green cover-slut, citrine upper facades etc.
The floor surface is covered with white, sand-grey, dark grey materials, whereas the walls are usually painted in light tinctures (cream, white, light-grey).
Absence of Decor
Don`t try to decorate the kitchen with cute souvenirs, statuettes, pictures and other decorative items, as this is absolutely inappropriate for hi-tech style. You shouldn`t use opened suspended ceiling as well.
Fancy accessories in form of ornamental handles are irrelevant here, it would be better to almost hide them. Mixer taps should be laconic and contain no signs of retro- or classic style as well. If you would like to enliven the moderate interior a bit, we recommend to emphasize the shape and color of chairs or to beautify the table with a plain vase containing bunch of natural flowers.
Textiles are inappropriate for hi-tech kitchen: tablecloths are not used here, while working surfaces and dining tabletops are smooth and user-friendly. Windows are covered with louvre-boards, yet curtains, door-curtains or net curtains are contraindicated.
Features of lighting in Hi-Tech Kitchen
Chromized feet of tables and chairs, stainless accessories, shiny bodies of household appliances are widely and in great numbers used at hi-tech kitchen. Silvery metal could also be a good variant for frames of lighting fixtures and frontages of kitchen furniture`s doors.
It isn`t typical for modern technologic premises to contain latten and bronze, since these metals are implemented in more traditional interior styles.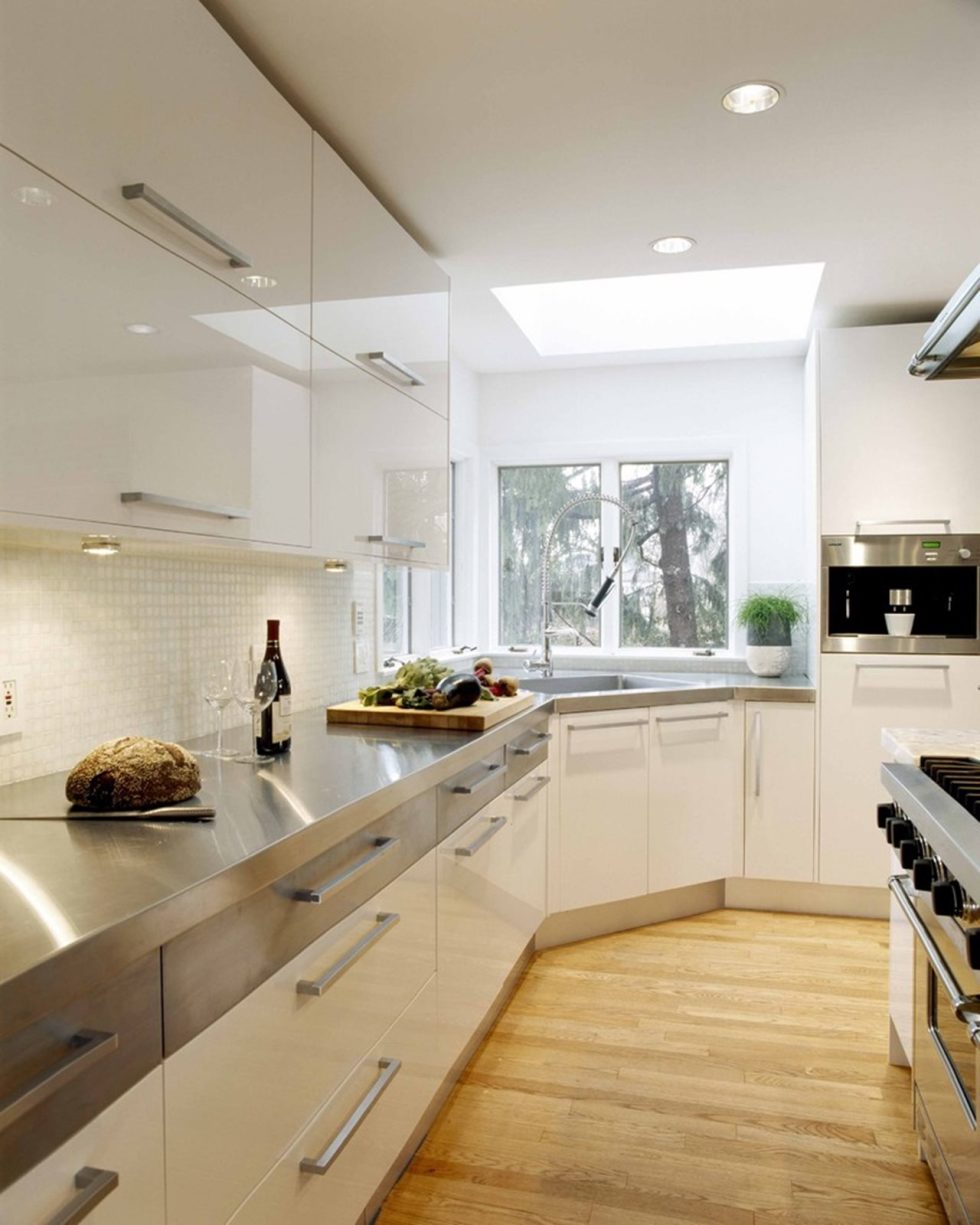 Kitchen is primarily a room for work, where good lighting plays an important role. Thus, it is necessary to pay attention to proper lighting at the planning stage and create several sources of light for different functional zones. It is a perfect solution for hi-tech kitchen to locate pinpoint lights across the ceiling, just above the working surfaces, and to place directional light in a form of searchlight near the cooking surface and a dining table.
Inbuilt light, situated in the lower part of wall drawers, would also be a perfect variant for the given style, whereas minimalist lamp of glass-bowled shape could successfully provide light to the dining zone.
Image Gallery – Kitchen in high-tech style: