The company Moroso continues its favourite line of projects. There were five new models of soft furniture in gradient upholstery, displayed at Salone del Mobile 2015 exhibition. The line includes two unusual sofas, two sculpture arm-chairs and a faceted pouf.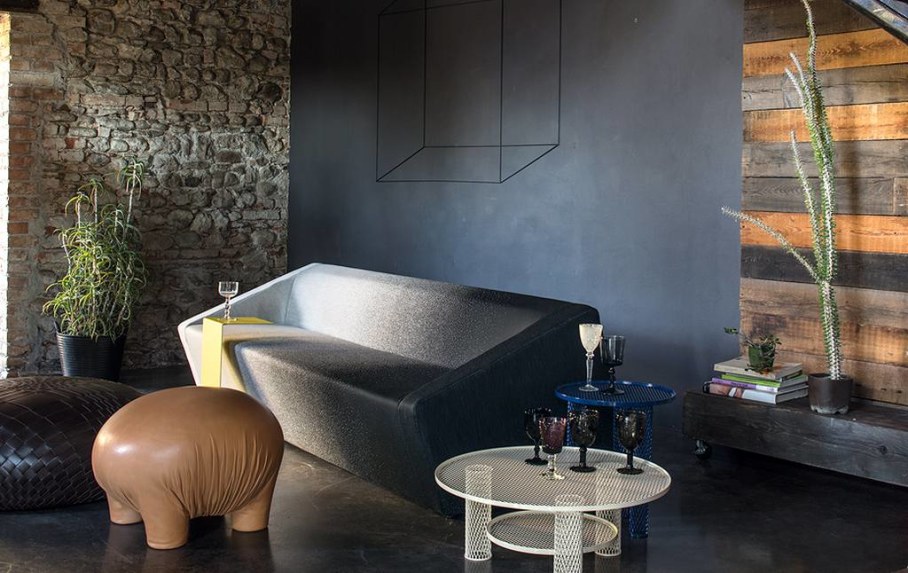 The idea of the Brook pouf creation belongs to the designer Tokujin Yoshioka during decoration of flagship store of Issey Miyake, the Japanese fashion guru, in 2014. Subsequently the pattern was materialized in a pouf of sculpture faceted shape. This model is available in three variants of sizes, whereas two variants of upholstery are performed in white-green and orange-blue colours.
Daniel Libeskind, the artist, considers the design as a small variant of architecture. The dwelling atmosphere and necessities of a person become a landscape in this case. Contradictory Gemma armchair looks like a precious stone and the silhouette of the model with acute angles stands in contrast with soft upholstery of shining white-blue colour.
While creating Glider model, the designer Ron Arad was aimed not only at construction of a traditional sofa with a back, arm-pads and a sitting, but on creation of a solid-drawn object, providing the comfort of a classic sofa. This resulted in Glider model creation, performed in the exclusive upholstery of red-purple and black-and-white colours.
The inspiration basis for Husk model by Marc Thorpe was a maize cob. Apart from the interior variant of the chair in gradient upholstery, the company Moroso produces the line of open-air models.
Unusual Ottoman sofa was designed by Scholten & Baijings designer studio according to the sketches of Japanese and Turkish futons. This model is intended for different postures: sitting, recline, recline at ease. The sofa is available in graphic pattern, combining several colours.
Photo Gallery: Soft Furniture from Moroso