Simply, comfortably, naturally – all this can be said about the apartment, that has been renovated by the designers' efforts for an American family. The apartment is located in a densely built-up district of New York, not far from Central Park. The authors of the project have done everything that an urban life of its dwellers was the most eco-friendly and was held in a quiet and peaceful atmosphere, despite the city hum and noise outside the window.
On the first floor of the duplex apartment there is a living room, a kitchen and a dining room. Between each other, the zones are divided only conventionally, they are united by the same design, made in a single color. The base is a white colour, complemented by light wood. It highlights eco-friendly trend of interior design and helps to create the feeling of a country house. A discreet ceiling lighting creates a natural uniform fluorescent lighting. Lack of pretentious decor and conspicuous expensive items don't make the atmosphere cheap. Here, everything looks expensive, but if we compare it with precious metals, the most suitable definition for this house will be "platinum" and not "gold" or "silver".
A cosy living area is designed with comfortable places for relaxation, everyone can choose for themselves the most attractive among them. A large window has the height of the premise. Therefore, here, it is light and comfortable. An additional effect is created by high ceilings, in this zone their height corresponds to the height of two levels.
A divider of space between the kitchen and the dining room is a cube, which has integrated appliances: a fridge, a freezer, dishwashing machine, an oven, a microwave oven. The kitchen cupboards are made by the latest fashion trends – they don't have handles and look monolithic and modern.
On the second floor there are two bedrooms, each of them has its en-suit bathroom, and a large shared room, which combines in itself an office, a library, a storage space for all sorts of things. Thanks to the modern interior design in single style, all these spaces coexist without any conflicts in the design plan.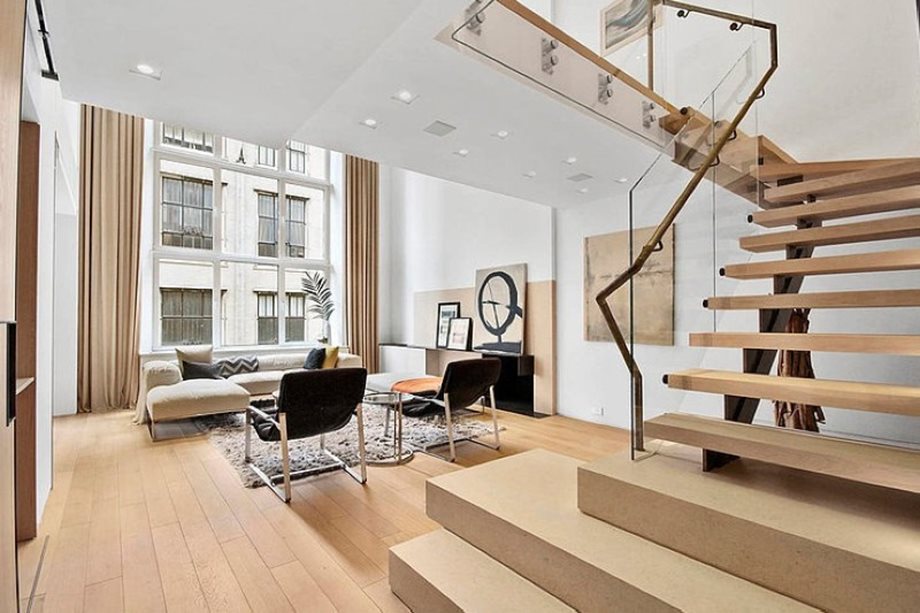 The bedrooms are decorated in the same white colour. They don't have bulky furniture, a heavy textile and a surplus decor. The role of lightning is played by ceiling lights. For storage there are small fitted wardrobes.
In one of the bathrooms there is a classical floor standing bath and a separate shower cabin. In another bathroom these two functional subjects are combined into one tub for convenient using by glassed-in wall-mounted shower for.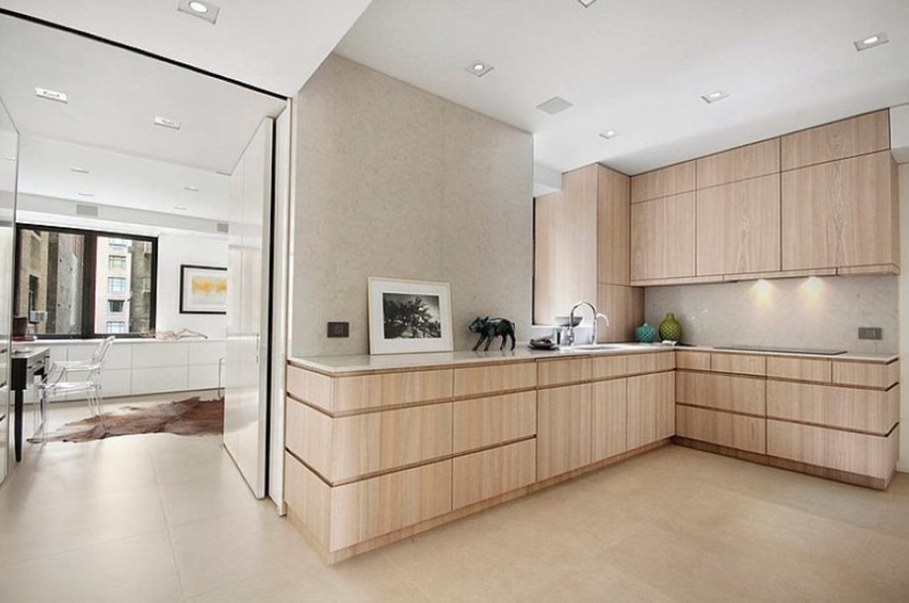 Photo  Gallery: Modern interior design of a duplex apartment in New York