It is worth to mention that people usually distinguish classicism (XVII century) and Neoclassicism (XVII – early XIX centuries). Simple and clear forms of ancient art was an excellent example for these artistic movements. Also, classicism is called "Louis XVI's style". It was the last royal style, when palace's influence spread all over the artistic areas up to the furniture style. In the mid-60s of the XVIII century the interior style has become simple and strict. Louis XVI's bedroom interior in the Palace of Versailles is the striking example. When a large room impressed the boudoir during Rococo era, decorators of classicism aim to opposite effect – they created the illusion of a large space regardless of the actual room size. So there has appeared a white marble medallions with ancient profiles, strict pilasters, and semicolumns.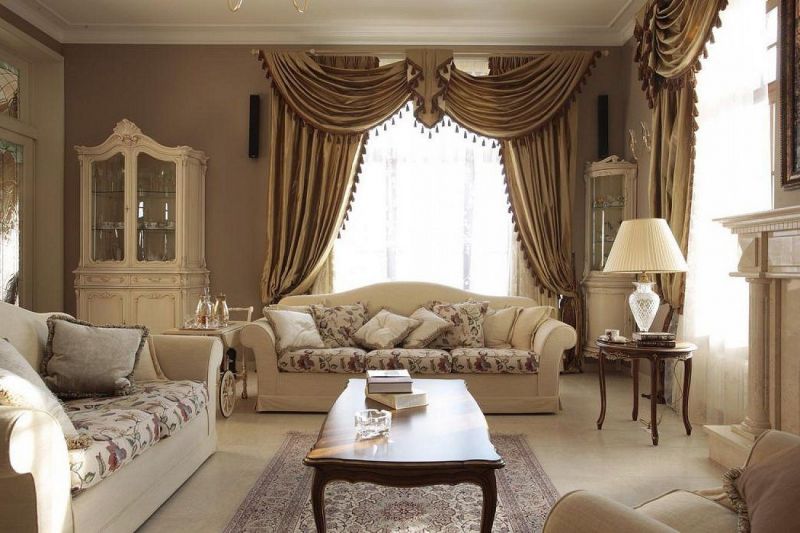 There aren't too much pieces of furniture, but all of them are stable and simple. Capricious and flexible Rococo's forms gradually "calm down" – the lines have straightened; balance of the parts, the clarity and harmony of the proportion had dominated. Interior decor has been reduced to the most necessary elements. The furniture legs had the function of supporting structures. They have straightened and consequently seemed like taper bottom of the columns. Decor followed the constructive principles, whose lines adhere to the object's lines. Soft chair and armchair elements have been upholstered with floral fabrics.
Ancient motifs were dominated in the decor: meanders, stands of pearls, flower and laurel garlands, rosettes, and festoons. Also, combination of color lacquers (white, green) and lightly gilded elements were often used. Secretaire with cubic basis on the high legs was one of the most important pieces of furniture. Finally, we should mention the English classicism, which wasn't too strict as French. Robert Adam (1728-1792) became the leader in this classic taste. The Syon House's reception, which is decorated with the blue marble columns and statues, is one of the most famous architect's interiors. The body of these columns are genuinely antique. But they don't prop up the ceiling, they just organize an appropriate mood.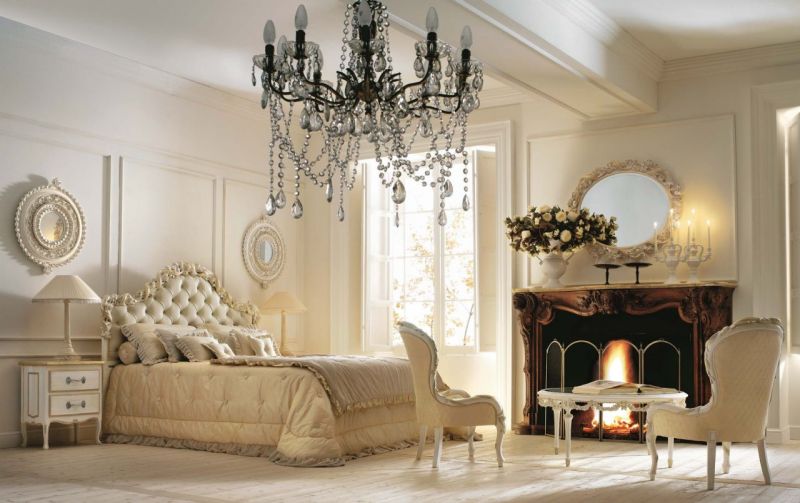 The chairs and armchairs are upholstered with floral printed fabrics. Popular shames are mahogany with the bronze inlay.
The outlines of the backs have become stricter. Also, the ancient Greek and Roman motifs have appeared in the decor (swords, helmets, and shields) as well as Egyptian (sphinxes images in the furniture decoration, the narrow chair and table legs). White is also popular – warm color schemes, combination of light pastels (cream color, pale yellow, greenish), and the walls in warm brown tones are the graceful features of the interior design. The bathroom is made in warm shames too. Thus, it looks very solemnly. The taps are gold plated; the walls and floor are marble. Classic furniture decor is made in the English style: natural brass, handcrafted luxury mosaics from wood of different breeds, and patinated mirrors. Narrow vertical windows, chairs from rosewood and walnut look especially exquisitely. Modern version of classic interior is a warm, respectable place, where is no fullness of details and bustle, where every element is especially significant, and the apartment area is harmony organized.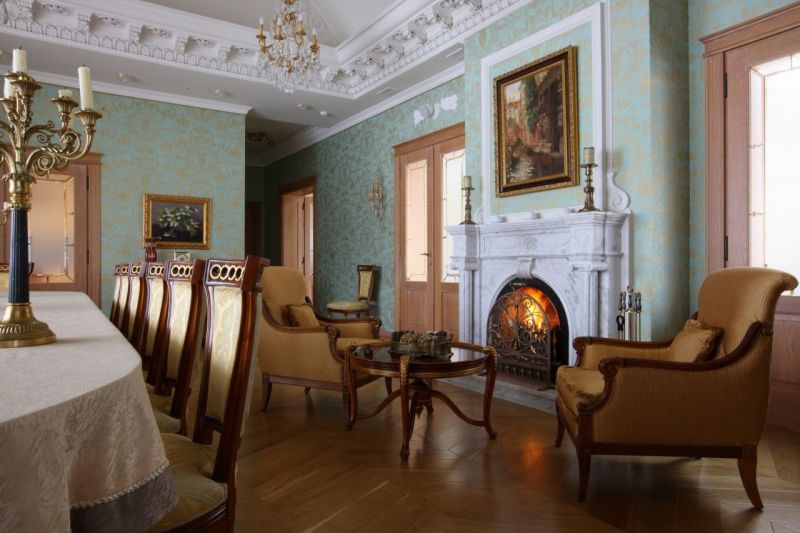 Symmetry compositions, regular geometric shapes and lines, elegant decor, expensive natural materials are exclusive features of the classic style. Laconism and grandeur, austerity and luxury, serenity and solidity are integral elements of the movement. Besides, columns, niches, arches, pilasters, stucco cornices and gilt are actively used for the interior decoration. In addition, carved details from natural wood, stone and metal adorn not only interior, but also decoration. At the same time wallpapers, wood panels, silk fabrics, tapestries, various types of draperies are used during facing the walls. Moreover, art paintings and parquet made of valuable wood are appropriate too. Classic curtains consist of such components as thick drapes, light transparent veils, and pelmets. Thus, velvet, silk, satin, brocade, and cotton are indispensable attribute. There are set of elements that are necessary to use in interior design: drapers, brushes, fringe, decorative cords, ribbons, and laces. All of these elements can adorn not only curtains, but also furniture covers, decorative pillows, tablecloth, lampshades.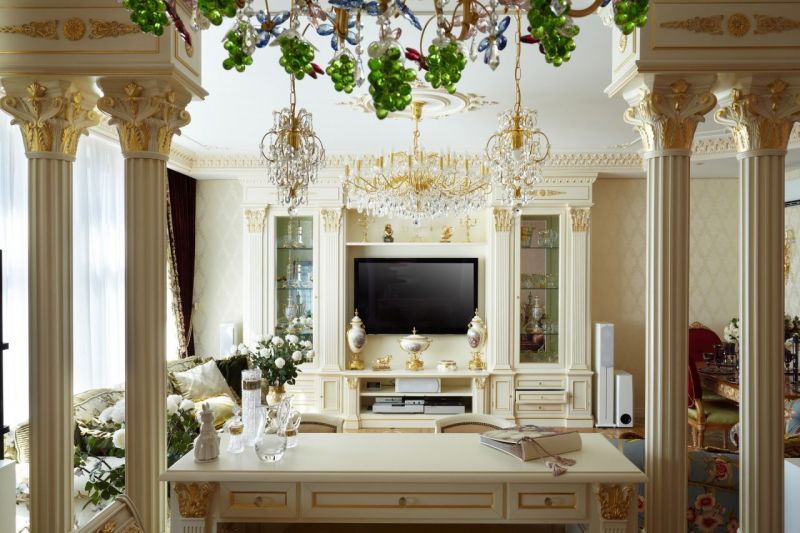 Chandeliers, lamps in the form of candles, sconces, floor lamps, and hidden lights which are located in the niches or curtain rods are very popular in the classic style. Fireplaces and mirrors, paintings and sculptures, bronze candlesticks and graceful vases are extremely important too.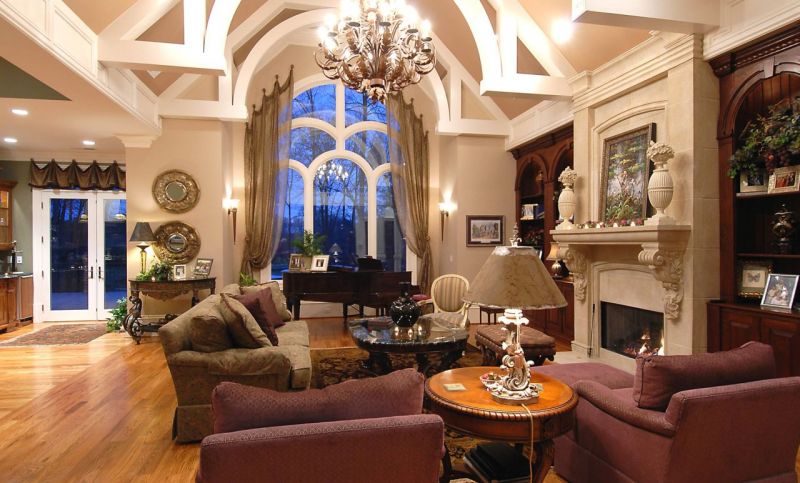 Photo Gallery: Classic Style interior design