Today we want to acquaint you with interesting tendency in interior design – Suprematism. Recently, it has become increasingly popular. We are going to guide you through the history of the art, because Suprematism moved from the painting to a new level – interior design.
Suprematism has appeared in the early XX century, its founder is Russian avant-garde artist Kazimir Malevich. The essence of Suprematism is that the color is ahead of everything, but this color is transmitted through geometric figures, that play the role of color conductors of the composition. Suprematism has motion items that have thin link, thus all of interior objects come into some kind of "dance". Firstly, Malevich used a limited gamma: red, gray and white. There was a lot of Malevich's favorite color – black. It's proofed by a Black Square, which is color and form absolute. Lately, he began to broaden gamma and multiplicity of forms in his works.
Please, glance on following photo for better understanding me. Here we see Suprematism in three movements: architecture, fashion and art.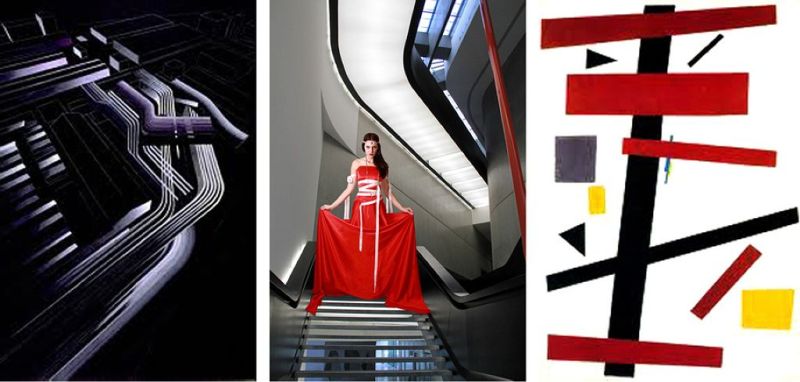 The original Suprematism interior design is rarely met, as such interior would have been suitable only for exhibitions as installation but not for casual life.
A well-known fan of Suprematism is a popular and successful interior design Zaha Hadid. Kazimir Malevich is her idol, in spite of the fact that she mainly works in Postmodernism movement. That is why she created a lot of amazing masterpieces in this movement.
Characteristic Features of Suprematism in the Interior
Geometry
The main treasure of Suprematism is eternal geometry. Because of its simplicity and clearness strict geometric shapes can't be boring. It demonstrated in the form of rectangular and square cabinets, compositions of hanging shelves.
The photo below shows the variants of modular wall constructions by which you'll immediately understand the hint of designer's style. Yes, just a hint. Because the rest of the interior is designed in minimalism, so that Suprematism could look appropriate in such a small amount.
Also, pay attention to a delicate chandelier on the first photo. It perfectly blended in with the interior and all objects as a whole.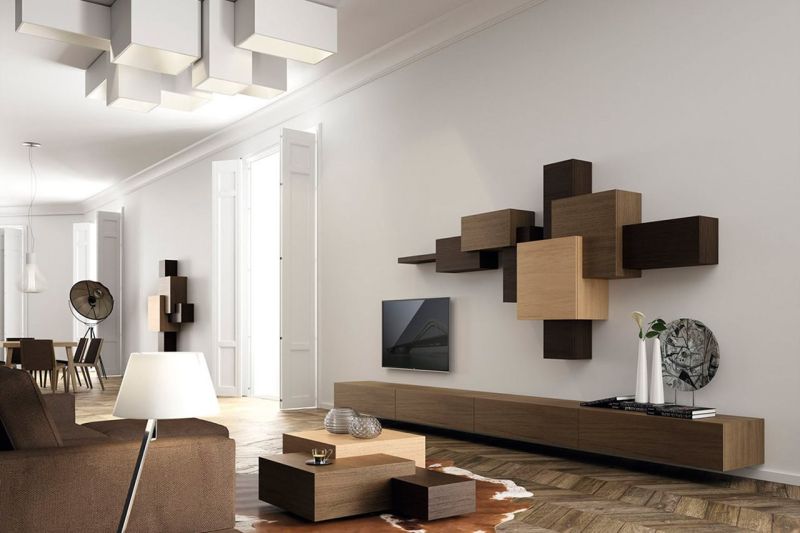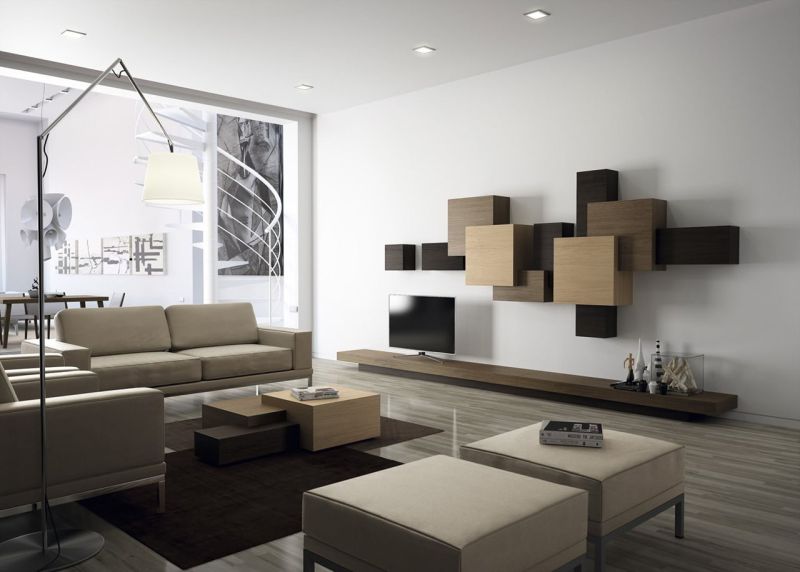 White Surfaces
Everything is simple, especially when we remember the works of Kazimir Malevich, in which white color has always been the basic background. By the way, all the colors mix and harmonize with white. And you, as a painter, can "arrange" their bright figures. Besides, white color gives an even greater feeling of airiness and flight that is highly expressed on the paintings of artists.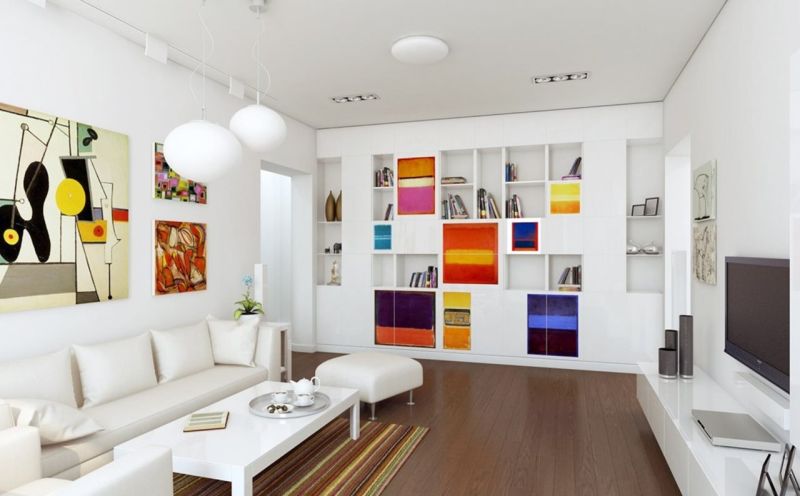 Obviously, it is unnecessary to paint all the walls with white, because it's possible to use other colors. But these colors must be taken from the Malevich's palette – grey, black, red and yellow.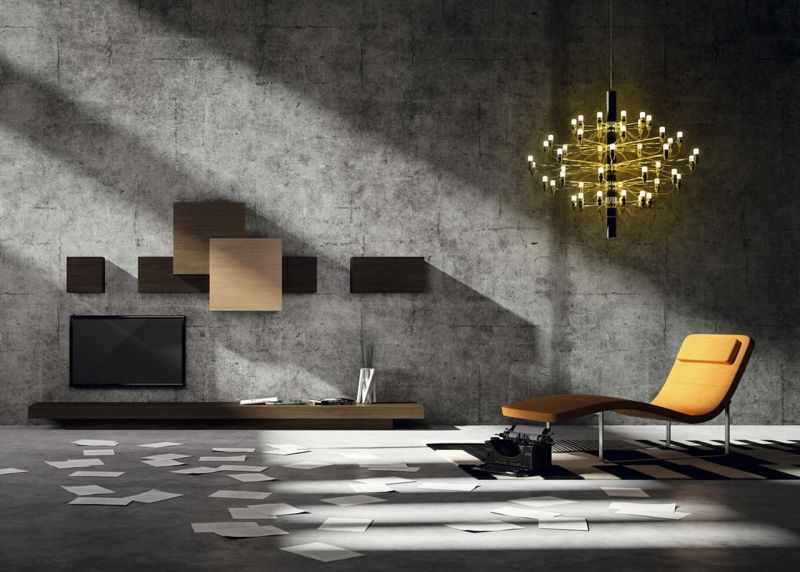 The Open Layout and the Minimal Number of the Walls
Precisely of this grateful feature Suprematism is perfect for interiors of public buildings – offices, cafes, restaurants, artspaces. The concept of style consists in motion and area. This is particularly notably in the long and wide corridors, where it is possible to represent that movement by the walls, floor and ceiling. Thus, you get into the unified impulsive blizzard, which has no end.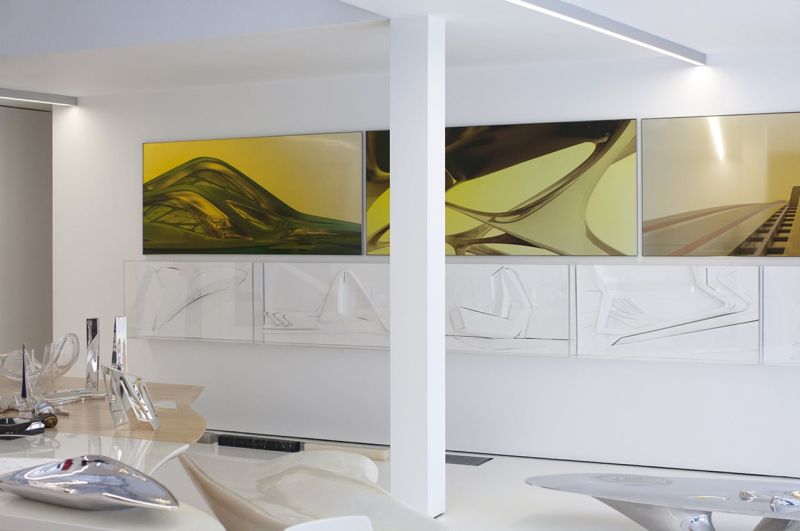 The decoration of the walls and paintings unite into the indivisible flight on them becoming really impressive and strong effect. Therefore, this design can quickly make you bored in apartment.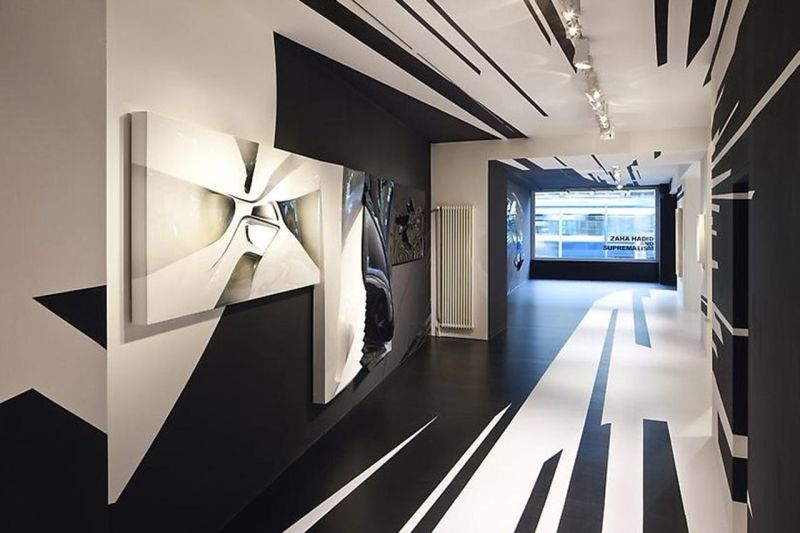 The Walls and Ceiling are the Canvas for Painting
Suprematism is curious movement, since it came from the painting and doesn't withdraw from it. You do not need to have special artistic inclinations, because all the paintings are composed of geometric shapes. It means that it's quite simple to move shapes on the wall from paint.
Of course you could just buy a few reproductions of Malevich, and stop all experiments on that. Although, it's too simple and ordinary. In any way, picture for the whole wall – it's much more interesting.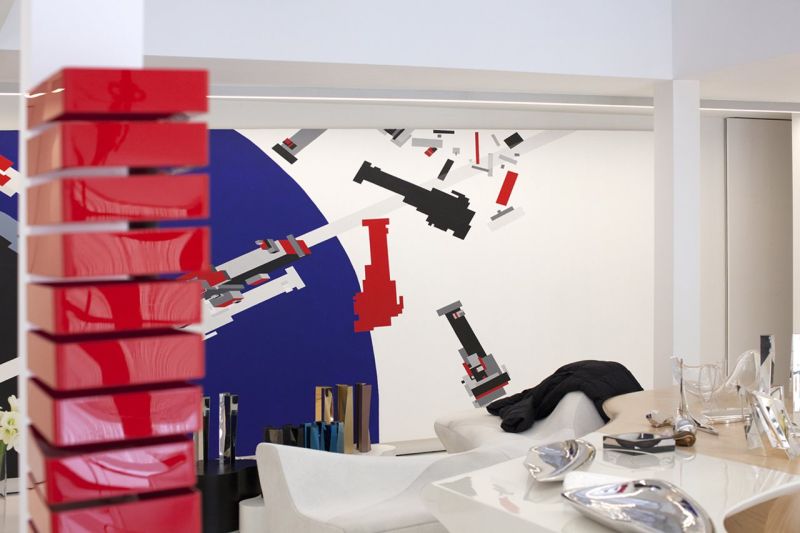 It's better to make decoration with a small picture, which will be a bright accent, not the basis of the interior in the apartment with a small area.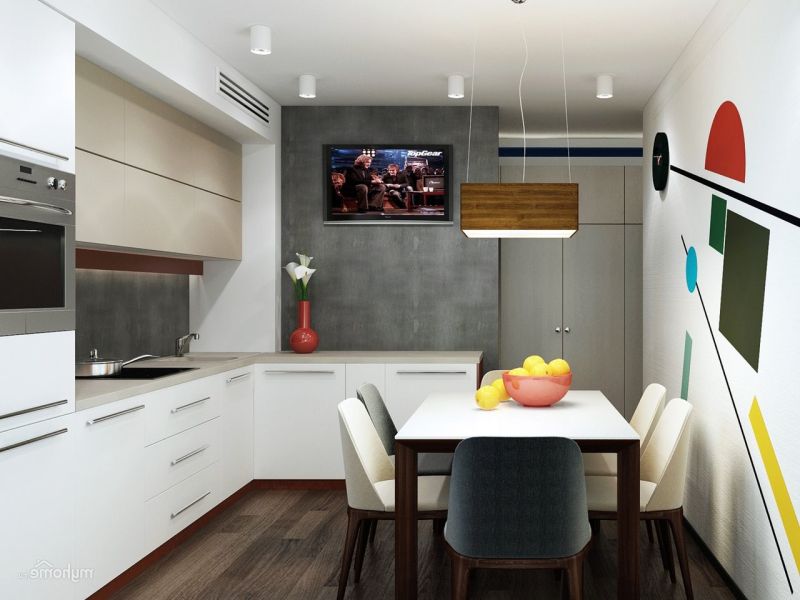 But on the other hand, Suprematism motifs will be a real masterpiece and immediately create a true mood in the corridor offices.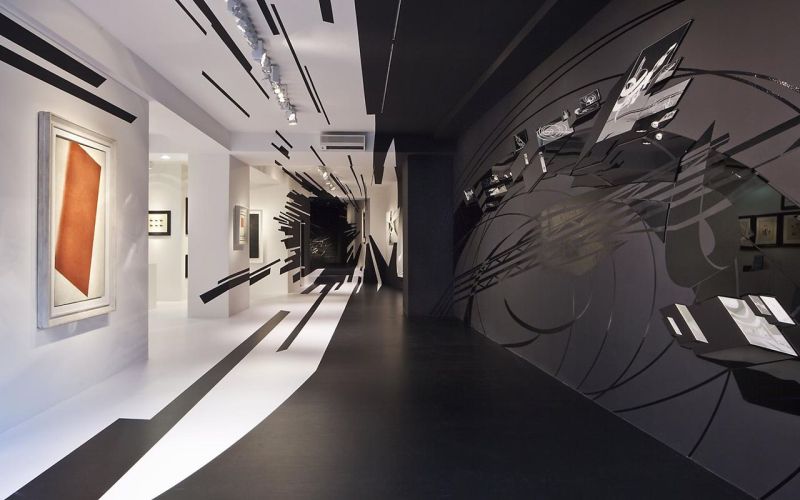 Blossom of the Color
Suprematism got a large number of other colors in modern interiors. In addition to the main, there has appeared a number of bright and neon colors: pink, orange, green, red. Multicolored squares which are linked in chaotic manner, eventually form an incredible beauty of color harmony.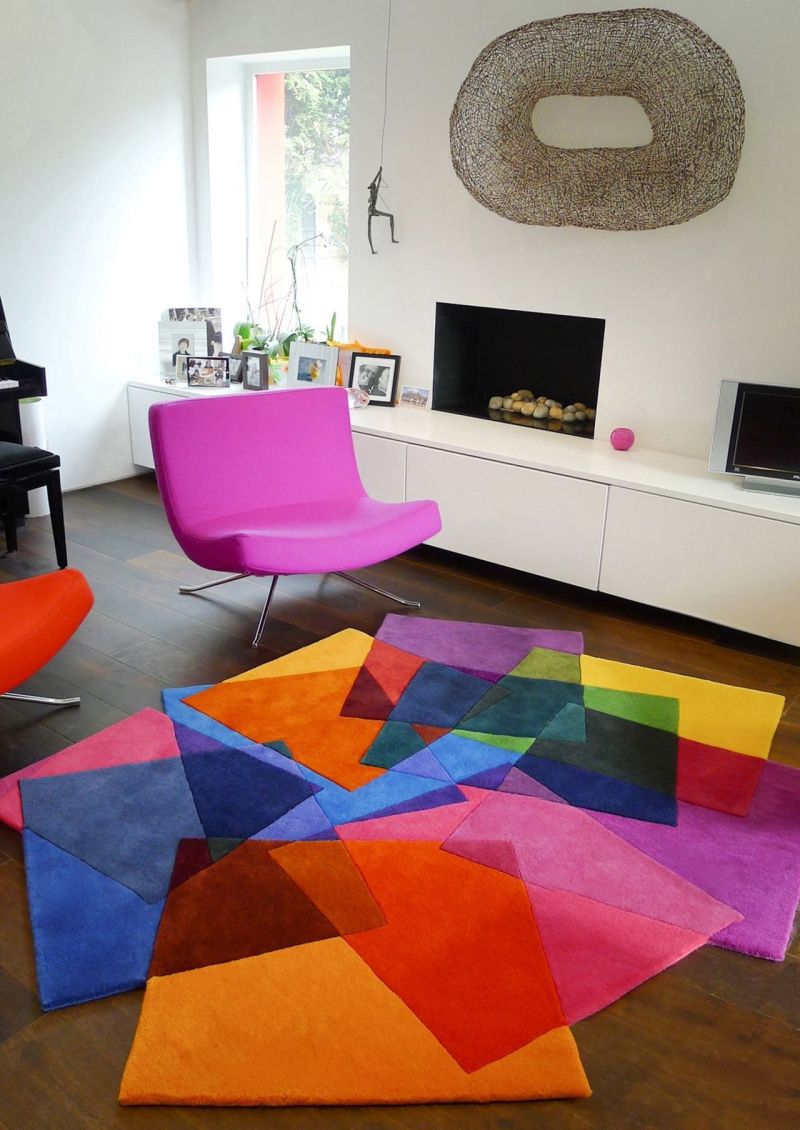 Suprematism began its development much more later in furniture than in interior design, since here in addition to the colors and shapes, you need to remember about the furniture utility. Thus, the main forms of furniture are square and rectangular, which are painted with bright and vivid colors.
Finally, Suprematism – it's very interesting, peculiar and distinctive design movement. At first sight, it seems obscure, but it can be transformed into a cozy and bright space after correct interpretation.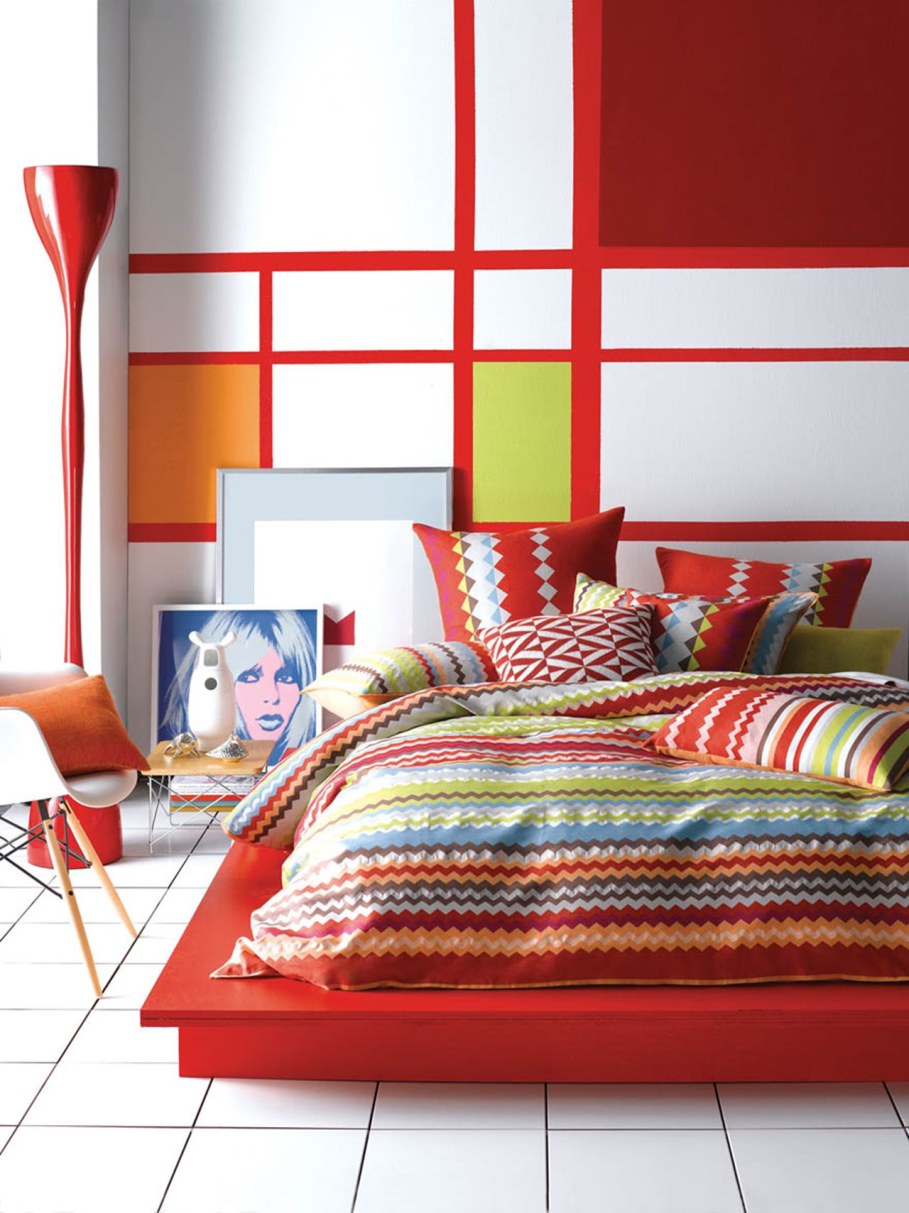 Image gallery:

Suprematism in the Interior