The kitchen is the heart of any home. Not only the food for all the family is cooked here; this premise is also intended for the closest guests, heart talks and family`s gatherings. Every small interior detail is important here. This article considers a rather complicated issue of how to select a countertop for a modern kitchen. Variety of models brings the challenge.
The main question is whether it is possible to find a model, compliant with all the requirements of residencies owners`, who is planning to repair or reconstruct the kitchen premise. Let`s try to make the right choice together.
Requirements For Kitchen Countertops
Specific character of the kitchen premise make impact on selection of any interior`s element, including countertops. Humidity, constant temperature gradients, hight level of possibility of surfaces contamination and effects of various nature influence the selection of material for countertops. Apart from that, the aesthetic characteristics are very important for creation of balanced and attractive kitchen interior.
Criteria Of A Kitchen Countertop`s Selection:
Hight temperature resistance;
Wet fastness (low water-absorbing quality);
Resistance to mechanical stress;
Simplicity in use (possibility of using chemical cleaners);
Aesthetic appeal, balanced combination with other interior elements, such as kitchen facades and surfaces finishing;
Family finances (some models of countertops have the highest technological qualities, but are expensive as well).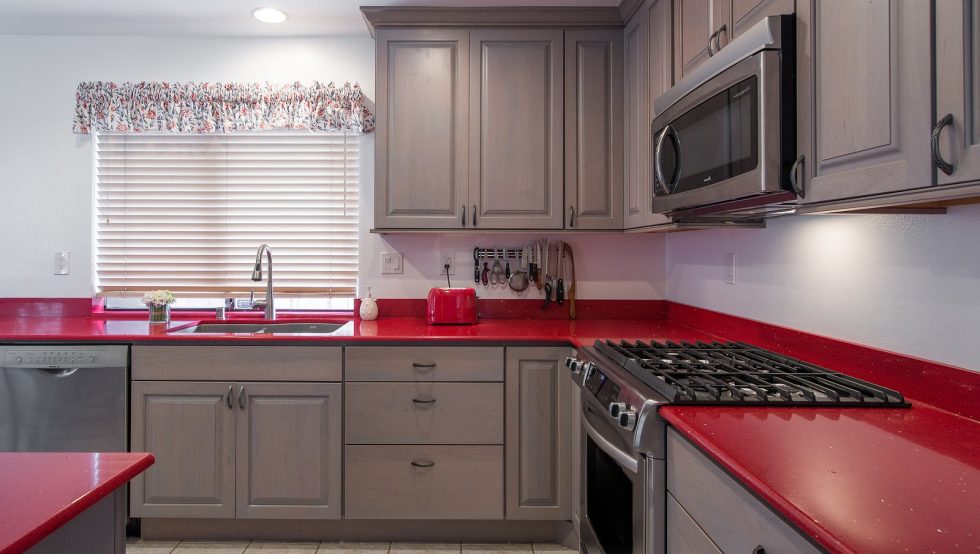 Kitchen Countertop Materials
All countertops may be divided according to their cost (which is one of the most important criteria for the majority of customers); apart from that they may also be classified in accordance with physical qualities and material. Let`s study the latter type in more details. Thus, there are the following countertop`s materials:
Laminated plastic;

Synthetic

stone with quartz filler;
Solid wood of various species;
Natural stone;
Stainless steel;
Glass;
Ceramic tile.
Laminate Countertops
Particleboard countertops are laminated in plastic; its height varies from 0.8 to 1.2 mm. The coverage consists of several layers, saturated with special mastics and highly compressed. The upper layer is an enduring polymer; its layout is responsible for aesthetics properties of items. The advantage of such countertops is that they have various colour modifications: they can be matted or glazed, can imitate wood or stone. The plastic`s height, particleboard`s quality and external properties greately influence the price of the ready-made item. However, there is essential price dispersion even within such low-priced category of countertops.
Artificial Stone Countertops with Acrylic Filling
It is fair to say that such countertops are the most popular ones nowadays. These items consist of plywood with glued layer of artificial stone of around 12 mm in height. The artificial stone in turn is by nature of polymer adhesive with granules of different colour and size, imitating the natural material. Such end material is rather flexible and allows creation of complicated forms; this is often necessary for kitchen furniture with bent facades.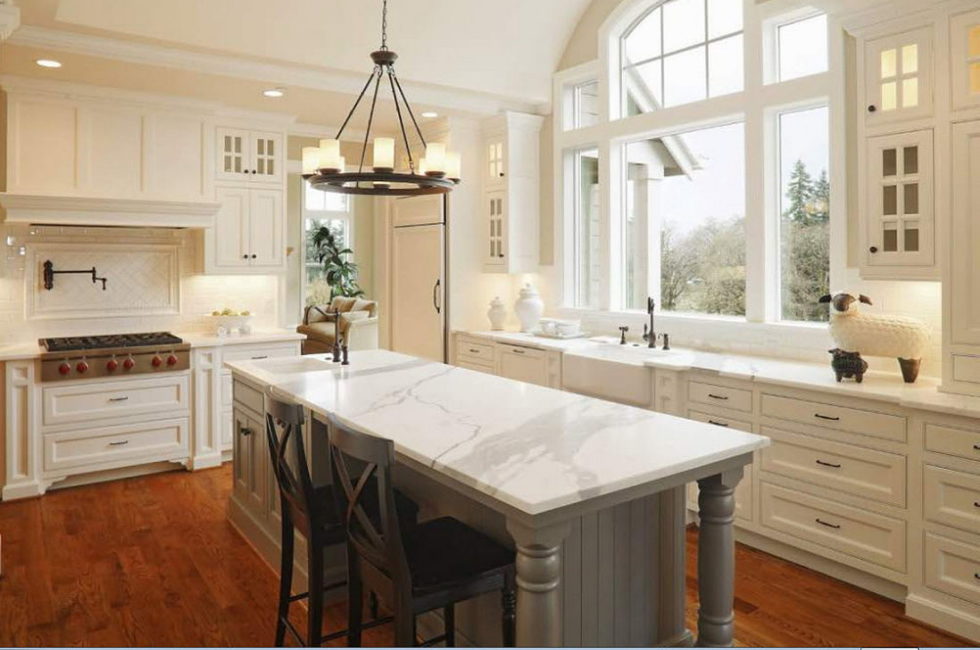 An artificial stone is light-weight, smooth and warm, as against the natural one. One of the main advantages of such type of countertops is that you may build up large surfaces without junctions, to cut a hole for sinks or other elements. Countertops of artificial stone will work for a long time in case the technological process has not been breached and the producer hasn`t cut down expenses on components. Therefore our advice is to give preference to famous brands, which gained a good reputation during many years.
Artificial Stone Countertops with Quartz Filling (Engineered Stone)
Such items are made as mixture of quartz, granite and marble chips with bonding polymer resins. Plates for these countertops are produced at high temperatures under vacuum in accordance with a special technology. As distinct from the natural stone such countertops are resistant to acids and solvents. The height of a countertop with the quartz filling is about 30 mm. The item is tolerant to formation of fractures and scratches. Due to modern technologies the countertop`s junction may be almost invisible.
Natural Stone Countertops
These countertops are the most expensive and beautiful. It`s obvious that no imitation could be compared to the natural ornament on the stone. However, this will cost a lot. The thing is not only in cost of the stone itself. The Natural-stoned countertops weight a lot; their mounting will require the reinforced frame of kitchen cupboards of the lower level. Apart from the heavy weight and high price there are other disadvantages of some kinds of natural stone. Thus, marble looks splendid and is able to transfigure even the most ordinary interior. However, it is not functional as a countertop material; it is easily scratched (requires frequent polishing) and fouled (high water absorbency).
The most common material for countertops is granite. It is not very porous and is hydrophobous compared to other kinds of natural stones. However, any natural stone requires closer attention. Necessity in special care as well as high price force customers to search for alternative materials for countertops. However, the natural stone is second to none in terms of duration (if the maintenance is proper).
Solid Wood Countertops
Items of natural wood look wonderful and bring cozyness and warmth in the kitchen`s interior. They are hard and durable, however, only if they are given proper care. It is necessary to treat the surface with special protective compositions on the oily base from time to time. Another peculiarity of wooden items is a way of the surface`s cleaning: you should use only wet sponge without chemicals.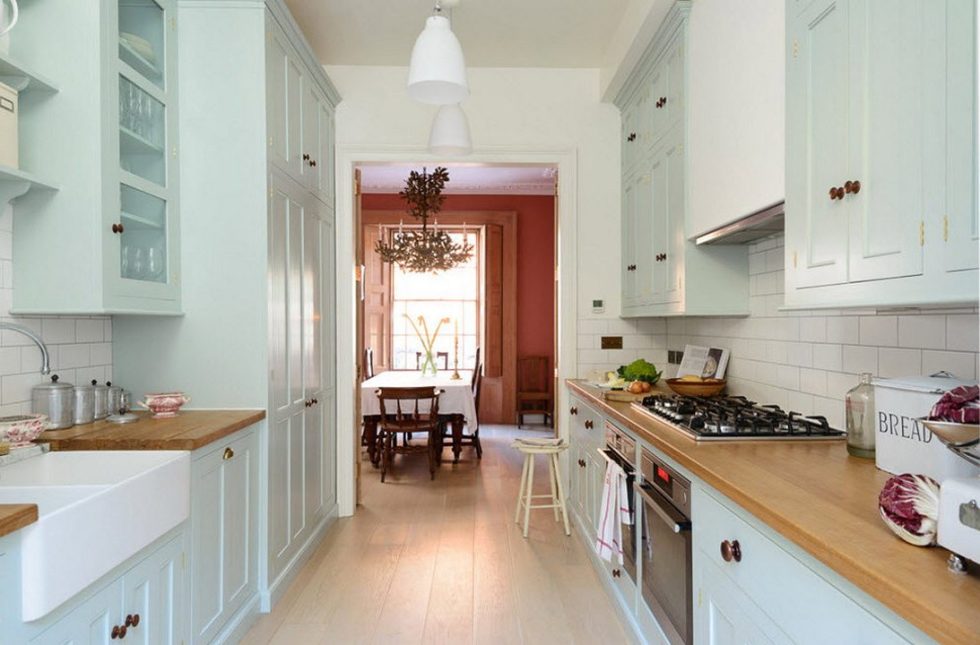 Usually wooden countertops are made of beech, oak, teak and wenge. Those are rather solid and incredibly beautiful species of wood. Countertops of a solid wood look perfect together with facades of any colour and will suit many styles applied for kitchen`s decoration.
The Stainless Steel Countertop
It's obvious that the main advantage of a stainless steel countertop is an incredibly long lifetime. Such surfaces aren't afraid of high temperatures and humidity; they are resistant to detergents, alkalies and acids. No wonder that such countertops are used at restaurants: they are easy to handle and could be cleaned with aggressive detergents.
A steel countertop looks perfect in any modern interior, in a kitchen decorated in hi-tech or loft style. There is one more peculiarity: low resistance to scratching (they are clearly visible on the steel surface). Thus, it is necessary to polish a countertop from time to time, and this causes additional costs.
Glass And Ceramic Countertops
Glass is a rarely used for manufacturing of countertops for home kitchens. High cost and complicated handling outweigh obvious aesthetic properties. Scratches, chips and cracks on glazed surfaces are a common thing. Therefore such type of countertops is rare in modern projects of kitchen design.
Countertops, decorated with ceramic tiles or mosaics aren`t spread as well. Such surface looks unusual and creatively, however it is impractical in use. Ceramics itself is able to stand hight temperatures and withstand the moisture influence; yet the seams between tiles become dirty very quickly and this worsen the appearance. Apart from that such surface is sensitive to bacterial formation and growth.
How To Calculate The Countertop`s Size
A countertop is first of all a functional element and not the designer`s one. You should remember this while projecting the kitchen space, selecting the furniture set and allocating storage systems and household appliances. Therefore it is important to define the exact size at the initial stage. It is necessary to choose the form and size of a countertop taking into account the kitchen`s planning, location of working zones and ergonomics.
The height of a countertop`s installation is one of the most important parameters. This value and accuracy of its selection influence on the convenience at cooking. The level of a countertop`s installation depends on your height. It is recommended to mount a countertop 76 cm (30 inches) above the floor if your height is lower than 150 cm (4 ft 11 in) . In case your height varies from 150 to 160 cm (5 ft 1 in), the countertop should be set at 82 cm (32.3 inches). If your height is between 160 and 170 cm (5 ft 5 in), the installation height needs to be 88 cm (34.6 inches). Does the height of adult family members vary in range 170-180 cm (5 ft 10 in)? You should mount a countertop 91-92 cm (36 inches) above the ground then. And finally, if the height of the kitchen`s owners stands between 180 and 190 cm (6 ft 1 in), the countertop should be located 94-95 cm (37 inches) above the floor. Very tall people (2 m – 6 ft 7 in and more) should locate the countertop 1 m (39.4 inches) above the ground level.
It`s quite obvious that selection of a countertop`s height is an individual solution and may vary depending on a person in a family. At the same time, selection of width of a countertop is an easier task, as it is highly correlated to the size of a premise. Countertops aren`t wide in small kitchens, and have around 60 cm (23.6 in) in width (standard countertop is 25.5 in). Hovewer, you shouldn`t increase the width in large kitchen overmuch: a countertop should be comfortable to work on.
Countertop Installation
You should consider the cost of mounting while choosing a countertop. Laminated countertops are the cheapest solution. They are attached to cupboards` carcasses by metal brackets. Some situations require floor borders installation in order to hide the crack between the wall and the countertop.
Adjustment of a steel countertop will be more expensive. The maximum lenght of such items is 3.7 m. Moreover, mounting of solid-wood countertops costs twice as expensive as installation of the steel one. Such items are fixated in a "floating" way using bracket fouts with oval mortises. The services of installers working with the natural stone will be the most expensive. Thus, installation of a natural-stone countertop will take 30% of the item`s price.