Ronda Design produces an array of different wall-mounted systems to organise and best exploit your living room space. A host of solutions designed to sort out and store your belongings in open and closed compartments, in original, matching offerings allowing the integration of multiple materials, finishes and functions.
Below is the gallery of offerings by Ronda Design to adorn your living room walls to suit your particular taste, space and preferences.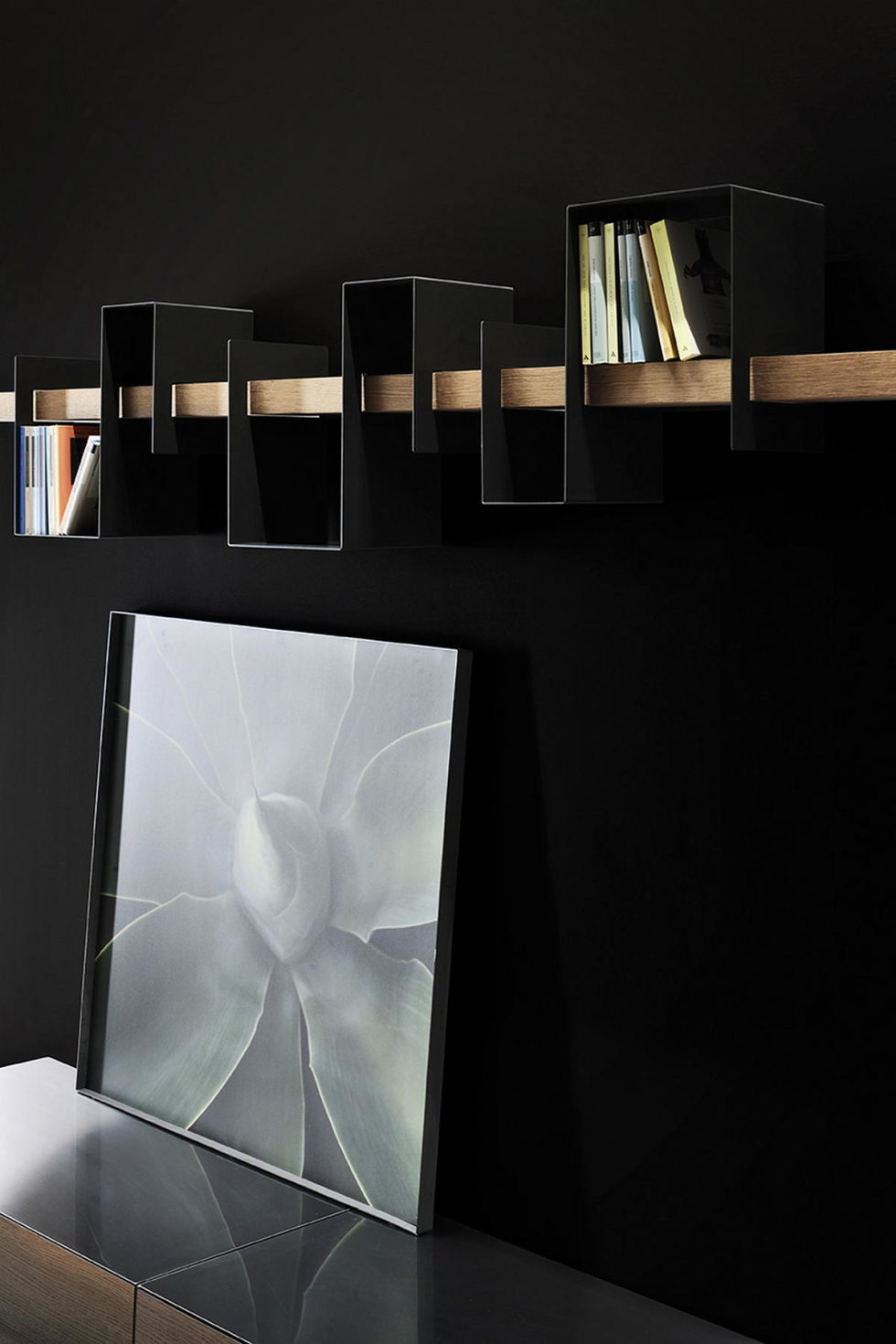 Iron-ic system (Ronda Design Lab design)
Iron-ic bookcase
Sinuous, versatile and textured, the Iron-ic bookcase features a modular metal architecture based on the snap-together assembly of each module's components. The curvilinear sides lend the bookcase an original wavy appearance, an harmonious zig-zag pattern that is instinctively attractive and blends in with any surroundings,from classic to modern and in both home and contract settings.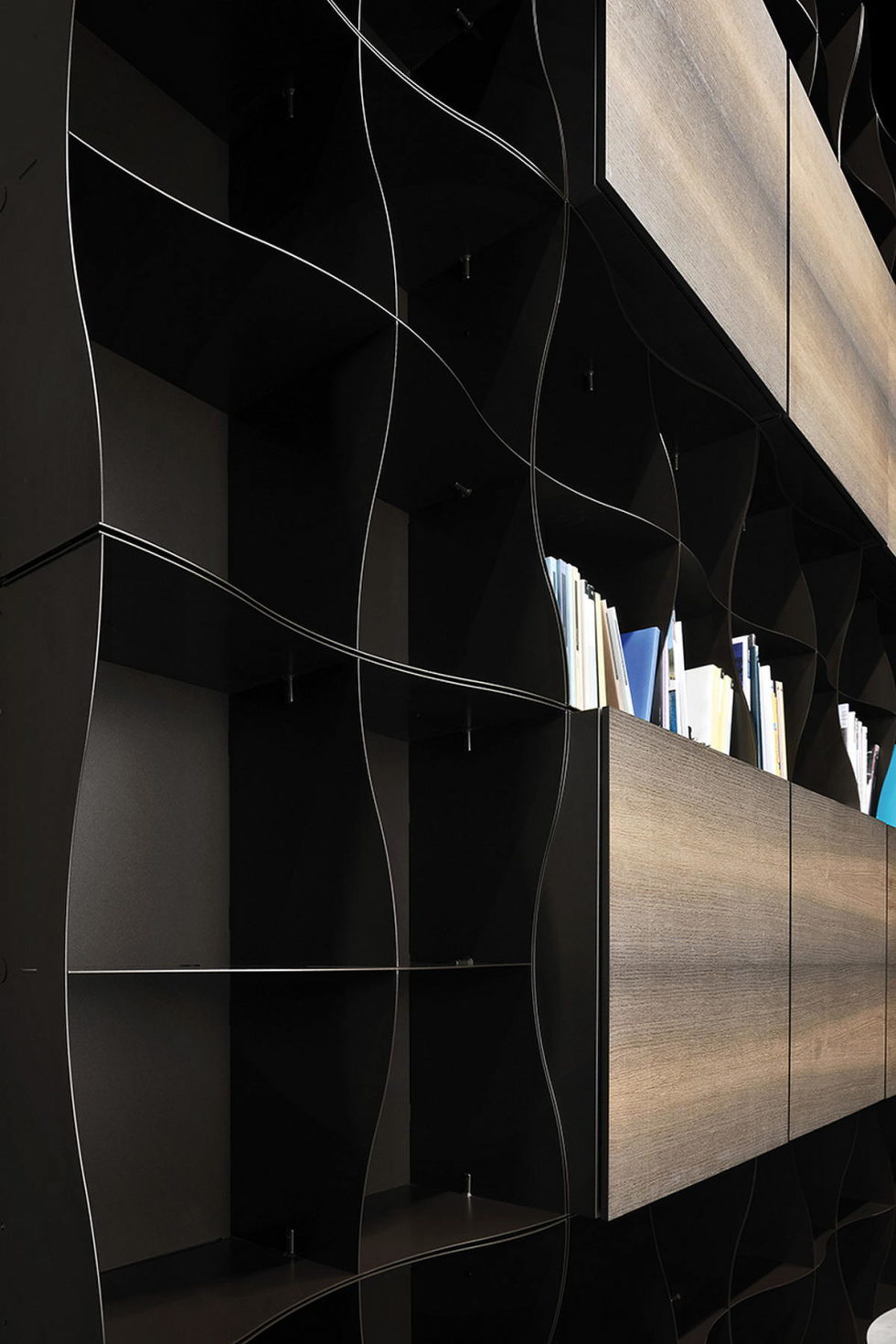 Iron-ic Shelter open bookcase-cabinet
The Iron-ic modular iron bookcase with its unmistakable wavy profile can also be supplemented with stylish storage units that are perfectly recessed into the body of the bookcase, turning it into the Iron-ic Shelter. The result is a bookcase with an innate lightness and smoothness thanks to the dedicated sleek and harmonious alternation of horizontal and vertical planes along with the three-dimensional effect created by the storage units, which feature a different depth from that of the bookcase and thus create a scenic and high-impact 3D effect. The bookcase and storage unit finishes can be mixed and matched freely for no-limits customisation ranging from textured-industrial looks to sophisticated luxury atmospheres.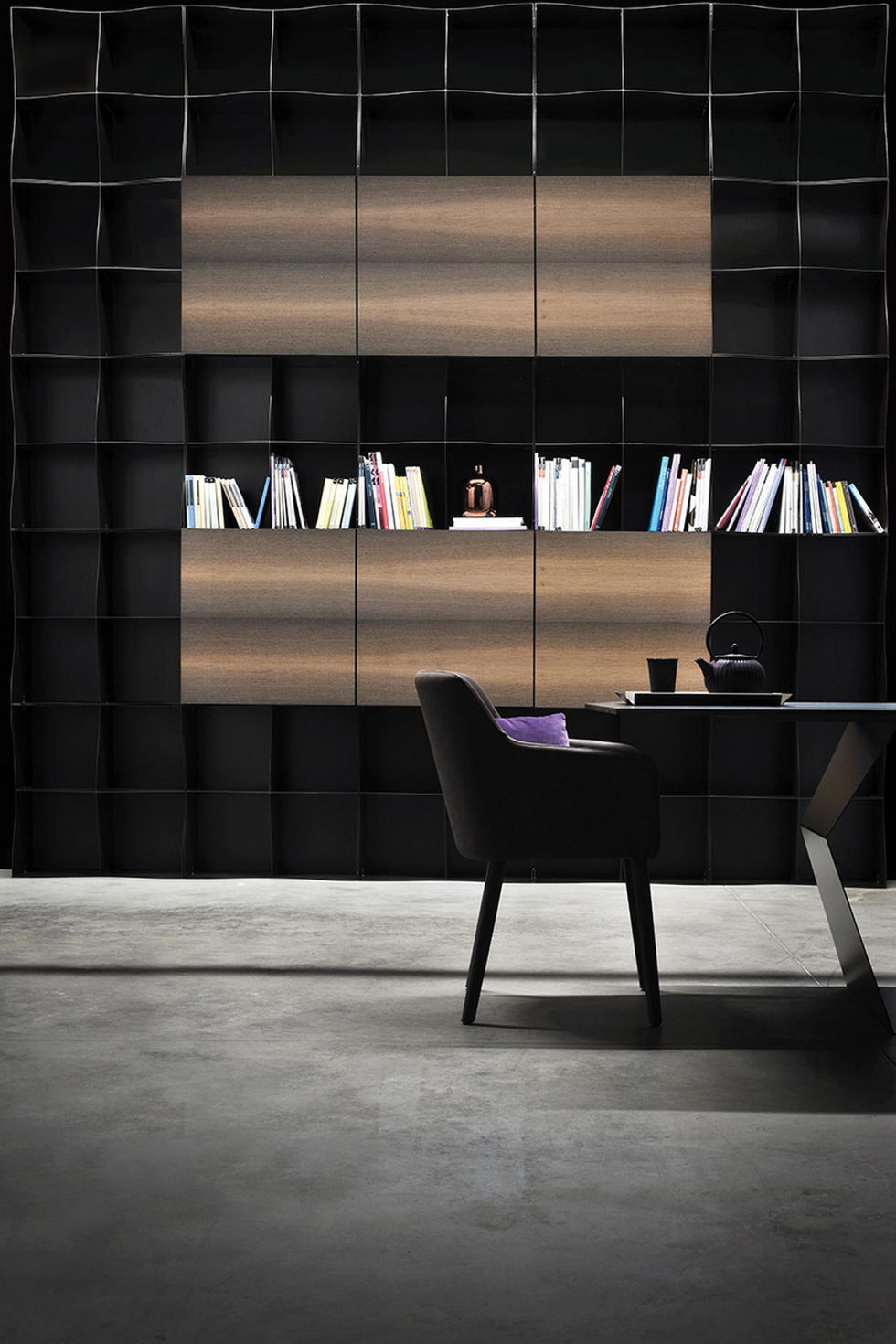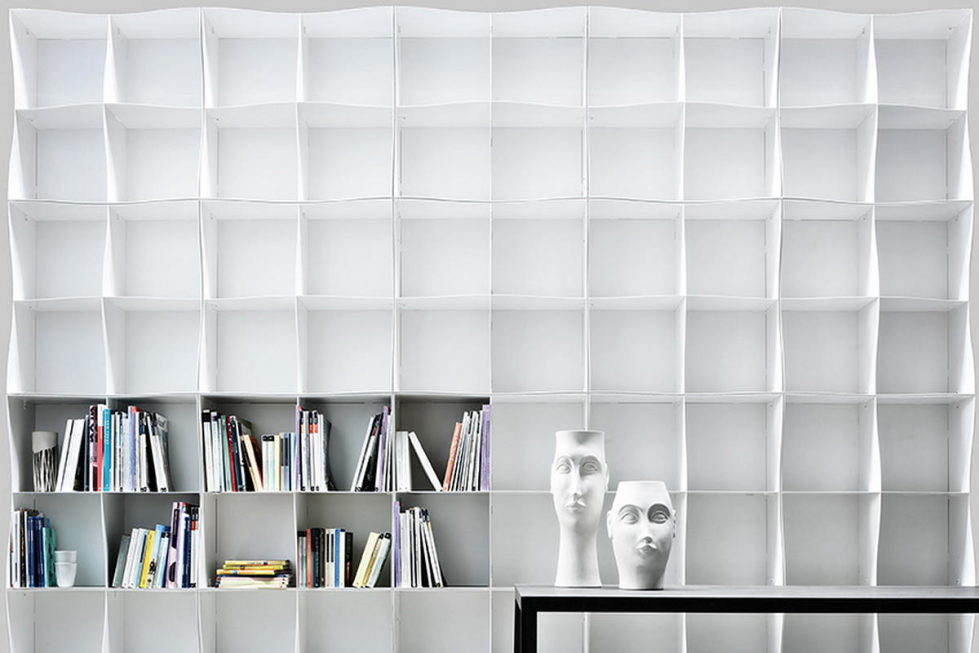 Iron-ic system dimensions and materials:
Iron-ic bookcase dimensions: 72×72 cm – depth 30 cm – Minimum module comprising two (vertical or horizontal) or four squares.
Shelter closed module dimensions: 72×72 cm – depth 36 cm. The new corner open module is also available, measuring 60.3×60.3 cm – H. 72 cm
Materials: Iron finishes: moka, graphite, white and natural iron with transparent varnish.
Storage unit finishes: door in Concrete, Bog Oak, natural Oak, grey Oak and American Walnut.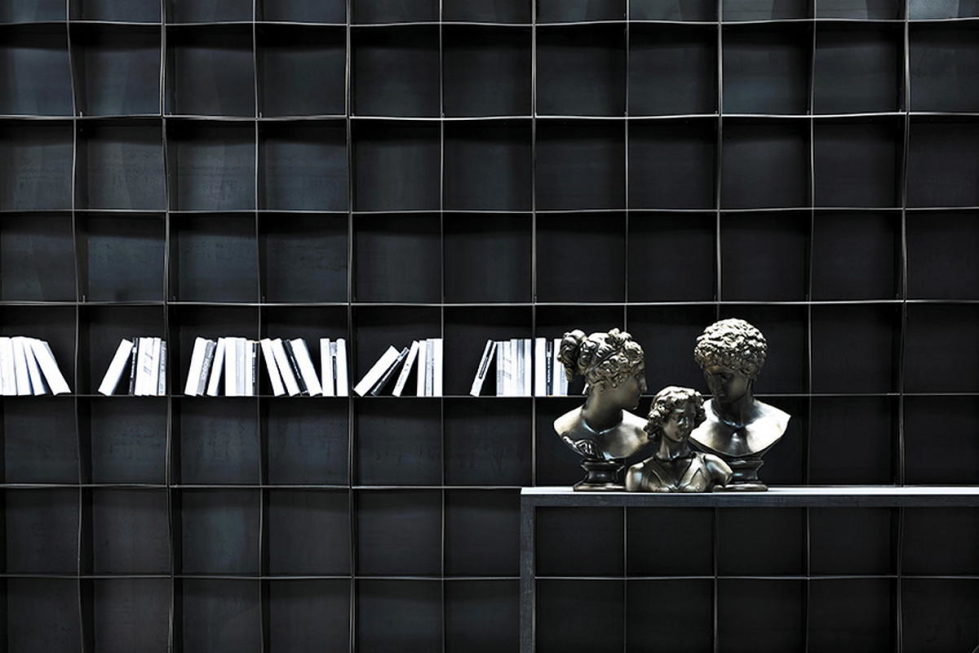 Link system (Ronda Design Lab design)
Link wall system
A blend of materials – steel, wood and varnished metal – makes up the Link accessorised wall, a furnishing system consisting of generously sized steel storage units and drawers which emphasise refined 45° cut corners, wall panelling in metal or with veneered finish and the possibility of LED back-lighting to create mesmerising atmospheres. Link can be composed and decorated with functionality in mind using the magnetic shelves from the Magnetika catalogue, heralding a new way of furnishing everyday living environments with the utmost creativity.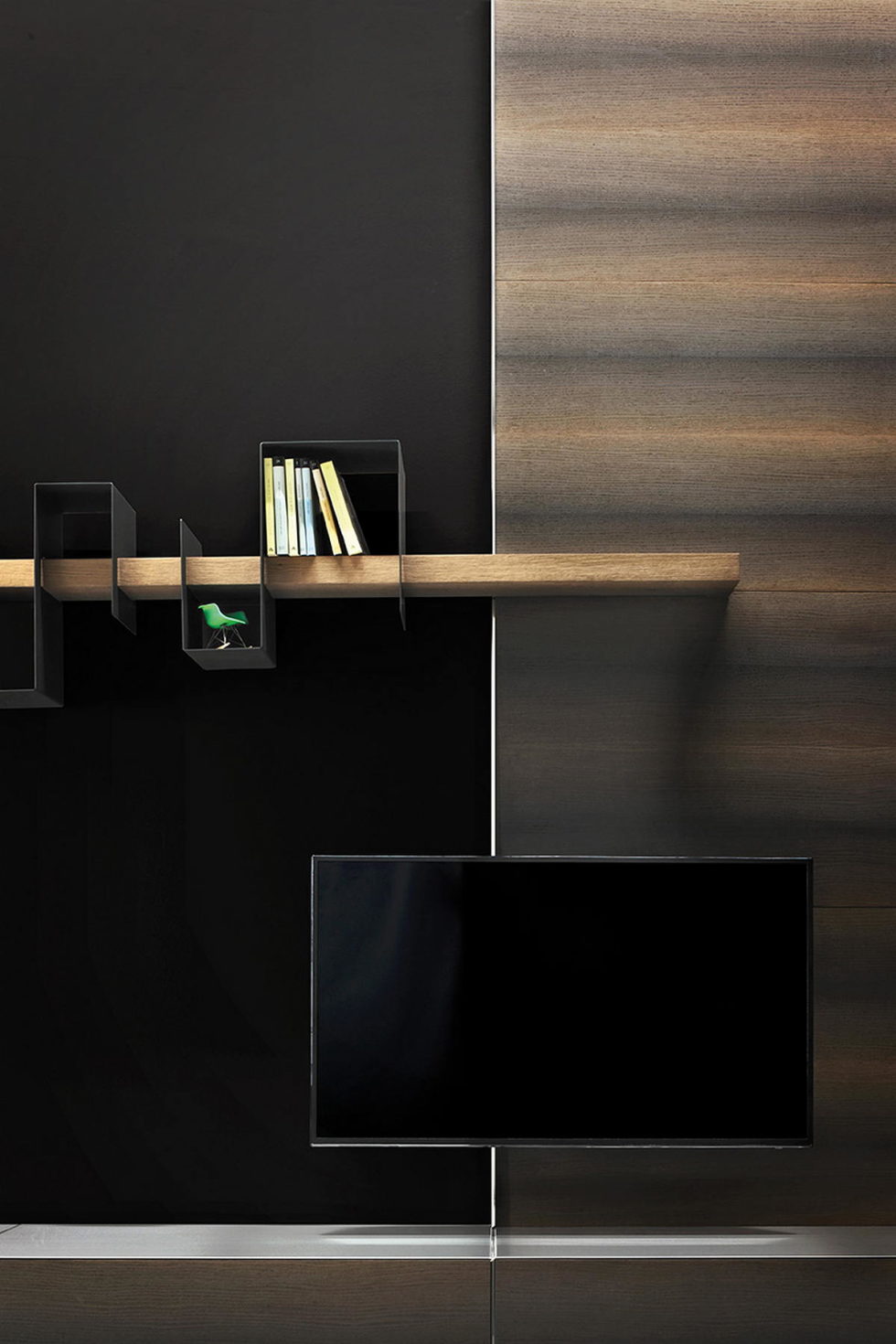 Link and Ago&Filo accessories
The Link accessorised wall can be embellished with new shelf types such as Ago & Filo: 3 mm-thick bent metal shelves which slide along a long wooden ledge in Bog Oak or American Walnut secured to the wall, which can be back-lit. The end result is a beguiling pattern of alternating wood and metal that recalls tailored stitching.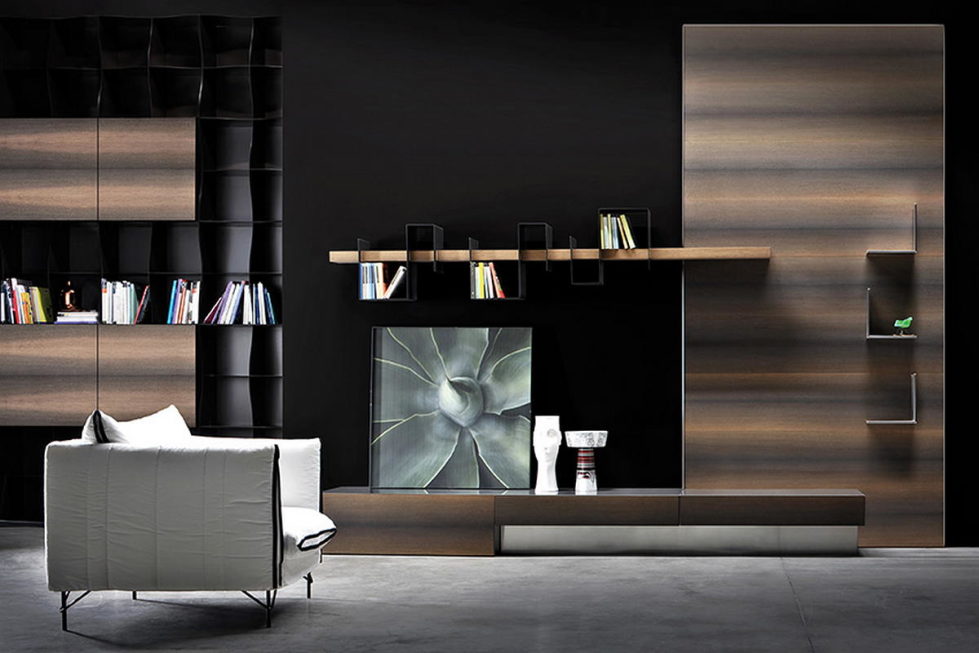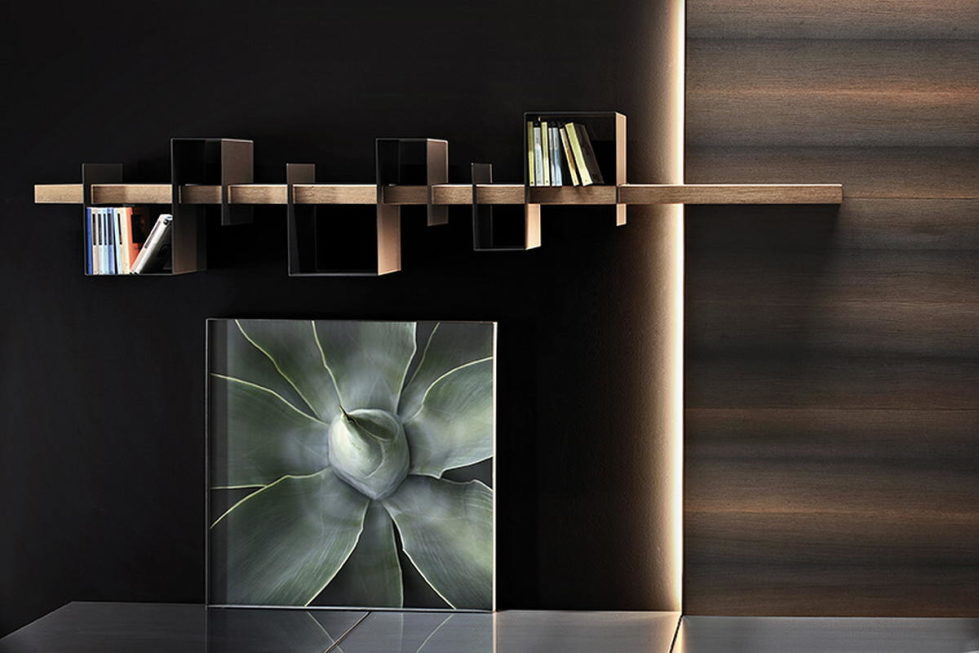 Link and Segno accessories
Link can also be composed with the original and intriguing Segno shelves in the shape of elongated Zeds snap-fastened to purpose-designed metal panels. Thanks to the unusual geometric shapes of the shelves, by turning and moving the panels closer together, you can create the most diverse configurations.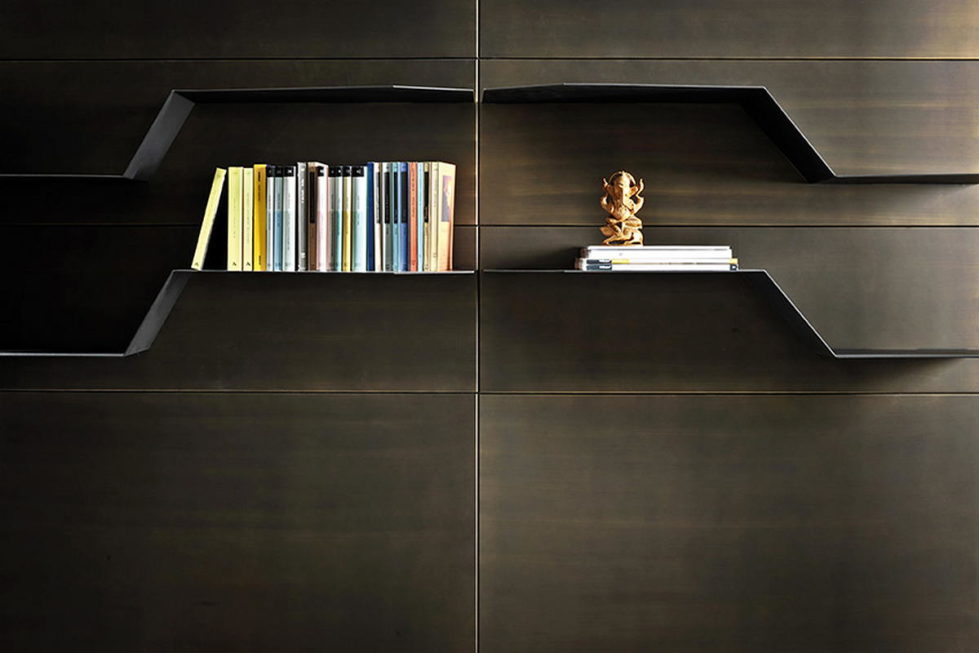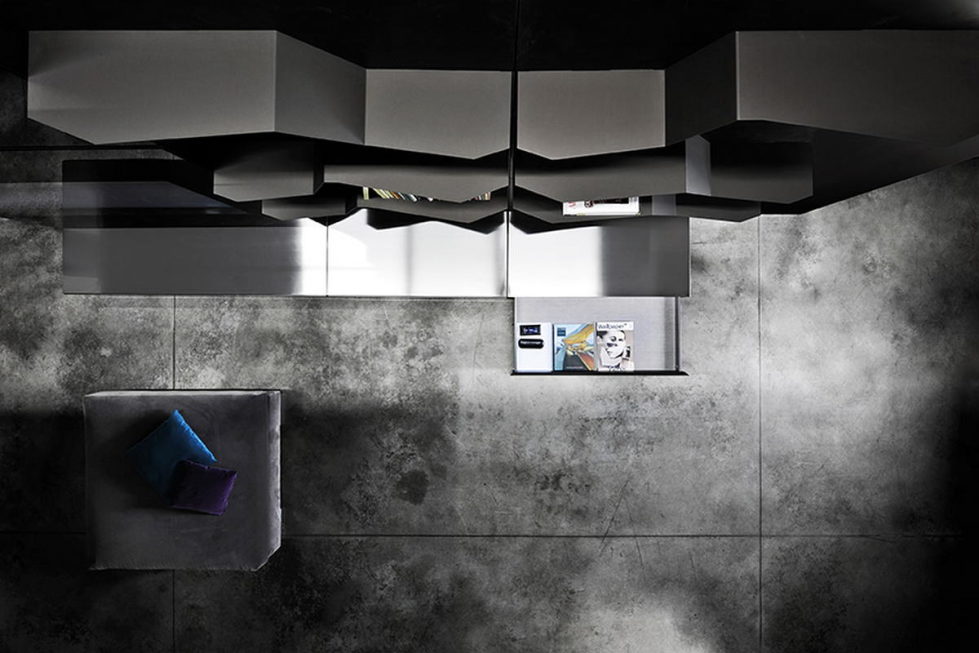 Mr Hyde TV panel
The Mr Hyde TV panel is a mirror coated with a special treatment that conceals a wall-mounted TV screen: the TV can only be seen when it is on, as once it is turned off it disappears from view and only the mirror surface remains, making the living room appear bigger.
Link system dimensions and materials:
Dimensions: Base units: L. 1080/1620 mm, H. 180/360 mm – Panels: L.540/1080 mm H. 360/720 mm
Materials: steel, painted metal and wood
Finishes: Wall panelling: Bog oak, American walnut, aged brass, white, natural iron, graphite, moka.
Storage units: stainless steel body with Bog Oak or American walnut door