The Vintage style has born in France and quickly spread over many art areas – music, fashion, and interior design. The design movement has appeared not so long ago, but has already become a significant rival to another movement in design decisions.
Vintage includes such graceful features as femininity, elegance. Also, it contains an indescribable charm of antiquity like a patina on the vintage brass candlestick. In order to implement this style, you need not only antique furniture, fabrics, or dishes, but also special master's approach and skills. It should be grandeur specialist in this area.
Recently, vintage has become very popular. Thus, some manufactures sell the artificially ageing furniture. You can see little frayed metal household items, wooden surfaces with cracked paint, and slightly greenish copper in many stores.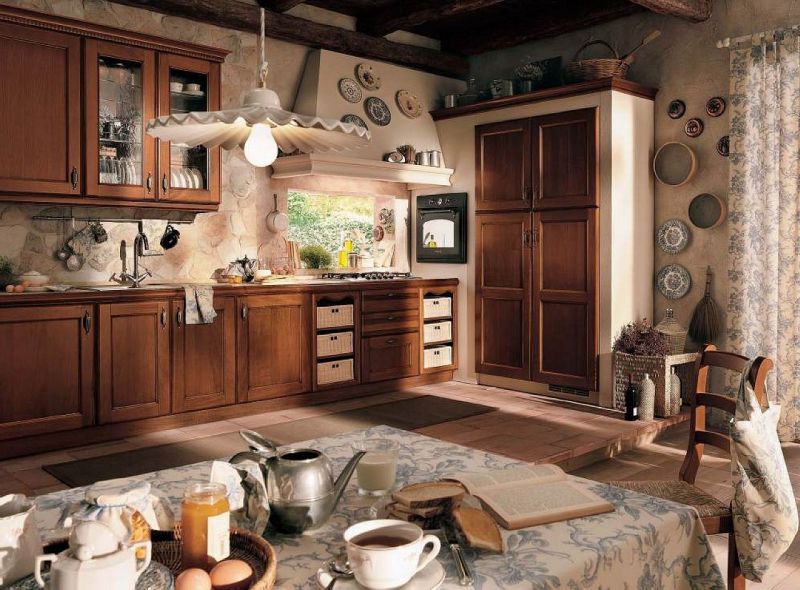 What Is the Features of Vintage Interior?
Firstly, it should contain a large number of decorative elements. For instance, the vintage mirror frames, fabric with subtle pattern, dishes (which can be actually old), vases, clocks, wares and other things will look especially magnificently. The main thing – not to allow fussiness and congestion. It is necessary to create dazzling compilation which will match the era mood.
Vintage interior is closely related to the flowers. It can be a bouquet of the field daisies or hothouse roses. The composition are placed in the crystal or metal vases. But if you have dried flowers, it'll be more suitable to use ceramic vase or wicker basket. However, it's necessary to arrange everything in a way that the bouquet doesn't look like a work of art, but look a little sloppy, as if it had just been battered by the wind. Also, you can add butterfly, branch with the berries in order to create appropriate mood. Finally, it should reflex the romance and simplicity of the life.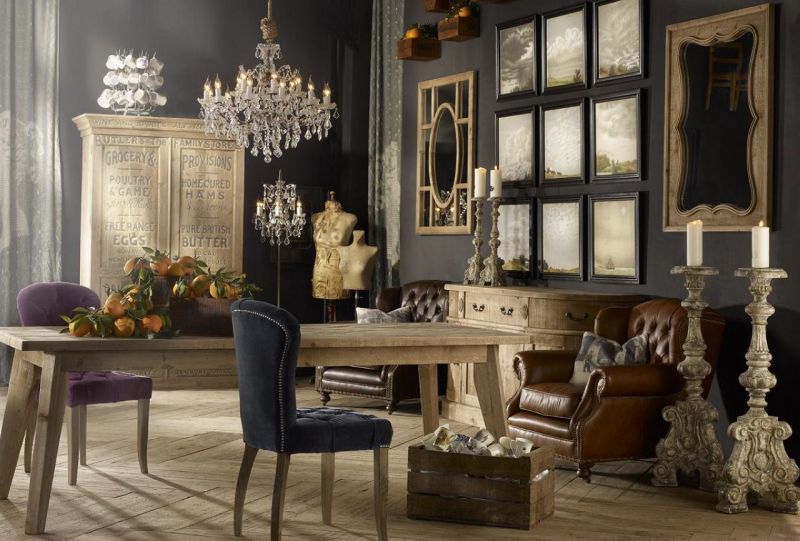 Color Gamma
There should be one central color in the composition ambience. Usually, Vintage prefer following colors – white, beige, lilac, and other light shames from blue-gray to gray-green.
Various Vintage Materials
Everything – floors, walls, ceilings – must obey single idea. For example, ceilings need to be only natural. Thus, you can't use stretch ceilings or plastic panels. It would be especially good if the ceiling had cracks and irregularities. It result in creating a special graceful mood and interior charm.
The floor is also make of natural wood or parquet. In addition, artificially aging tail will match the interior mood. Cracks, chips, and frays are allowed too: but everything should respond to the rational frames.
There could be only two types of the walls – monochromatic or with the patterned wallpapers. If you decided to cover them with pure white, it is important to pay attention to the appropriate furniture and accessories. Here is a definite regularity: the more design elements, the less color numerous.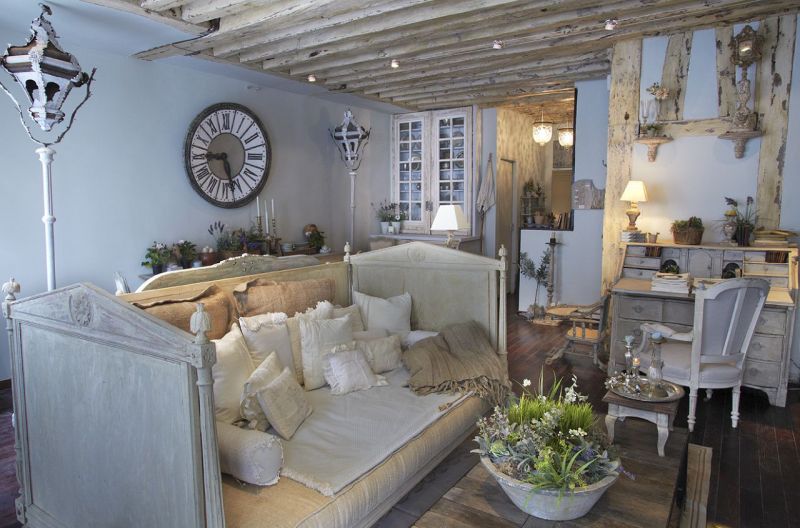 The wallpapers can be a key point which play the role of the design source ideas. Their color will inspire you to create other essential parts of the interior. There are basically three varieties of Vintage wallpapers:
1. Delicate pastel colors with the patterns of birds, flowers, butterflies. Besides, you can use sophisticated drawings in the style of Japanese motifs, which perfectly combine simplicity and deep sense.
2. Wallpapers with a large contrasting pattern. Here you can see Modernism features. However, only one wall is covered with such color and the rest of the walls are monochromatic. On the other hand, Vintage has expended using of these materials: all the walls are covered in one way.
3. The graceful classic bright pattern which is not very contrasting.
This Vintage interior aims for symmetry. It concerns not only design of decoration but also planning details. The furniture should arrange in a certain way and match appropriate mood. All the forgotten things on the attic can be used in this interior. These are old mirrors, frayed dining tables, commodes, and chests. In some cases artificial aging, scuffs, scratches, crack imitations give a good result.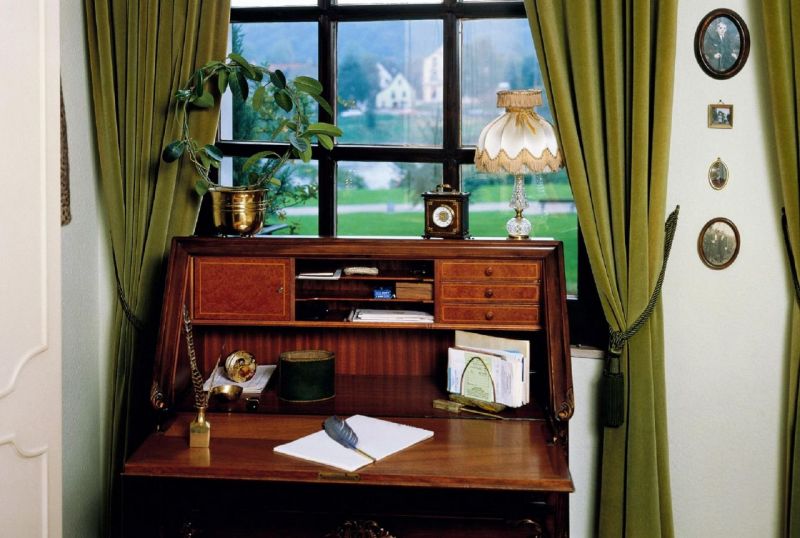 The Vintage secret is that it's not necessary to decorate the whole house in one style. It's enough to decorate only one room – office, living room, or bedroom. Besides, even one Vintage element can create a mood in the whole kitchen or living room. This can be a spinning wheel, old iron, or kettle.
Vintage style gives you an opportunity to create a certain mood, and highlight an individuality without spending much money, since it is available and ease!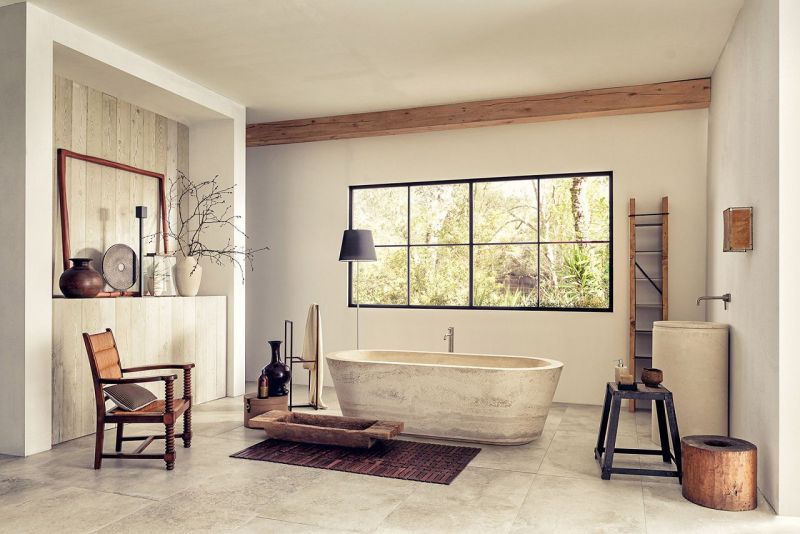 Photo Gallery: Vintage Style Interior Design